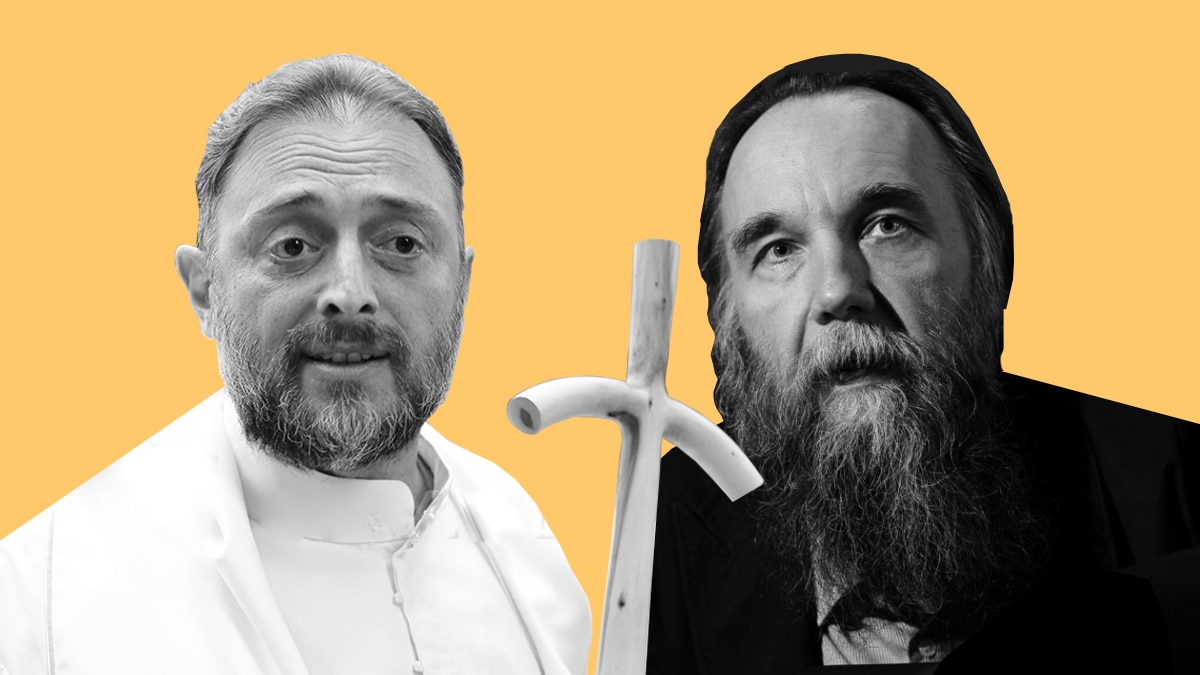 The photo and video footage of the meeting caused a great deal of excitement and noise, largely due to the fact that it took place on May 26, Georgia's Independence Day. However, this factor does not change much in the overall picture – on May 26, February 28 or November 30, Levan Vasadze met with Alexander Dugin many times and he did not hide the fact that they have a lot in common. The rhetoric of Dugin and Vasadze often resembles a sliced ​​apple, and the interests also coincide with the fact that – without turning to Russia, Georgia will not be able to regain the seized territories.
Before meeting Dugin
Before leaving for Moscow to meet with Dugin, on May 25, Levan Vasadze gave a lengthy interview. Public Broadcaster "Channel 1". The leader of the newly formed movement – "Unity, Reality, Hope" was given a full opportunity – to formulate his views on all three words in the name of the movement.
Georgia's foreign policy and the issue of Russia have become part of "Raob", or identity.
He has said many times before, and Vasadze reiterated in this interview, that he views NATO and EU membership not as goals but as possible "tools" and believes that a "twisted" Western choice is losing Georgia's sovereignty. The businessman says that he is in favor of a balanced foreign policy, but the key to achieving the main goal still lies in Moscow.
In the interview, Vasadze said:
"It is disastrous for our country, to bet on one of the players in our region, if we want sovereignty and do not want the vassality we are …"
"In a multipolar world, the parties do not always wage direct wars with each other, they will inevitably demonstratively defeat each other's gossips and vassals, what happened to us in 2008 (the August war) …"
"The nation must say, people, friends, neighbors, enemies, occupiers, partners, the main thing for us is to unite Georgia and be a sovereign country … In return, we are ready to talk to you, not to curse you, not to spit, not to spit on you, not to kiss you. … but to talk to you as decent people … and to involve other parties in this process – there is Turkey, there is Iran, there is China ";
"If we do not stand on this path, we have no chance to unite Georgia … Without the unification of Georgia, life does not make sense to me … If you are really a patriot of national orientation, who dreams of Abkhazia and Liakhvi gorge, you are obliged to die in this In the process, even if they spit on you and tell you that you are a traitor, you are obliged to go for it … ";
"If this is a crime, I should be guilty … I am not hiding anything, I called with 700 thousand Georgians, I live and move freely in Russia. Couldn't I hide that I know some people out there and talk to some people about something ?! On the contrary, I say openly – I will go, I will talk, I will try to bring it back, I will convince it ";
"The time has come to say goodbye to these illusions, romance and become realists. I am in favor of a little bit, a little bit like that – of tireless realism and sweating on this front and I do not know what will come out, but I am sure more will come out than what will come out now ";
"Skeptics often ask us – has Russia returned the seized territories to anyone?! … It may be ephemeral hope, very cautious, but I wrestle with the moss that these separatist territories, thank God, have not yet joined Russia as their territory and they have recognized them as independent states. "I want to see some chance in this for us to work on the return of these territories."
Excerpts from Vasadze's interview quickly hit the Facebook page acting on Dugin's behalf, and in general, it is obvious that Dugin is advertising Levan Vasadze on this page or on the Facebook group acting on his behalf, and almost every second post is about Vasadze.
Dugin usually calls Vasadze a great, progressive intellectual and uses his quotes internally that, for example – "Georgia is the third Jerusalem". Dugin himself considers Russia to be the second Jerusalem.
Against the background of the excitement caused by the photo-video footage of the May 26 meeting, one part of the society was not at all surprised by another meeting between their comrades.
Dugin and Vasadze had dinner together and probably discussed the future political plans of the country (Georgia) for which adjusting the Russian key is Dugin's long-standing dream. According to Dugin, the meekness of Georgia means the meekness of the whole South Caucasus by Russia.
Dugin's ad
If we observe, Alexander Dugin's plan is developing in accordance with Levan Vasadze's activity. If in February, the TV channel affiliated with Vasadze – On the air of "Alt-Info", In the changing situation in the region after the Nagorno-Karabakh conflict, Dugin seemed to dream only of the "third political force" that saved Georgia in the abstract; Today, he is already busy offering Levan Vasadze a figure to the Kremlin.
In a video dated May 26, in which the ultranationalist ideologue mysteries the Soviet Union and highlights frustration in western Georgia, he calls Levan Vasadze's new movement an alternative and progressive political force and advises Moscow to take an interest in it.
This time, in this video, Dugin introduces Vasadze as a "Georgian poet" and a "public figure" and says:
"It is positive that the goal of the 'nation' is to protect Georgia's orthodox identity, to return to the norms of a traditional society, to defend the institution of the traditional family, to strongly oppose globalization and ultraliberalism, and to categorically reject gender policy."
"Levan Vasadze is an inspired Georgian patriot and in a sense – a Georgian nationalist. It bases its program on the restoration of Georgia's territorial integrity and insists on the full sovereignty of the country. "This may create some problems for Moscow."
"He is by no means pro-Western, but he is not a pro-Russian politician either."
"If Russia wants to resolve its geopolitical controversy in this vital region (which is unlikely in the hands of a unequivocally pro-Western politician but theoretically possible under a true national leader), Vasadze's figure and the 'Nation' movement must be closely monitored."
​Will Moscow listen to Dugin? – There is a debate on this issue on social networks.
Levan Vasadze's supporters hope that the words uttered by "such a great man" will have an impact on the Russian government if he does so; Some are already convinced that the word is both spoken and heard in the Kremlin. It is seen on social networks that a large part of the public views Dugin's support for Vasadze as support for the Russian government.
If we look at Alexander Dugin's programs and his interviews and statements, we will see that he is not infrequently criticized by the Russian government – especially for the "American spies" embedded in the upper echelons; But in reality, sometimes covertly and sometimes openly, Dugin always praises the President of Russia, Vladimir Putin, about whom he even managed to write a book and in this book he is referred to as "sunny".
Dugin's videos and ads have tens of thousands of likes and comments on the internet.
Similarity of positions, evaluations
Levan Vasadze has never hidden his friendship and sympathy with Alexander Dugin and this is confirmed by the clear similarity of their positions and assessments.
Dugin, like Vasadze, makes anti-Western statements – they constantly point out that the West is depriving Orthodox Georgians of their identity, inciting hatred and "homosexuality";
They believe that the return to Russia still presents some theoretical chances for the restoration of Georgia's territorial integrity. Recently, Dugin has been constantly repeating that "the key to territorial integrity is in Russia's hands" and this is not indirectly and often mentioned by Levan Vasadze;
There is a similarity in the assessment of the 2008 war – Vasadze believes that Georgia was "overwhelmed" by the "slavery" of the West at that time, and Dugin also considers the August war and occupation as a logical result of the stronger Western influences;
Dugin often states that Russia will never allow Georgia to join NATO and deploy American bases on Georgian territory; Levan Vasadze does not openly and directly deny this, but in his entire rhetoric, according to many, such messages are evident.
Like Dugin, Vasadze's goal is to constantly fight for "liberal rule" and "globalist influence" in favor of "traditionalist, conservative" principles.
Russia
Levan Vasadze constantly protests against the established position in the society that Russia is behind him and will probably help him financially if necessary. The leader of the "nation" says that he already has his own finances and in the future, his party will hope for the help of Georgian businessmen.
Levan Vasadze is a Russian citizen along with his Georgian citizenship and has not yet been issued a Russian passport.
As for ties with Dugin, at his first press conference in early May, Vasadze said that Alexander Dugin had been "taken over" and that it was to his credit that Dugin had not made the old radical statements about the occupation of Georgia since 2015.
The ultranationalist ideologue, Alexander Dugin, has really softened the tone in recent years and may no longer shout the old-fashioned way, but it is still easily noticeable to many that the content of his statements has hardly changed at all. Dugin continues to note that the August 2008 war and subsequent occupation was a forced move by Moscow and that Georgians should blame themselves for everything.
.