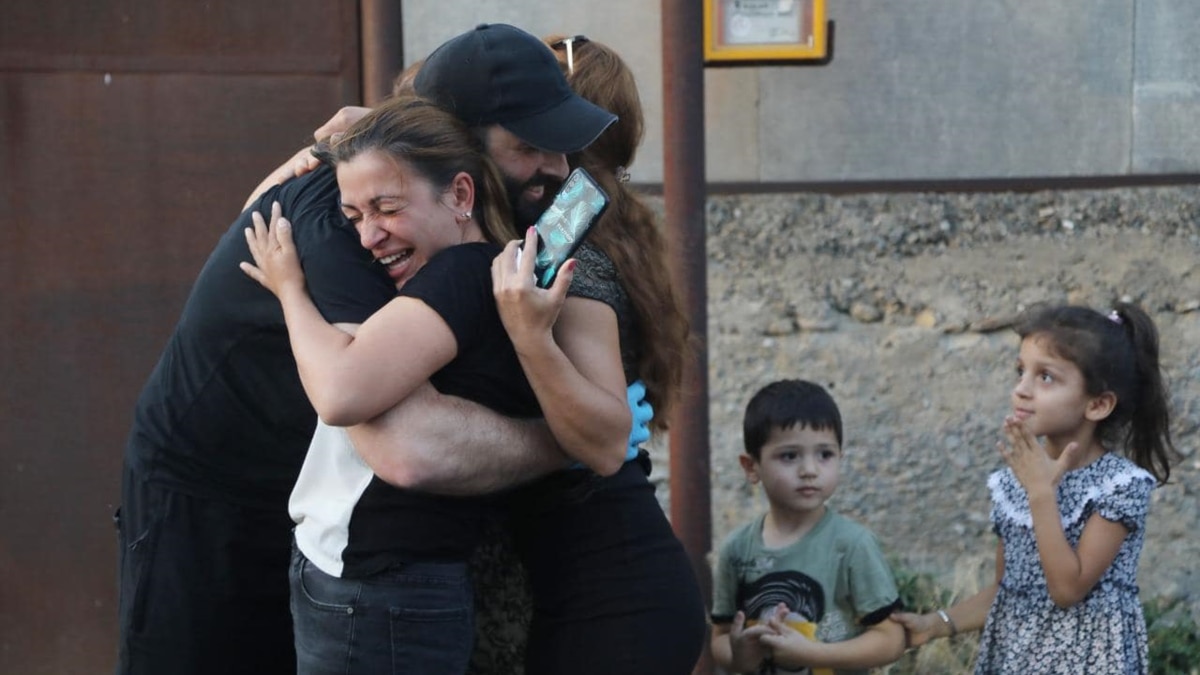 Zaza Gakheladze heard 1 hour before his release on July 14 that he had to pack his luggage. However, in the morning, the Red Cross delivered a parcel to him in Tskhinvali prison and talked to his family via Skype. His wife, Irma Butkhuz, knew nothing, and in the afternoon, de facto president Anatoly Bibilov issued an act of pardon.
On July 14, at 7:10 pm, Zaza Gakheladze was taken to the Georgian police checkpoint in Ergneti, where he was met by the Prime Minister of Georgia, the Minister of Internal Affairs, the Head of the State Security Service and the Metropolitan of Gori-Ateni. Gakheladze limited himself to a small comment at the Ergneti checkpoint. Irakli Gharibashvili's statement was also short. In Zaza's native village of Kvemo Chala, the comments were more extensive but non-detailed. Zaza only knew that he was released at the request of the Georgian Patriarch and at the request of the Russian Patriarch.
The Prime Minister of Georgia also avoided talking about the exchange. Irakli Gharibashvili answered RFE / RL's question about the exchange as follows:
"You will hear many versions. I ask you not to listen to the versions anymore, we will look at the result. The result is that Zaza is free. "
Apparently, Vadim Gobozov did not know that Zaza Gakheladze was exchanged. De facto South Ossetian TV station Irma broadcast footage of de facto president Anatoly Bibilov meeting with Vadim Gobozov, who was released from prison in Georgia. According to Ossetian media reports on July 14, Zaza Gakheladze was exchanged for Gobozov.
Anatoly Bibilov noted during the meeting with Vadim Gobozov:
"I am fully grateful to the Russian Patriarch and to everyone who participated in this negotiation process. We have no direct ties with the Georgian government, we had to communicate through intermediaries and we got this result. "
Vadim Gobozov is a resident of North Ossetia, a resident of the village of Elkhotovo. During the meeting with Bibilov, he first thanked his relatives, Russian Patriarch Kirill and Anatoly Bibilov.
According to Ossetian media, Anatoly Bibilov complied with the request of the Russian Patriarch Kirill and released Gakheladze, a Georgian citizen illegally detained. Earlier, the Georgian Patriarch appealed to the Russian Patriarch to release Zaza Gakheladze, but the de facto government and the Russian Federation demanded the extradition of Gobozov, a Russian citizen, in exchange for Gakheladze.
Gobozov criminal case
Vadim Gobozov, born in 1981, was arrested on September 15, 2020 in the territory of Kazbegi municipality. He was charged with the murder of Alan Muzashvili and sentenced to pre-trial detention. The accused and his lawyer demanded a jury trial.
Gobozov was remanded in custody. He expired in June 2021 for a 9-month period of pre-trial detention. Jurors must make a decision by mid-June.
According to the North Ossetian media, a confrontation took place between the citizens of North Ossetia in the neutral zone of the Georgian-Russian border. Alan Muzashvili, 39, stoned 64-year-old Alik Gobozov to death. After that, Alik Gobozov's son, 40-year-old Vadim Gobozov, took revenge and killed his father's killer, Alan Muzashvili. According to Ossetian media, Vadim Gobozov was handed over to Tskhinvali on July 13, one day before Zaza Gakheladze was released.
Both Gakheladzes and Gobozovs thanked the patriarchs, presidents and prime ministers. Zaza Gakheladze's family members have not forgotten the journalists who covered Zaza's news for a year and three days.
A few weeks ago, the Catholicos-Patriarch of All Georgia Ilia II sent a letter to the Patriarch of Moscow and All Russia Kirill requesting the release of Zaza Gakheladze. The de facto regime says that they released Gakheladze as a result of Kirill's motion.
Zaza Gakheladze, a resident of the village of Kvemo Chala, Kaspi Municipality, was shot and wounded on July 11, 2020 in the vicinity of Skhvilo Prison by the occupation forces. He was sentenced by the de facto Supreme Court to 12 years and 6 months in prison.
Gakheladze was charged under two articles of the Russian Criminal Code – "attempted murder" and "illegal crossing of the state border."
Gakheladze's family members were able to visit him only once in Tskhinvali prison through the Red Cross.
.