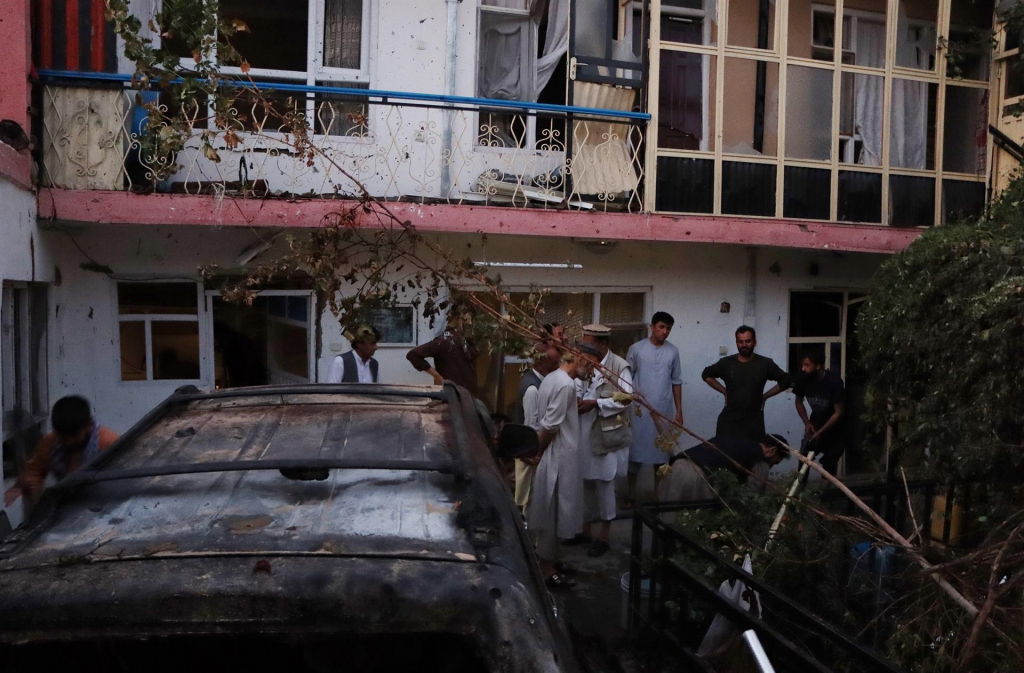 This Sunday, 29, the US carried out a drone attack targeting people suspected of being members of the Islamic State; it is unclear whether the incidents are related
EFE / EPA / STRINGER
The attack was caused by "a missile hitting a house located in the 15th district of the Afghan capital", said Qari Rashed, Kabul Police officer

At least six people, some of them minors, died on Sunday after an explosion occurred in a house near the international airport in obscene, where foreign troops carry out the final phase of evacuations, official sources informed Efe Agency. The attack was caused by "a missile hitting a house located in the 15th district of the Afghan capital," said Qari Rashed, Kabul Police officer. A doctor at the hospital where the victims were taken told Efe, anonymously, that six people died at the scene, some minors, and another five arrived at the health center with injuries caused by the explosion. Afghan news channel "Tolo" said the explosion took place around 8:00 am EDT in Khajeh Baghra, a residential area on the outskirts of the airport.
Also today, the United States carried out a drone attack targeting people suspected of being members of the Islamic State-Khorasan, Isis-K. It is unclear whether the incidents are related. According to the Taliban, the attack was caused by a missile fired by the USA. "Now we can confirm that US forces carried out an air strike against a suspicious vehicle and destroyed it. The information reveals that there were three people on board," Taliban spokesman Bilal Karimi told Efe. One individual has died and there is no information on the other two. Also according to the spokesman, "there are reports of explosives that were inside the vehicle that remained (without detonating)". "American forces have taken control of the area, which is why they make our investigation in the region difficult. Now US forces are investigating the details of the attack," he added. According to an American official, the car that was hit was carrying a suicide bomber who posed an "imminent threat by the Islamic State" against the airport, where American troops are located.
This Saturday, 28, another attack by the US Army killed two suspected members of the Islamic State and left a third wounded. The president Joe Biden issued a statement yesterday stating that the attack "would not be the last" and that the country will look for all those responsible for the attack that took place last week near the airport in Kabul, which left dozens dead, including 13 American soldiers. The United States has until this Tuesday, 31, to withdraw all troops from Afghanistan. The operation began this Saturday, and more than 111,000 people have already been evacuated from the country. The action to withdraw troops is internationally criticized for the air of "improvement" and generated, over two weeks, a sequence of images of despair in headlines around the world.
* With information from EFE