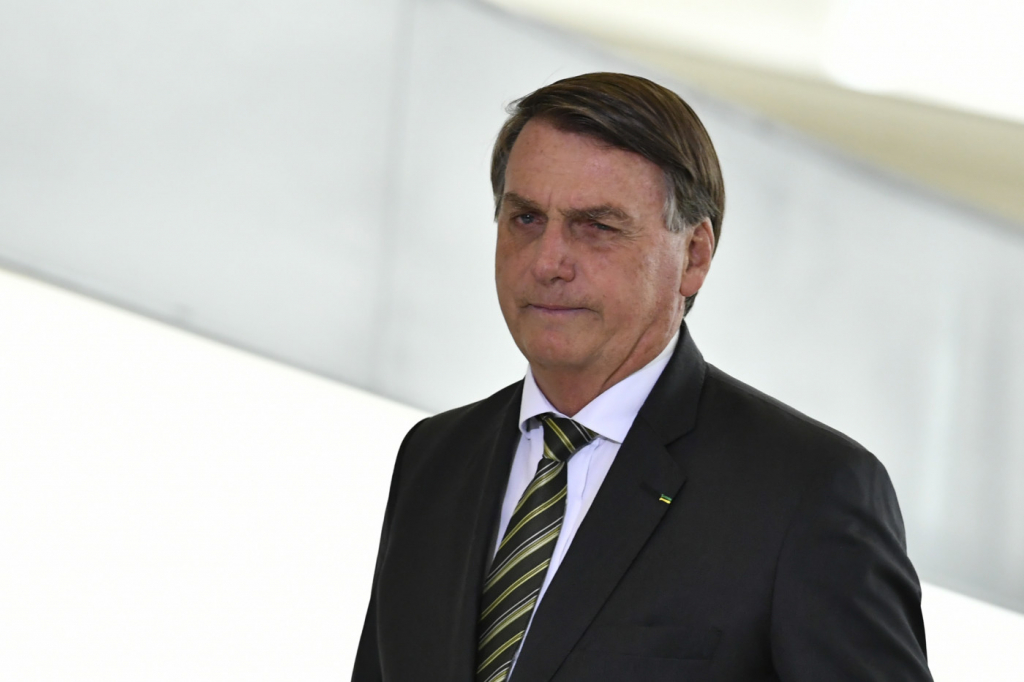 In addition to the constitutionality action brought by the Federal Attorney General's Office, President Jair Bolsonaro announced the sending of a project to Congress to define what is essential activity
MATEUS BONOMI / AGIF – PHOTOGRAPHY AGENCY / ESTADÃO CONTENT
Bolsonaro announced action at the Supreme Court this Thursday

The president Jair Bolsonaro stated during a live broadcast on Thursday, 18, that the Federal Attorney General (AGU) filed a lawsuit in the Federal Supreme Court (STF) against restrictive measures imposed by state governments to try to contain the new coronavirus pandemic. "We filed a lawsuit today, a direct constitutionality lawsuit, with the Federal Supreme Court, precisely seeking to contain these abuses. Among them, the most important, is that our action was against the decree of three governors, that even in the decree the guy puts a curfew there, this is a state of defense, a state of siege that only one person can decree: me. But when I sign the decree, for the defense of siege, it goes into parliament. There, Daniel will vote, the senators will vote, and if they decree comes into force, "said Bolsonaro saying that decrees of mayors and governors" usurp the constitution ". According to him, the lawsuit was analyzed by Minister of Justice André Mendonça before being sent to the STF.
Bolsonaro also announced that he will send to the National Congress this Friday, 18, a project to define what is essential activity during the pandemic. "I'm going to present a project tomorrow asking for urgency for the National Congress to define what is an essential activity. For me, essential activity is all that is necessary for you to take bread inside, "he said, again citing cases of suicide that, according to them, would have been caused by people with depression because of the lockdown. Without citing direct names, he criticized governments that considered the operation of concessionaires to be essential during the quarantine (the case of Pernambuco) and called some government officials "dictator projects". The president spoke for just over an hour, but did not comment on the death of Senator Major Olimpio, one of his supporters during the 2018 elections that broke with him in 2020 and was victimized by Covid-19 on Thursday afternoon. .
Health
The president announced that General Eduardo Pazuello will leave the Health portfolio on Friday, 18, and praised his work over the months at the helm of the agency. During the live, the president said that Brazil is one of the countries that "plays its part" in relation to the vaccine and pointed out that the minister led the organization of the portfolio when he took office. "He did an exceptional job, he hasn't stopped making contracts for the purchase of vaccines since last year, so he doesn't justify when some are criticizing us," said the president. He also said that the State of São Paulo gained resources for ICU beds and ensured that the implementation of these beds depends on the "respective governor, the respective mayor through their secretaries". Avoiding mentioning "early treatment", the president repeatedly mentioned "initial treatment", joked that "speaking the other word is a crime" and suggested that Brazilians go to the doctor immediately if they had initial symptoms of Covid-19. He did not name, but spoke of "medicine to kill lice" and "other that he took" were used as alternatives to cure the disease.
"You can do the initial treatment and die, you can, it's not 100%, but in my building here, the information I have is that more than 200 people took it and did some type of initial treatment and it worked. In fact, there are mayors who report that in their municipality, staff do not even go to the hospital, obviously do not go to the hospital and do not even think about being intubated ", he said. Bolsonaro questioned which country in the world has no deaths from Covid-19, said that other first world countries have more deaths by inhabitants and questioned which examples should be followed. He also said that he did not mind having his name linked to chloroquine, a medicine without scientific proof against the disease, and recalled Fachin's decision that made PT Lula eligible. "'Captain chloroquine', are you thinking that you are offending me? You are going to have the 'corruption captain' for what it seems to be competing in 2022. The bearded old man, Captain Corruption. You know who I'm talking about. I am not obsessed with being president, by candidacy, I spent 28 years in the chamber, 2 years as a councilor, I never had any problems, and we go on touching the boat ", he said.
Bolsonaro acknowledged that he makes unpopular decisions by imposing himself in favor of the economy and against the "policy of closing everything" and stated that he does not have 2022 in mind when making his pronouncements and taking a stand. "If I thought about reelection, I wouldn't be doing it that way," said the president. He further hinted that injecting R $ 3 billion of advertising into large Brazilian vehicles would end all bad news about Covid-19 and about him and spoke once more about PT Lula, stating that if he were elected, he would sit down with a communication vehicle to draw censorship in exchange for money.