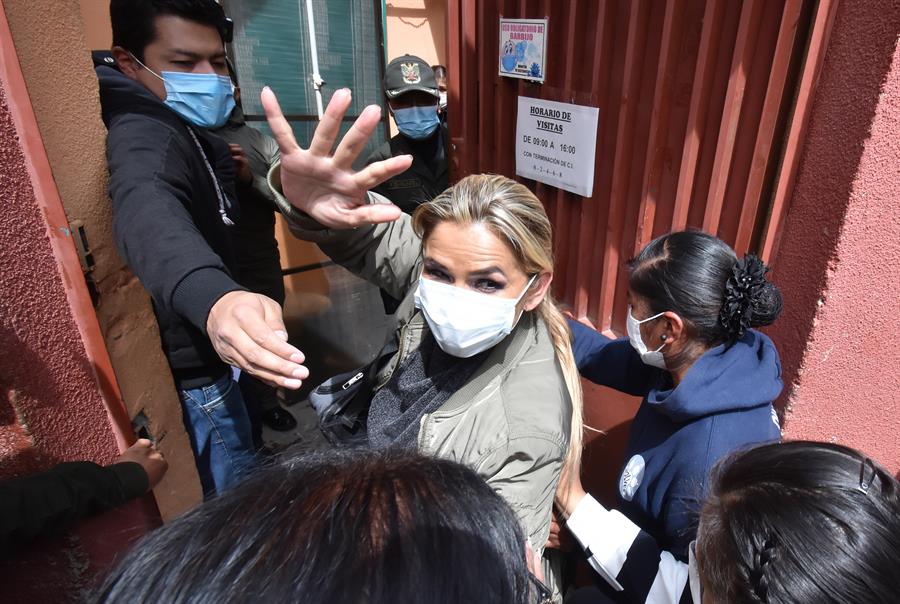 At the hearing, a former head of government read a statement in which he alleged that he has been suffering from memory problems and that he is a victim of violence and psychological torture
EFE/Stringer
The parliamentarian's defense calls for the end of her preventive detention, which is the target of a coup investigation

The former interim president of Bolivia Jeanine Áñez denounced this Friday, 1st, in a court hearing, suffering from anorexia nervosa and being intimidated inside the prison. At the hearing, held by videoconference, Áñez read a statement in which he alleged that he has been suffering from memory problems and that he is a victim of violence and psychological torture. "Yesterday I was evaluated by my nutritionist with a diagnosis of anorexia nervosa, a diagnosis that undoubtedly worsens my malnutrition," he said. The parliamentarian's defense calls for the end of her preventive detention, which is the target of a coup d'état investigation. The former president denounced that she has been medicated with medicines "of doubtful efficacy" and that on several occasions this made her very sleepy and even caused hallucinations.
The former head of government also reported that a group of women in the Miraflores penitentiary, where she has been held for more than six months, yelled at her and insulted her. "It's dangerous for me to go down the prison corridor to sunbathe, which I haven't done for over a month. Naturally, these violations of my rights are committed under the insensitive eyes of the prison authorities", denounced Áñez, who also stated that he was only allowed to receive visits from his lawyers and that he is prevented even from having a direct conversation with his psychiatrist. "I assume the only thing the government is looking for and will get is my death in the short term," he said.
Áñez suffered a malaise during the hearing, which ended up being suspended. The former president will continue the testimony this Saturday, 2, according to lawyer Norka Cuellar, who is part of the defense. O Bolivian Penitentiary Regime published a statement in which it states that the former president suffered a "slight decompensation that prevented the continuity of her defense" and that she received care from the medical team. "At the moment, and under a medical report, prisoner Jeanine Áñez is stable and receives constant medical attention from the health staff of the Penitentiary Regime," says the note.
Governor of Santa Cruz is summoned
The Public Ministry announced this Friday that it has summoned the governor of Santa Cruz and opposition leader Luis Fernando Camacho to testify next Thursday, also as part of the investigation into the so-called "coup d'état" case for which Áñez is currently standing. being processed. Next week, former president Jorge Quiroga, Camacho's father and businessman Samuel Doria Medina will also testify. The governor is one of the main defendants in the "coup d'état" case, initiated at the request of the government, and is being investigated for alleged conspiracy and destabilization crimes during the social and political crisis of 2019, which led to Evo Morales' resignation from the presidency after that year's elections, which he won on fraud charges.
* EFE