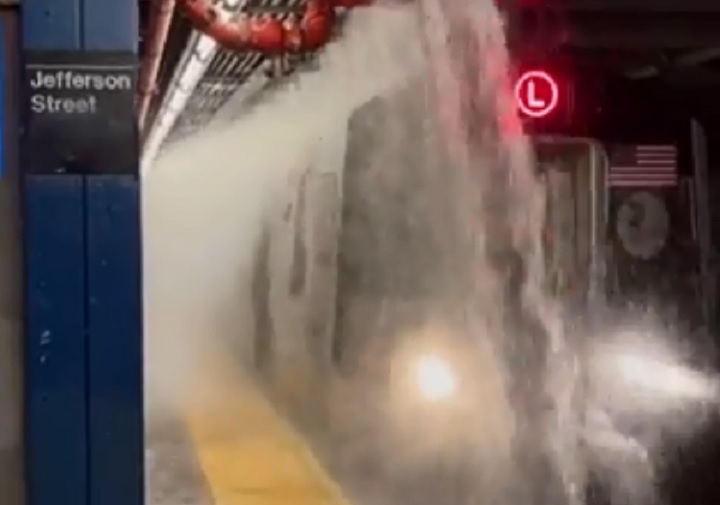 Officials attribute the heavy rainfall to the country's hurricane Ida, which left at least four people dead in the southern US on Sunday.
Alex Etling/Video Playback/Twitter
Metro operation was paralyzed due to flooding

At least nine people died in Nova York and New Jersey, in the USA, after heavy rains hit the northeast of the country on Thursday, 2. Rainfall that lasted for hours made the National Weather Service office declare an emergency for "risk to life" in the region, which is considered rare. A previous state of emergency had already been declared statewide by Gov. Kathy Hochul after a tornado warning was registered. Hundreds of streets were flooded and apartments located in the basement or on the ground floor of buildings were flooded. According to police, eight of the nine deaths were registered in New York. In New Jersey City, the fatal victim was trapped inside a car that was submerged in water. The number of deaths could increase as floods have also been reported in Pennsylvania, Maryland, Connecticut, Massachusetts and Rhode Island.
Estimates are that the energy has been cut in at least 230,000 homes across the northeast of the country. The rain stopped in the early hours of the morning, but the water level had not yet lowered in the city around 6:00 (7:00 am EDT). As a result, all subway services in New York were suspended earlier in the day. The expectation is that services will return in the afternoon. Operations at the New Jersey airport were also partially suspended because of rain overnight, but have now returned to normal. Local authorities believe the heavy rains are the remnants of Hurricane Ida, which hit US soil last Sunday, 29, leaving at least seven people dead and more than a million without power in the states of Alabama, Louisiana, Mississippi and Maryland. .
Getting a bit of rain in New York City tonight…@Gothamist @Prime Time Zone @NYDailyNews pic.twitter.com/JaC9XA6XC7

— Alex Etling (@AlexEtling) September 2, 2021