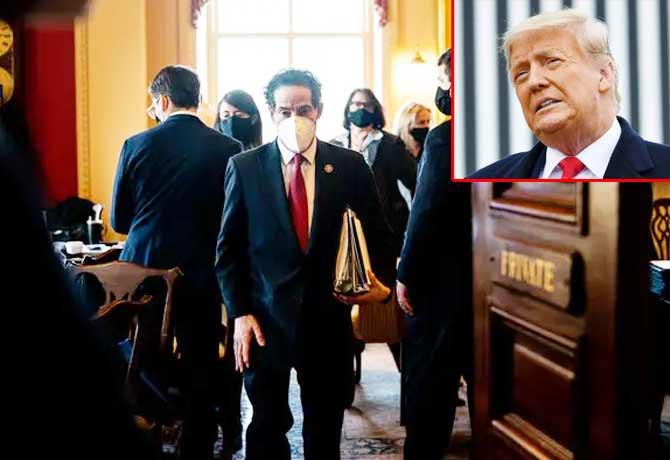 Republicans' failure to resist 11 11 more Republicans need support to win impeachment
Washington: The impeachment of former US President Trump in the Senate began on Tuesday. The trial began with videos of the attack on the Capitol Hill building and Trump's earlier appeals to cars of concern. This is the second time in history that the president has been impeached after retiring. Warren Hastings, the first British Governor General of India in the 18th century, was impeached after retirement. The Senate decided to impeach by a margin of 5644 votes on both sides in a vote held by the Senate on Tuesday. The argument by Trump's own Republicans that they would not agree to impeach an incumbent president did not win the vote.
On this occasion, six members of the Republican Party supported the Democrats. With Republicans and Democrats making up 50 percent of the Senate, 67 votes are needed to defeat the impeachment of Trump. But with six Republicans backing the Democrats, the Senate needs the support of at least another 11 Republicans. An impeachment resolution is valid only if it has the support of a third of the Senate. But such a situation does not appear. Yet Democrats are looking to take advantage of this opportunity to point out the mistakes Trump has made. Hundreds of members of the Senate will hear arguments on the charges for 16 hours Wednesday between lawmakers and Trump lawyers over the impeachment from both sides.
On the occasion, Impeachment Manager Jamie Ruskin supported the trial, saying it was constitutional. He said the inquiry was to uncover the facts. He said Trump had sent his lawyers to block the Senate, which was preparing to hear the facts of the case, and tried not to hear any evidence. Rushkin's speech in the Senate says that according to English history, former presidents need to be held accountable for the abuse of power that took place while they were in office. Trump will become the first president in American history to face impeachment twice.