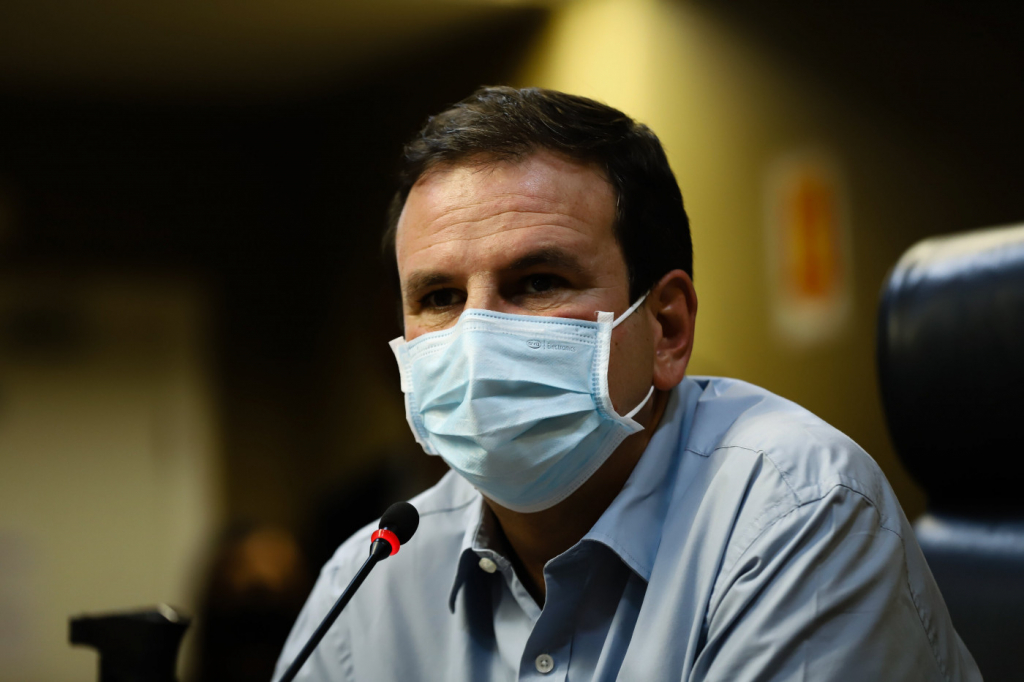 Mayor Eduardo Paes (PSD) highlighted that relaxation of the measures depends on the epidemiological scenario, the high vaccination coverage and the delivery of vaccines by the Ministry of Health
ANDRE MELO ANDRADE/IMMAGINI/ESTADÃO CONTEÚDO – 01/22/2021
Announcement was made by the management of Mayor Eduardo Paes (PSD) this Thursday, 29

A Rio de Janeiro's city hall announced, on Thursday, 29, a plan to ease the restrictive measures in the city. According to the gradual schedule established by the mayor's management Eduardo Pais (PSD), there will be three distinct stages, from September 2nd to November 15th. In the first part, 50% of the public is expected to be released in stadiums, discotheques, nightclubs, concert halls and parties in closed places – for this, however, 77% of Cariocas will need to have taken the first dose of vaccines against the Covid-19 and 45%, the second dose, which guarantees complete immunization. As of November 15, according to forecasts, the use of masks will only be mandatory on public transport and in health facilities. The management was keen to emphasize that the relaxation of measures will depend on the epidemiological scenario, the high vaccination coverage and the continuity of vaccine delivery by the Ministry of Health.
Eduardo Paes also stated that the reopening will be accompanied by a four-day celebration, which will take place between the 2nd and 5th of September. He stressed, however, that the plan can be revised, if health authorities find an increase in the number of cases or the circulation of a new variant of the coronavirus, for example. "If the Secretary of Health comes to me and says that it's not possible [para manter a flexibilização] because it increased or a new variant arrived, we immediately interrupt any opening process and can impose new restrictive measures", he said. The mayor added that, currently, "everything indicates" that the city is experiencing "a better time" from an epidemiological point of view.
The second stage of the flexibility plan is scheduled to start on October 17th and foresees the presence of 100% of the public capacity with full vaccination in stadiums, concert halls and parties. From the penultimate month of the year, the use of protective masks will no longer be mandatory. Free movement will also be allowed, without the need for social distance. Paes also stated that New Year's Eve will be "the biggest in history" in Rio. If everything goes as planned, the mayor pointed out, carnival will also take place normally. "We are almost closing the details of the support and sponsorship that the City Hall will do for the samba schools. There is a clause that says: 'Look, if it doesn't happen, on the scheduled date, the schools will have the obligation to do it on a date scheduled by the City Hall'. But we are programming in light of the data, and then, sorry, it's the epidemiologists who can tell us that we're going to have, yes, New Year's Eve and Carnival", he said.
River again! Learn about the planning for the relaxation of restrictive measures in the city of Rio, presented at a press conference this afternoon. All steps depend on the epidemiological scenario, high vaccination coverage and continued delivery of vaccines by the Ministry of Health. pic.twitter.com/VjznHisfJE

— Municipal Health Department of Rio de Janeiro (@Saude_Rio) July 29, 2021