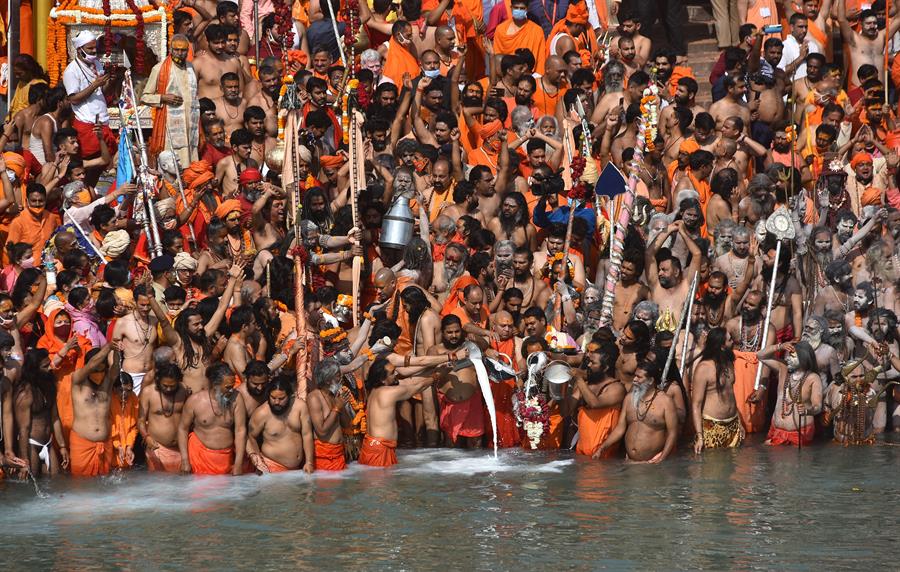 Until February, the country reported an average of 10,000 daily contaminations; aggravation may be related to the disregard for measures to combat the new coronavirus and the Hindu festival Kumbh Mela
EFE / EPA / IDREES MOHAMMED
The religious festival Kumbh Mela is bringing together thousands of Hindus for celebrations on the Ganges River

A India announced a new record of daily infections by coronavirus this Thursday, 15, when registering 200 thousand new cases of Covid-19 in the last 24 hours. At the beginning of the week, the country had already surpassed Brazil and became the second country with the most accumulated infections in the world, behind only the USA. The figures are alarming because by February India was reporting an average of 10,000 new infections each day. The aggravation of the pandemic in the Asian nation seems to be related to the disregard for measures to combat new coronavirus and the Kumbh Mela religious festival, which lasts for weeks and is bringing thousands of Hindus together for celebrations on the Ganges River. Previously, local officials had also linked the increase in the number of cases to the emergence of coronavirus variants. Recently, the Ministry of Health released the results of a study that indicated the presence of strains of the UK, gives South Africa and Brazil in India, in addition to a variant with a double mutation that had not yet been cataloged anywhere on the planet. Although India maintains one of the lowest lethality rates for Covid-19 in the world – the proportion is 119 deaths per one million inhabitants -, the government is warning of the capacity of hospitals and the scarcity of supplemental oxygen.
Vaccination yes, no lockdown
The world's largest vaccine manufacturer, India has delivered 77 million doses since the start of its vaccination campaign. vaccination against Covid-19 in mid-January. This means that the country has the third largest absolute number in the world, second only to the United States (161 million) and China (133 million). However, the vaccination rate per capita is still low in the second most populous country in the world: there are 5.51 doses per 100 inhabitants, behind the world average, which is 8.33. For this reason, the Prime Minister Narendra Modi is preventing exports from Oxford vaccines produced at the Serum Institute. The aim is to ensure that the doses manufactured there are used to speed up India's own immunization campaign.
However, the Indian government has refused to adopt a national lockdown, since last year's one had a strong economic impact. For the time being, only local governments have taken steps in this direction. The administrative capital New Delhi imposed a curfew on weekends and ordered the closure of non-essential services, such as shopping malls, restaurants and gyms. The financial capital Mumbai, which is one of the epicenters of the second wave, also determined a lockdown on the weekends and decided to close some public establishments, in addition to banning meetings with more than four people.