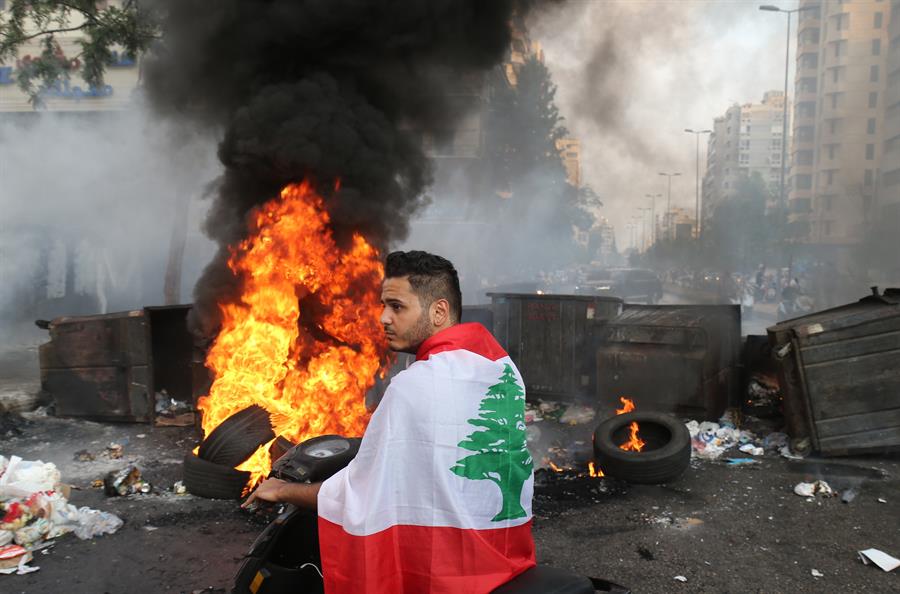 According to Saad Hariri, disagreements with President Michael Aoun caused him to resign from office; dismissal marks yet another obstacle in the formation of a new government
EFE/EPA/NABIL MOUNZER
People took to the streets after Lebanon's prime minister announced his resignation

O Prime Minister do Lebanon, Saad Hariri, announced on Thursday, 15, that he would leave his post after trying for eight months to form a government for the country, mired in a political crisis. Hariri's resignation was announced after a brief meeting with President Michael Aoun. On his way out of Baabda Palace, he spoke with journalists and narrated disagreements with the president as one of the reasons. "Aoun called for some amendments that he considers essential and I said that we would not be able to reach a common agreement. May God save this country," he said. In an official position, in turn, the president accused the prime minister of having already decided to retire before the meeting. "He rejected any amendments regarding changes in ministries, in the distribution of secretaries and in the names linked to him," the statement said.
Shortly after Ariri's announcement, protesters in favor of the former prime minister's party, which is Muslim and Sunni, as the country's tradition demands, took to the streets of Beirut to protest against the president, blocking roads and burning tires. According to Al Jazeera, dozens of people clashed with soldiers, who fired rubber bullets to disperse the protests. The announcement also had a high impact on the local currency, which in recent months has lost 90% of its value. Estimates are that about half of the population has plunged into poverty with inflation rising by over 400%.
The prime minister's decision generated an international reaction. US Secretary of State Antony Blinken said the resignation was disappointing for the Lebanese and criticized the "waste" of local politics in recent months. "The economy is in free fall and the current government cannot provide basic services on a basic basis. Leaders in Beirut must put partisan differences aside immediately and form a government that serves the people," he said. French Foreign Minister Jean-Yves Le Drian also commented on the choice of Hariri and stated that the political class should be held responsible for the situation of destruction they face. "They seem to be incapable of finding a solution to a crisis of their own making," he pointed out. The country has been without an official government for nearly a year, as previous political representatives resigned in 2020, shortly after the explosion that left hundreds dead in the Port of Beirut.