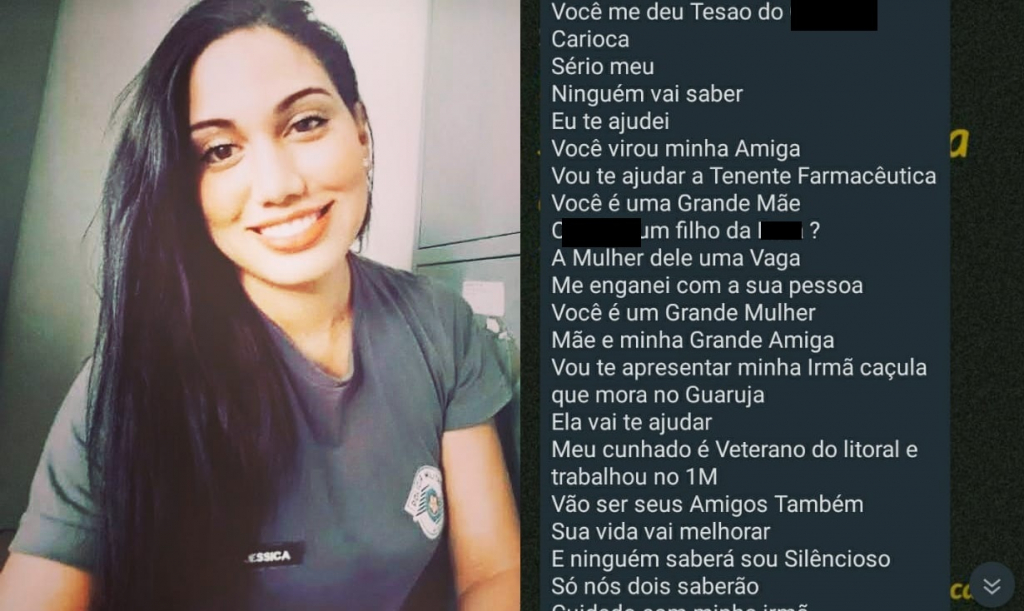 The battalion commanding officer was the target of an investigation initiated by the police and was removed in April of this year.
Editing/Instagram Jessica Paulo/Personal archive
Former soldier Jéssica Paulo do Nascimento, who filed the complaint, resigned alleging pressure and harassment of co-workers

The lieutenant colonel of the São Paulo Military Police, Cassio Pereira Novaes, who had been removed from command of the battalion in April this year after being denounced for harassment and death threat, was promoted to colonel this weekend. The promotion was published in this Saturday, 17th edition, of the Official Gazette of the State of São Paulo. According to former soldier Jéssica Paulo do Nascimento, who filed the complaint, in 2018 Novaes would have made a series of attempts to go out with her and, after having her appeals denied, would have started to "chasing her" with messages and sabotage. inside the corporation. As a result, she was given psychological counseling and asked for a two-year unpaid leave of absence from the position she occupied. This year, upon returning to work after the end of her leave, the former soldier said that the attacks continued, when she decided to file a complaint with the Military Police's Internal Affairs.
At the time, the corporation said in a statement that it had opened a police inquiry and removed the commanding officer of the battalion in April. In May, citing pressure from co-workers, Jessica resigned. "I started to be persecuted in a very dirty way, they realized that my psychological condition was not good, due to all that I went through, death threat, rape, and even so they put me to work in the street, with the option When the police officer is not well psychologically, or is going through a delicate problem like me, they usually give the option of working in-house", he explained. According to Jessica, she would have been examined by a PM health professional to narrate the psychological problems she was going through and would have heard from him that she would only be removed from the service if another fellow captain, who was not a doctor, authorized it.
"I felt that if I continued to work in that business, things would happen that could tarnish my reputation, even if I got kicked out. Because every day I was being warned for no reason, for futile things, such as giving an interview inside my house", he recalled at the time. Jessica also said that, after the first reports, she received a series of messages from people inside and outside the police who went through situations similar to hers. THE Young pan contacted the São Paulo Public Security Secretariat and is awaiting information regarding the conclusion of the police investigation and the promotion of now Colonel Cassio Pereira Novaes.