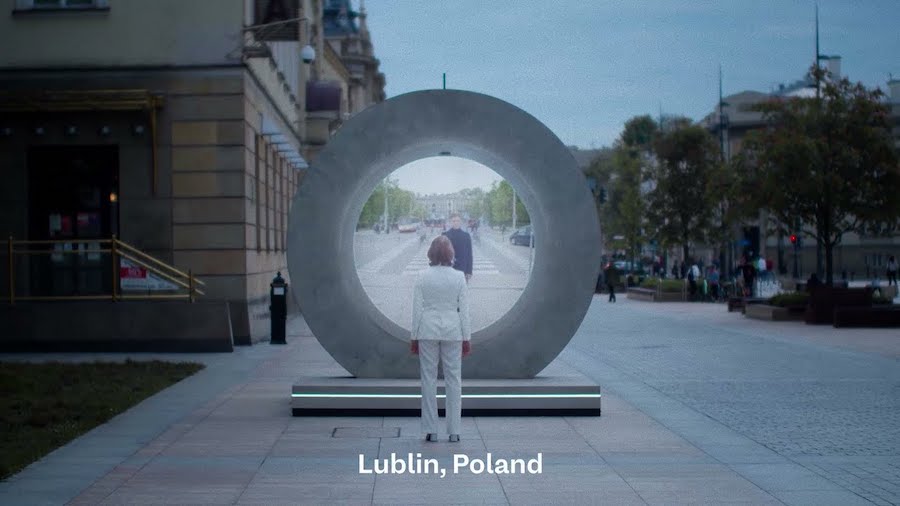 To combat the fatigue of travel restrictions caused by the covid-19 pandemic, the city of Vilnius, Lithuania, decided to build a real-time "gateway" to other cities.
The city of Vilnius, capital of Lithuania, installed a Digital "portal" which links the inhabitants to those of Lublin, in Poland. According to the The Verge, the initiative aims to combat the fatigue of travel restrictions due to the covid-19 pandemic.
The portal was built for those who have "the desire to meet new people from countries near and far" and is already in operation.
This giant screen is installed near the Vilnius train station and connects people to a portal in Lublin, some 600 kilometers away. cameras transmit live images between the two cities, a kind of digital bridge to encourage people to "rethink the meaning of unity," said Go Vilnius in a statement.
In the future, those responsible for the project intend to install more portals in other European cities and thus extend this initiative. "The portal is supposed to serve as a visual bridge and accelerator of the new wave community that brings people from different cultures together and encourages them to rethink the meaning of unity," explains Vilnius Tourism.
"Humanity is facing many potentially deadly challenges; be it social polarization, climate change or economic issues", began by saying Benediktas Gylys, president of the Benediktas Gylys Foundation, responsible for the idea of ​​the digital portal.
Those responsible also want to "involve communities and encourage a public movement to embrace social experiences, unexpected reactions, as well as the long-term unity of different cultures and their peoples".
For Gylys, the factors responsible for the current lack of unity are linked to "tribalism, lack of empathy and a narrow perception of the world, which is often limited to our national borders".
The portal it is an "invitation" to union between peoples.