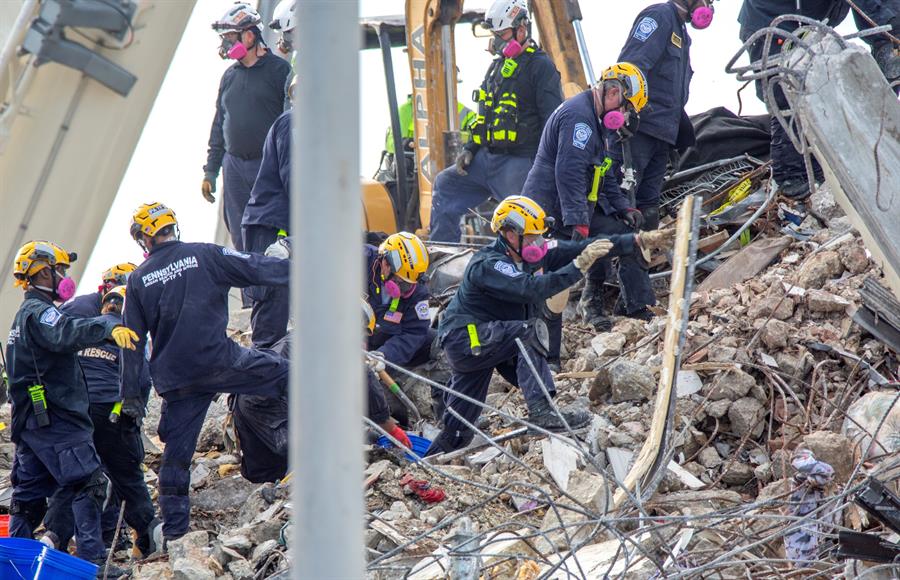 The rest of the building that was still standing was demolished this Sunday night, 4; so far, 118 people are missing.
EFE / EPA / CRISTOBAL HERRERA-ULASHKEVICH
Rescuers continue to work in the rubble of the building that collapsed in Miami

Search teams confirmed on Monday, 5, that they found three more bodies in the rubble of the building that collapsed in Surfside, County of Miami-Dade, on Florida, on the last 24th. On the 11th day of the search for survivors, the total number of confirmed deaths rose to 27 and 118 people are still considered missing. These were the first bodies found by search teams after the total demolition of the buildings on Sunday night 4. Search operations after the implosion resumed around midnight (1:00 GMT) and continue incessantly with hundreds of firefighters and first responders taking turns. In addition to US officials, Chileans and Israelis strive to find someone alive, which becomes increasingly unlikely.
The commander of Israel's National Rescue Unit, Colonel Golan Vach, said in an interview with the American channel CNN that the chances of finding someone alive under the rubble is "close to zero". "I am realistic, but we are still full of hope. This hope keeps us active every day," he declared. Florida Governor Ron DeSantis declared a state of emergency in Miami-Dade and 14 other counties on Sunday because of Tropical Storm Elsa, which passes through Cuba and is expected to arrive in the US state by midweek. Recent projections show that Surfside, however, is not on Elsa's route. Heavy rain and winds can still be registered at the site.