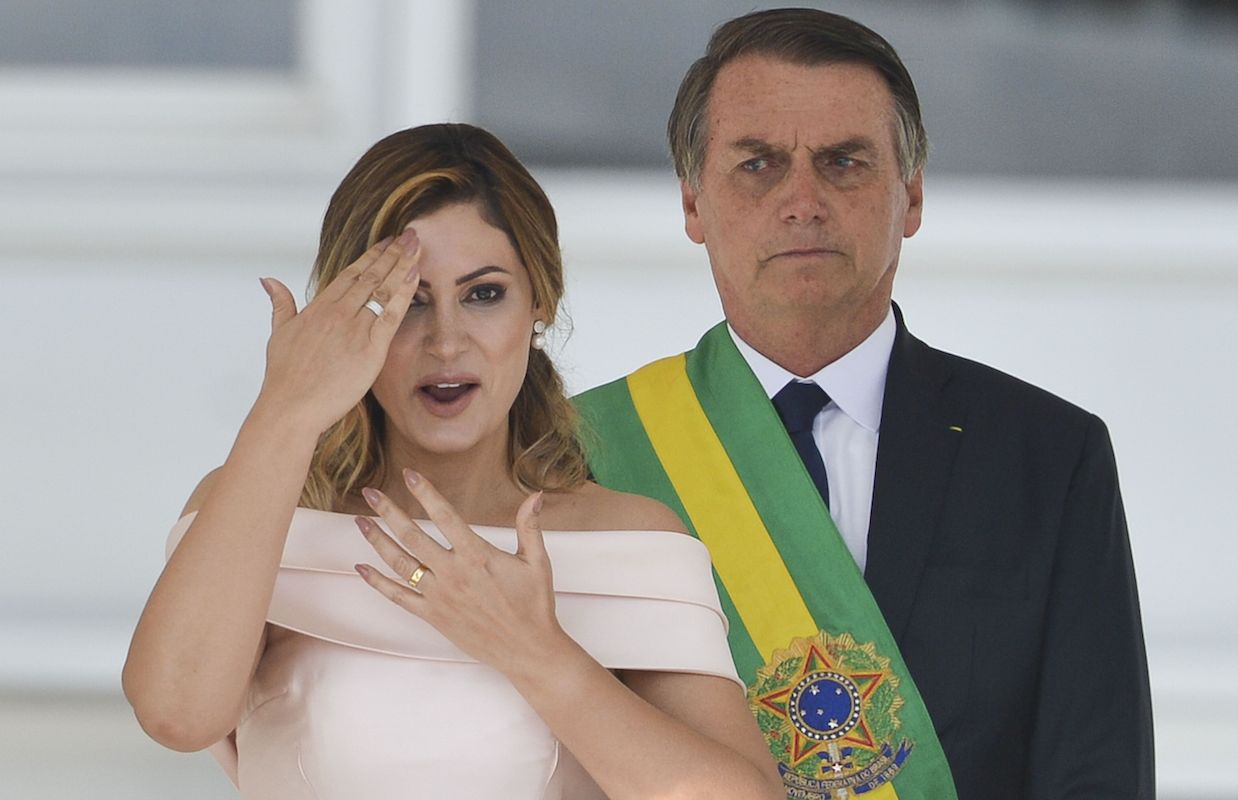 Documents obtained by the magazine Crusoe indicate that Michelle Bolsonaro acted personally to favor friends and businessmen close to the Brazilian President.
The Federal District Attorney's Office decided to investigate the alleged favoring of the country's first lady, Michelle Bolsonaro, to companies of friends with loans from Caixa Económica Federal, reported on Friday, the magazine Crusoe.
Documents obtained by Crusoé indicate that Michelle Bolsonaro, wife of Jair Bolsonaro, acted personally to favor friends and businessmen close to the president at the height of the pandemic.
According to the magazine, loans were authorized after the first lady spoke with the president of Caixa Económica Federal, Pedro Guimarães.
"At the request of Mrs. Michelle Bolsonaro and according to a telephone conversation between her and President Pedro, we forwarded the documents of the micro-entrepreneurs in Brasília who have been looking for low interest credit", says one of the e-mails obtained by the magazine, dated last May.
The investigation into Michelle's performance will be carried out within an inquiry that investigates irregularities at Caixa, such as alleged political pressure on the Brazilian Federation of Banks (Febraban), according to Globo network.
The revelation generated a strong negative repercussion by the opposition to the president of Brazil who demanded an investigation into the case.
"Heads up! I and the other leaders of minority parties in the Chamber of Deputies have just called the Federal Public Ministry (MPF) to have Michelle Bolsonaro investigated for influence peddling. The magazine Crusoe he denounced that she interfered in Caixa so that 'bolsonarist' entrepreneurs could receive loans", he wrote in the Twitter the deputy Marcelo Freixo.
"Several micro/small entrepreneurs had difficulties in getting credit in the pandemic, they had to fire employees or close their doors. But for a select group of 'bolsonarists' it was a piece of cake, all you had to do was trigger Michelle Bolsonaro and at low interest rates. This is influence peddling!", accused the national president of the Workers' Party (PT), Gleisi Hoffmann.
Gleisi also revealed that he delivered to the Chamber of Deputies a request for explanations to the Minister of Economy, Paulo Guedes, and to the president of Caixa Económica Federal about the alleged credit made easier for friends of Michelle Bolsonaro.
The right-wing Novo party also manifested itself on social media: "Absurd! Press denunciation that Michelle Bolsonaro would have favored friendly companies to obtain loans from Caixa at the height of the pandemic is very serious. The bench of Novo will call the Ministry of Economy to demand clarification and due investigation into the case."
For the former federal deputy and former vice-presidential candidate of Brazil Manuela D'Ávila "mamata [ladroagem] and the only institution that continues to function" in the current government.