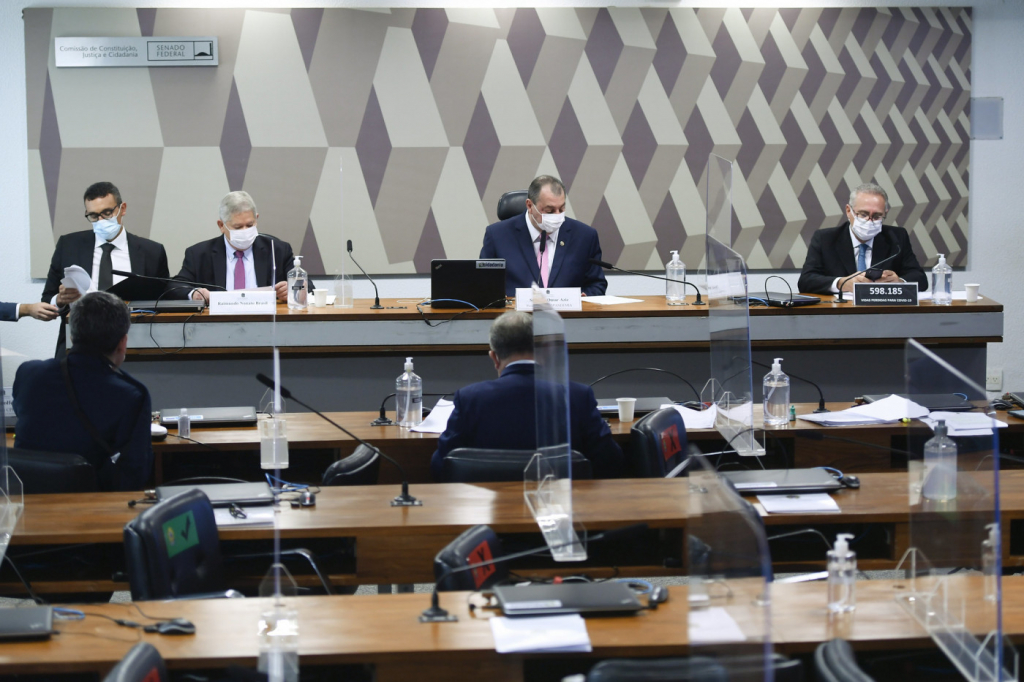 Agreements totaling nearly R$400 million were signed between 2016 and 2018, a period in which the ministry was headed by federal deputy Ricardo Barros, current government leader in the Chamber of Deputies
Edilson Rodrigues/Senate Agency
Covid-19's CPI hears, this Tuesday, the 5th, VTCLog partner Raimundo Nonato Brasil

the senator Renan Calheiros (MDB-AL) stated that the Ministry of Health signed eight contracts without a bidding process with the VCTLog, company responsible for the logistics of supplies and vaccines. The value of the agreements is close to BRL 400 million and were signed between 2016 and 2018, a period in which the ministry was headed by the federal deputy Ricardo Barros (PP-PR), current leader of the Bolsonaro government in Chamber of Deputies. This Tuesday, the 5th, the CPI to Covid-19 receives Raimundo Nonato Brasil, partner of the company. To parliamentarians, he denied any illegality. "All contracts have the proper legal documentation, passed through the Federal Court of Accounts and the legal advice of the Ministry of Health," he said.
President of the commission, senator Omar Aziz (PSD-AM) commented on the absence of bidding in the contracts signed by the Union. "There are more than 330 million without bidding? In two years?" he asked. "All of this in a period without a pandemic, when people said 'look, we're at an exceptional time.' I don't remember a moment of exceptionality in 2018", he continued. The PSD congressman asked the Secretary of the CPI to present a request for the Ministry of Health to justify why the folder did not carry out the bidding processes. "Our contract with the Ministry of Health is on demand. If there is a demand, [a empresa] invoice. If there is no demand, do not invoice. Every service provided is on demand," replied Nonato.
Full member of the collegiate, Senator Eduardo Braga (MDB-AM) also questioned the values. "We can even understand that there is high demand at a time of pandemic, but in 2018, what was the demand for high revenues in the logistics sector?" asked the emedebist. "The contract started [a vigorar] in November 2018, then, I think that year's revenue was negligible. There were almost 400 million in 2019, 2020 and 2021", said the VTCLog partner. "If you said that in December there were no billings and in 2019 there were revenues of 90 or so million, in a year without a pandemic, in order to have 400 million revenues, 300 million were billed during the pandemic period. We would like to understand what establishes this almost constant volume of billing at VTCLog", insisted Braga. "This is part of the operational part of my company. I'm a partner and I'm not in a position to answer", countered the deponent.