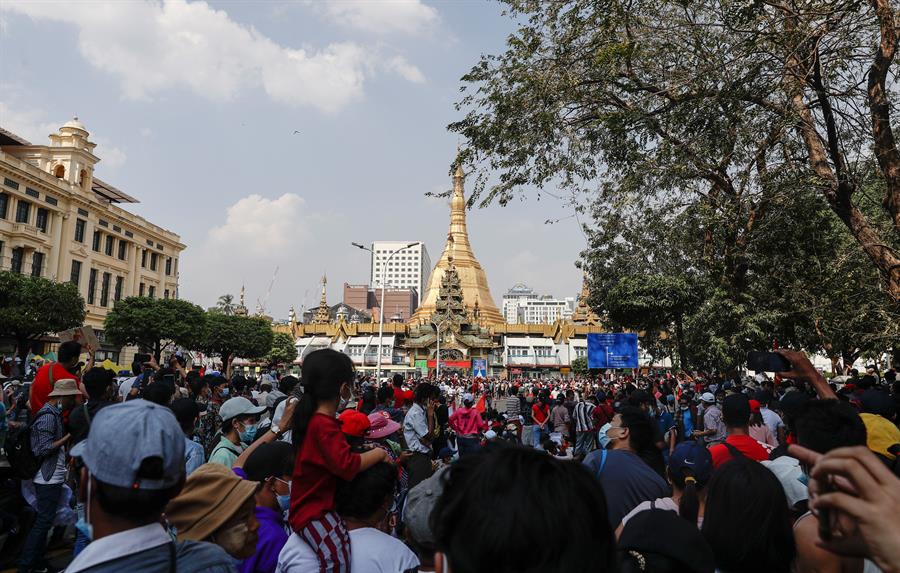 The network was restored without notice, but Facebook and Twitter remain restricted; demonstrations are being peaceful and without confrontation with the police
EFE / EPA / LYNN BO BO
Thousands of people took part in the protest in Rangoon, Myanmar's former capital and most populous city

THE Myanmar this Sunday, the 7th, its second day of massive protests against the military coup. Tens of thousands of people took to the streets of various cities in the country, but the main demonstration took place in Yangon, where people gathered around the Sule Pagoda, the most representative monument in the nation. Southeast Asian. The police set up checkpoints and barricades in several public buildings in the old capital, including armed soldiers inside. However, so far there have been no clashes between authorities and civilians, who give roses and water bottles to the police and ask them to join the protest.
Sunday, 7, also marked the end of a 24-hour block on Internet access in the country. The network was restored without notice shortly after midday local time. The censorship ordered by the military against Twitter e Facebook remains in force, although many users manage to circumvent the restrictions through some software that mask the network's location. The London-based tracking portal Netblocks said in its latest update that Myanmar has recorded "a partial restoration of connectivity", although it said "it is not clear whether the restoration will be maintained and social networks will remain blocked".
The military, who ruled the country with an iron fist from 1962 to 2011, seized power on Monday, alleging massive fraud in the November elections, in which the activist's party won a forceful victory, with 83% of the seats contested. The demonstrations are dominated by the color red, which identifies the National League for Democracy (LND) party, led by the Nobel Peace Prize winner and deposed leader of the democratic government, Aung San Suu Kyi, and demand the release of all those detained by the military, including her.
* With information from EFE