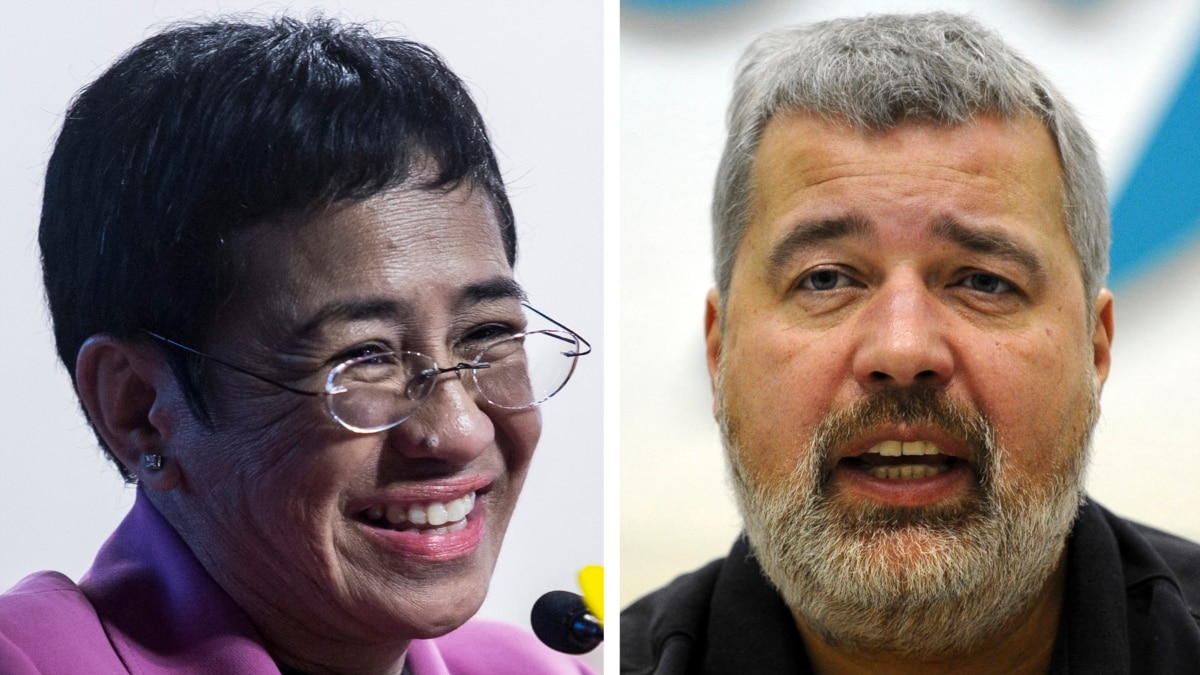 "Ms. Resa and Mr. Muratov will receive the Nobel Prize for their courageous struggle for freedom of expression in the Philippines and Russia." Announced on October 8 the Nobel Committee, which will award the prizes. "At the same time, they represent all journalists who uphold this ideal in a world where democracy and freedom of speech are increasingly undesirable."
The Nobel Peace Prize is awarded to individuals or organizations that "They will do more or better for brotherhood among peoples."
Last year, the UN Food Program, which fights world hunger, won the Peace Prize.
Prize winners will be awarded a gold medal and the winners will receive a $ 1.4 million cash prize.
The prize fund is funded by a fund created by the Swedish inventor, Alfred Nobel, who died in 1895.
According to Muratov, this award belongs to "Novaya Gazeta" and its journalists, who welcomed life for their professional activities.
"In my opinion, this award belongs to Anna Politkovskaya, Yuri Shchekochikhin, Igor Domnikov and my deceased, dear friends and colleagues." Said Muratov. "And this award belongs to people who are now considered 'foreign agents' or 'undesirable elements'."
He added that part of the money provided by the award will be used for the treatment of children with serious illnesses and journalism.
According to Resa, his Nobel Prize shows that "Nothing is possible without facts" And added: "A world without facts means a world without truth and trust."
According to the Norwegian Nobel Committee, Resa, who heads the investigative journalism media company Rappler, "Uses freedom of expression [ფილიპინებში] "To expose the abuse of power, violence and growing authoritarianism."
A veteran Filipino journalist, 58-year-old Resa has become a symbol of the struggle for press freedom in the Philippines.
The former head of the CNN bureau founded the Rappler investigative journalism website in 2012, which publishes independent journalistic investigative materials about the regime of Philippine President Rodrigo Duterte. Numerous criminal cases have been filed against him for publications critical of Duterte.
In 2018, Resa magazine named him Time of the Year for his contribution to the fight for press freedom
"I am not the only journalist," Said Resa in an interview with AFP in 2020. "My task is to stand under the ceiling so that our colleagues can continue to work."
Muratov, 59, was one of the founders and editor-in-chief of Novaya Gazeta in 1993 for 24 years.
According to the Nobel Committee, it is "The most independent newspaper in Russia today," Which protects freedom of speech in the country "In increasingly difficult conditions."
The Committee commends the newspaper "Critical attitude towards power" And "Fact-based journalism and professional honesty," Which made it an important source of information on issues rarely mentioned by other Russian media outlets. These are corruption, police violence, illegal arrests and election fraud.
The Novaya Gazeta was created with the Nobel Peace Prize awarded to former Soviet President Mikhail Gorbachev in 1990. This project was conceived as a monument to Gorbachev's cornerstone, Glasnost (publicity).
The newspaper gained international recognition for its coverage of corruption and human rights abuses, especially in Chechnya. He and his staff are an example of the dangers posed in Russia by those who question the information disseminated by the state.
Six journalists and authors of the newspaper – Igor Domnikov (2000), Yuri Shchekochikhin (2003), Anna Politkovskaya (2006), Anastasia Baburova (2009), Stanislav Markelov (2009) and Natalia Estemirova (2009) – were killed. Newspaper employees and human rights activists say they were envied for their journalistic activities.
The Novaya Gazeta has been under pressure, intimidation, violence and murder since its inception.
It is noteworthy that 15 days before the nomination of the Nobel Peace Prize laureates, 15 years have passed since the assassination of the newspaper's leading journalist and human rights activist, Anna Politkovskaya.
On the 15th anniversary of Politkovskaya's assassination, the European Union reiterated its call for all those responsible for this crime to be punished.
Politkovskaya sharply criticized Russian President Vladimir Putin, exposing corruption in the upper echelons of the Russian government and human rights abuses in Chechnya. He was killed in front of his own apartment on October 7, 2006, Vladimir Putin's birthday. The murder is still unsolved.
Despite the killings and threats, Muratov "Refused, deviated from the newspaper's independent policy" And "Consistently defended the right of journalists to write what they want and what they want, if they adhere to the standards of professional ethics of journalists." According to a statement from the Norwegian Nobel Committee.
"I think it will protect the newspaper and other media outlets that work in a similar way." Political commentator Tatiana Vorozhekina told RFE / RL. "I hope that this will serve as a shield for the journalists of Muratov and Novaya Gazeta in their worthy work."
According to Vorozheikina, "It is difficult to imagine that a Nobel laureate could be considered a 'foreign agent'."
According to some, the awarding of the prize to Muratov was a compromise decision and that the award should have been given to the opposition Alexei Navalny. Navalny, a fierce critic of the Kremlin, was poisoned with chemical weapons in August 2020, which Navalny said was carried out by FSB agents on the instructions of Russian President Vladimir Putin.
"This award will be called 'Award not given to Navalny'", Political scientist Kirill Rogov told Radio Liberty.
But not everyone agrees with this opinion. According to analyst Vladislav Inotzemzev, the award "Emphasizes the importance of a free press in modern society."
This year's Nobel Prize season kicked off on October 4 when the award winners in physiology and medicine were announced. This award was received by Americans David Julius and Ardem Pataputian. The Nobel Prize in Physics was awarded this year to American-Japanese scientist Sikuro Manabe, German Klaus Hasselman and Italian Giorgio Paris. Prizes from chemists went to German Benjamin Liszt and American David Macmillan. Tanzanian author Abdulrazak Gurnah won the highest award in the field of literature. This year's Nobel Prize winner will be announced on October 11 for his outstanding work in the field of economics.
.