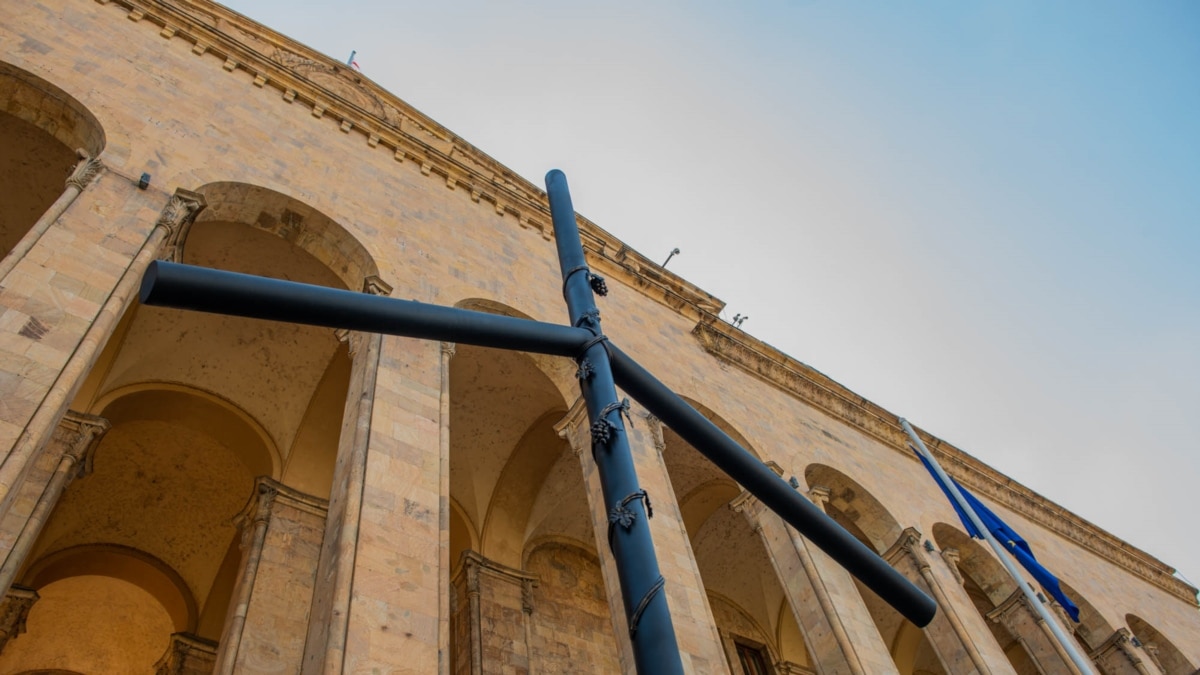 Two weeks after the mass and organized attacks on journalists on the streets of Tbilisi on July 5, 26 people have been arrested – none of them accused of organizing violence.
Although there are videotapes of public statements calling for violence, so far no one has been arrested on charges of violent calls and organized crime. Some of the detainees themselves say at the trials that the investigation has no evidence against them.
Giorgi Naskidashvili was arrested on July 11. At the trial, he claimed that he had accidentally hit Rustaveli on foot that day because the avenue was blocked due to the rally and traffic was not running. According to his human rights activist Naskidashvili, the craftsman was going to Eliava market to buy materials that day as well.
"I walk every day, I do not have my own car, I walk all over the city and you will not find anyone who will say that I have violated something.
Whatever t-shirt I wore in number 5, I handed it to the law enforcers with my own hand, if someone proves something to me in a group or at least one rally, I will take this accusation completely. I feel absolutely innocent, I am not a violent person, I will not hide from the investigation, I have a 5-year-old child, should I hide my child? " Said G.Yorgi Naskidashvili At the hearing. He, like other defendants, was sentenced to pre-trial detention by a court. It is unknown to the public what evidence the investigation has in the case of George or other defendants, and whether or not the evidence of other persons is clear from this evidence.
How the state is investigating what happened on July 5th
"The intention of the Ministry and the state is already clear, not to hold the organizers of all this accountable when it is obvious from their statements and actions.
Very soon you could arrest the organizers and bring them to justice. There is all kinds of evidence against the organizers, be it their public announcements, Facebook activities, TV appearances or previous trials. "The violent events of July 5 are far more serious than those investigated under the article of organizing violence." – Eduard Marikashvili, the chairman of GDI, tells Radio Liberty.
Of the 26 people arrested so far for their involvement in the July 5 violence, 23 have been charged with obstruction of journalism, 3 with destroying someone else's property, or attacking the Tbilisi Pride office, and 1 with violence against a citizen with a rainbow-colored flag. The detainees are participants in a total of 9 violent episodes.
Most of those arrested on July 5 say they took part in the anti-Pride rally with the blessing of a priest, patriarch or bishop. Most of them have the status of unemployed or socially vulnerable, they came to Tbilisi from several regions to take part in the rally, two of the detainees have been convicted in the past.
In each case of violence, the narrative of the victims involved far more people than were involved. For example, RFE / RL journalists were attacked by at least 10 people, only one of whom was arrested. More than a dozen people can be seen in the footage of the raid on the Tbilisi Pride office – only 3 people have been arrested, dozens of people have attacked Formula journalist Rati Tsverava, only 1 person has been arrested in this episode.
At most, 8 people have been arrested for attacking the late cameraman of TV Pirveli, Lekso Lashkarava. Lexus said he was beaten by about 50 people. 4 of the 8 possible attackers were arrested after his death. One of them, Davit Kutaladze, who openly used hate speech on Facebook after July 5, even after Lexo's death before his arrest, claimed that the cameraman died not from injuries sustained on July 5 but from a drug overdose – according to Interior Ministry spokesman Lashkarva. Hinted.
"Who did not get a fist in the fight? My eyebrows are raised, my eyes are wide open, it is an elementary event of a quarrel, I have had contact with so many people and they say, nothing like that, I have a slight injury, I will post a video link and share it everywhere. We are beaten to death, we have broken our jaws, we have broken our facial bones and a person comes out and says, "Let's survive." He said David Kutaladze, July 11S. and asked people to share the video where Lexo Lashkarava, who was invited as a guest on one of the shows, said that he did not feel very bad after leaving the clinic.
Davit Kutaladze can be said to be the most active person among the detainees so far. He was a supporter of the anti-Namakhvani movement, broadcasting anti-Pride videos calling on people to protest against the "March of Dignity" and threatening to retaliate against activist Nata Peradze on July 9 for believing that Nata was insulting Christianity by demanding Christianity in Parliament. Kutaladze's open Facebook profile still has photos and videos showing several of his comrades-in-arms. The investigation has not raised any questions with them so far.
"It was to be cashed in cash [ფორმულას ჟურნალისტი, რატი წვერავა], that girl [ტვ პირველის ჟურნალისტი, მირანდა ბარათურია] When he was sitting on the side, he is the owner of a very arrogant language, he is a girl, he is the owner of a very arrogant language, he led the people there, cursed the mass of people and whoever was next to him, hit him. As for killing journalists by beating them and posting our photos there, it is all a lie. If any of you are looking for a video where we are bullying someone, show us. "Before you have the document to prove it, gnash your teeth and what about the comments that 'they will shake you soon', they will shake everyone over there." He says David Kutaladze's friend, Beka Berishvili In the direct Facebook engagement they made after Lexo Lashkarava. Beka Berishvili and Davit Kutaladze arrived in Tbilisi from Kutaisi on July 22 together with another of their comrades, Zura Arveladze, to take part in rallies against Tbilisi Pride.
Davit Kutaladze also tried to prove in court that Lekso Lashkarava did not die as a result of violence. He also said that they were offered to leave the country after July 5.
"I was offered to flee to any country, but I refused, I stayed with my boys, I have no escape, I will be with me just like that. The escape is for the person who is not right and does not speak out loud. They decided to kill this man by beating him and in the second minute he posted those videos [შსს-ს მიერ გავრცელებული ვიდეომასალა გარდაცვლილი ლექსო ლაშქარავას გადაადგილების ამსახველი] And everyone understood the truth " – The accused said at the court hearing on July 13.
Besides Davit Kutaladze, Lekso Lashkaravadze, 7 other people have been arrested on charges of violence. The family of one of them, Tornike Davlasheridze, told RFE / RL that the investigation had no evidence against him, nor were there any records in the case showing how he was abusing the TV First film crew.
"My son was probably arrested because he did not catch anyone else who was abusing him. We are ordinary people, my son worked in the security service, guarding the pharmacy. Even on that day [5-ში] Before he left, he was on night shift. The boys told me to go, to the church rally, my son is a believer and probably because he left. I do not know those guys. I did not talk to my son after that day either. We know from the lawyer that the footage has no investigation, only the testimony of one witness. If there were up to 50 men who were that guy [ლექსო ლაშქარავას] Beaten, what did my son recognize by that witness? I saw one shot near the building [სირცხვილიას ოფისთან], Where Tornike can be seen on the balcony, holds the Georgian national flag. It does not appear that he is abusing anyone "- Says Tornike's mother, Irina. He finds it difficult to say whether his son had homophobic attitudes or aggression towards the media, saying only that he is a believer and would also go to the rally because the priests called him.
"Televisions are sodomites, they are their propagandists. "The Sodomite dictatorship has not been fully established and they will not be able to establish it. They will break their backs. If they take up arms against us, they will be torn apart and it will be inevitable." Said still on July 27 Archbishop Spiridon Tskipurishvili while preaching. He called from the rostrum on July 5 for people to gather in front of Parliament for a rally in the name of Christ. The investigation questioned the dean 2 weeks after the incident, and the patriarchate issued a reprimand. that's all. Public incitement to violence that results in serious damage to human health or loss of life is punishable by up to 5 years in prison under the law.
Zura Makharadze, one of the hosts of Alt-Info, also called for violence before the start of the pride. His hatred was directed not only at LGBT + individuals, the media but also at Western partners.
"On July 5, it will not be decided whether 10 sick people will cross Rustaveli Avenue or not. It ends on July 5, whose rules apply in this country. Traitorous political parties, NGOs, media outlets and, most importantly, their foreign patrons or ours. They call us abusers and yes, I am an abuser. I can and am going to defend my own values ​​by force. "If my child is to grow up in the conditions of hell, I am ready to act against it by force." – The Ministry of Internal Affairs was also informed about this appeal.
Among the protesters and those detained are those who are also involved in the priesthood, such as Zaza Mchedlidze, who was one of the first to be arrested for attacking journalists. Stazaar Zaza Mchedlidze was also actively involved in the movement against Namakhvani HPP.
"I have a family, a respected judge, I will oppress my children" – This is how he tried to convince the judge at the trial not to use detention against him. According to his story, Zaza Mchedlidze turned the flag and accidentally hit the camera.
Inviolable organizers
The July 5 footage clearly shows the clergy and homophobes, conservatives, leaders of pro-Russian groups giving orders, controlling masses of people and running the process. None of them are busy at this time. On July 16, police conducted a search and interrogation of more than a dozen individuals who were involved in various forms of organizing a violent rally or are affiliated with the organizers – the investigation did not yield any results. Moreover, after leaving the police department, the hosts of the pro-Russian internet platform Alt-Info stressed that the police were loyal and fair to them, and that the Georgian authorities would detain them only if the pressure from the West increased.
The Interior Ministry did not release a list of individuals who were summoned to police for questioning on July 16. According to Alt-Info, this list looks like this:
Zura Makharadze
Shota Martinenko
Irakli Kizilashvili
Constantine is in Morgo
George Kardava
Temur Bokeladze
Ramaz Gagnidze
Beka Berishvili
Levan Chachua
Giga Gimzeridze
Onise Bregvadze
Elguja Iashagashvili
Giorgi Makharashvili
Onise Beradze
Beka Bregvadze
Zura Arveladze
Alexander Palavandishvili
Guram Palavandishvili
Some of those interviewed on July 16 were arrested on July 1 for attempting to disperse a movie screening at the Bridge Bridge (for example, Zura Makharadze), while others have so far been allowed by the state to evade legal liability (for example, Guram Palavandishvili).
"The non-arrest of the organizers indicates that the government is in very close contact with these violent groups. This process is detrimental, endangering the rule of law, public peace and order and leaving the feeling that the crime may go unpunished or these groups may later dislike someone else and attack and assault them. "The purpose of justice is not only to punish, the purpose of justice is to prevent other crimes as well, and in this context, if you leave the main culprits without responsibility, you can say that justice is not done." Says Eduard Marikashvili.
.