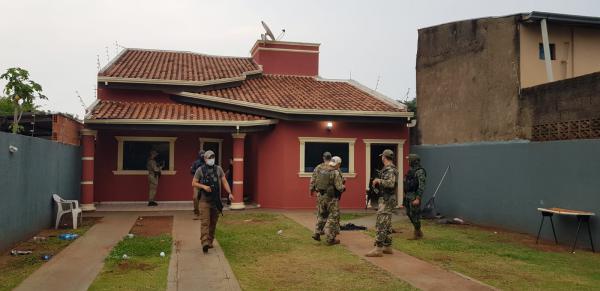 One of the prisoners was also involved with a group that executed alleged thieves in Pedro Juan Caballero, in the neighboring country
Disclosure / Senad / Paraguay
Operation was triggered simultaneously on both sides of the border

A Federal Police (PF) arrested two members of the faction First Command of the Capital (PCC) suspected of participating in the attack on banks in the city of Araçatuba (SP) last August 30th: Anderson Meneses de Paula, 'Tuca' and William Meira do Nascimento, 'Bruxo', were arrested in a joint operation carried out by the PF and the National Anti-Drug Secretariat (Senad) of Paraguay in the cities of Ponta Porã (MS) e Pedro Juan Caballero, this across the border. According to the PF, 'Bruxo' would be part of the PCC's command core and would be linked to major robberies and actions known as 'new cangaço'. Already according to the Paraguayan police, 'Tuca' would be the main head of the group known as 'Justiceiros da Fronteira', responsible for executing suspects of committing petty theft in the region and which would have claimed at least 20 victims in recent months. Also arrested were Tuca's wife, the Brazilian Francisca Kelly Lima da Silva, and three other people.
In the city of Ponta Porã, eight search and seizure warrants and four temporary arrest warrants were carried out. In Pedro Juan Caballero, there were three search and seizure warrants, according to Senad. According to the Paraguayan body, both enjoyed the confidence of the PCC command and were involved in taking an entire city (Araçatuba) to carry out bank robberies, and Tuca had specialized in the use of explosives and in 'justices', even carrying out decapitations of alleged thieves. The two would have prepared the explosive devices that were spread throughout the central region of the city of São Paulo to hinder the police action on August 30th.
The operation, called 'Crime Office' by the PF, was carried out simultaneously on both sides of the border to prevent suspects from fleeing from one country to another. The PF also believes that the two acted as arms dealers and may have supplied the heavy weapons that were seen in the robbery in Araçatuba. The prisoners were taken to Ponta Porã and their arrests were confirmed in a custody hearing. The PF informed in an official note that the operation also resulted in the seizure of "several goods and valuables, as well as large-caliber ammunition". Those investigated can be held liable for the crimes of international drug trafficking, criminal organization and international arms trafficking, whose combined sentences can exceed 30 years in prison.