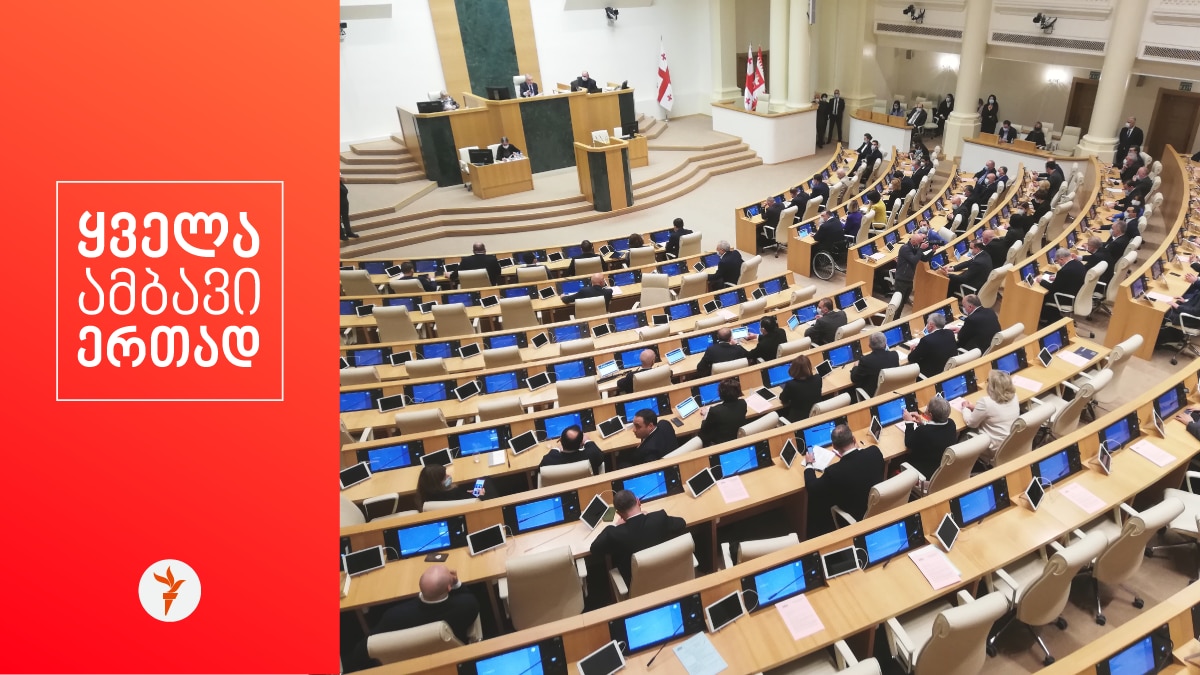 What the parliament of the 10th convocation should have been like and what it is like
It took more than 7 months to staff the legislature as it is today. The boycott was finally stopped by the United National Movement yesterday.
The composition of political parties and coalitions has changed during these seven months. In addition, some politicians who were in the top ten of this or that party have stopped their parliamentary activities. There are only two parties whose members have not changed in the last seven months: "Citizens" and "Lelo".
The Georgian Dream party, which has a majority in parliament, has changed significantly. The number one on the list, Giorgi Gakharia, resigned from parliament on December 29 for the post of Prime Minister. Tea Tsulukiani (Minister of Culture) and Mariam Kvrivishvili (Deputy Minister of Economy) refused their mandates due to their return to the executive branch. The so-called Gakharia team was separated from "Dream".
Eventually Parliament was formed, albeit in a different way. Read more In the article of Gela Bochikashvili.
"There was a breakthrough, now we have to steal nothing – interview with Nino Lomjaria
Part of the children has been evacuated from Ninotsminda boarding house. Part remains in the facility again. Those who have left the locked building have either returned to their families or are under state care. They have already been interviewed by the Public Defender. Nino Lomjaria Radio
Tells Freedom: "There was a breakthrough, now the main thing is to be careful not to steal anything and the children from the boarding school were well. " The ombudsman says that the addressee of his claim was the state, which was eventually forced to do its job.
As for the children, the Public Defender tells us that while talking to the children he heard many things that have not been reported in any of them so far. For example, it turned out that children were not allowed to say bad things about Russia.
According to the Public Defender, the children were recently summoned to a boarding school and persuaded not to leave the institution, otherwise they would find themselves on the street:
"These children also have a pang of conscience. They have a sense of gratitude for the good things that have happened in the boarding house and have had that by making this decision, leaving the boarding house seems to express greed even towards the pastor or other persons. Therefore, those who remain there may find it even more difficult for them to leave. " – Lomjaria says in an interview with Radio Liberty journalist Eka Kevanishvili.
Read and hear more Here.
See also:
Irakli Okruashvili and Zurab Adeishvili to be tried in Buta Robakidze case
The trial of former Interior Minister Irakli Okruashvili and former Prosecutor General Zurab Adeishvili will be held in the Tbilisi City Court on June 9 at 14:30.
Both are accused of abuse of office in this case.
Irakli Okruashvili was charged in connection with the case 16 years ago on November 19, 2020 and was sentenced to pre-trial detention on November 22. It all happened when he was arrested on charges of organizing and participating in gang violence over the events of June 20.
The sudden escalation of the case 16 years ago was immediately considered suspicious by human rights activists and opposition politicians. However, the state prosecution explained everything by the statute of limitations.
Gamkrelidze: Kovid death is the third most common disease in Georgia
Amiran Gamkrelidze, head of the National Center for Disease Control, does not rule out that new strains may be one of the reasons for the high rate of death from covidia in Georgia. According to him, today the death rate from covidia in Georgia is 1.4% and it is relatively lower than the global mortality rate of 2.1%. However, it should be noted that Georgia ranks thirteenth in the world in terms of daily death rate:
"This year, Globally, The latter 6 Of the month During, So much People passed away With a coffin, As much as last year, Throughout year During. Mortality Pace Increased Everywhere, Them Between, with us. Today, With a coffin Mortality in the world You are Second on the place Heart–Vascular Diseases Then. with us Is Third on the place, Heart–Vascular And Cancer Then. Various Strain Circulation Because, Is allowed, that Maybe, more easily They were getting heavier Patients. As well, As Second reason Of mortality, Maybe, Unfortunately, let it be Delayed Referral", Said Amiran Gamkrelidze.
Read more.
French President Emmanuel Macron ousted Sila during a meeting with the population
French President Emmanuel Macron ousted Silas during a meeting with residents at the Ten-l'Ermitage. The incident took place on June 8 in southeastern France.
As reported by Le Figaro, two people suspected of violence against an official have been arrested. According to the newspaper, this is the first attack on Macron.
Read more.
Immortality
Let's talk about Bidzina Ivanishvili's absence. He assures us that I will leave politics, but it turns out to be a bit strange, because, as he himself says in the suddenly sent ustar, neither the relationship with the community nor the information about important events was diminished by the efforts of family, friends, relatives or acquaintances.
Ivanishvili's departure is very similar to Shavua, a butcher from Tbilisi, "leaving this village" described by Nika Agiashvili in his book "Young Men Remain Forever", where one of the butcher's friends tells an "unbelievable story" about a black man buried in Kukia cemetery. They put an iron pipe and, on the second day of each Easter, they slaughtered a sheep, made a barbecue (herbs, mottles, shot bread was a blob), filled each bowl with wine and shouted in that pipe, Get up, boy Shavua, your friends are welcome, They poured a glass of wine into the pipe.
"He was at the end of the pipe at the mouth of Shavua and we were glad that he was emptying his mouth," we read with Agiashvili.
Such one-sided communication, when you are only told the news and "drink wine", can still be considered "going out", but it will not work, if you do not believe in the static (passive) role of Shavua, stand up and say thank you or write an extensive letter, I like it and he Not even.
Read more about Jimsher Rekhviashvili In the blog.
The need for vaccination is also talked about today by people who have just had to fight Covid and have not been completely defeated. Communication Manager Revaz Baramidze tells his story.
.