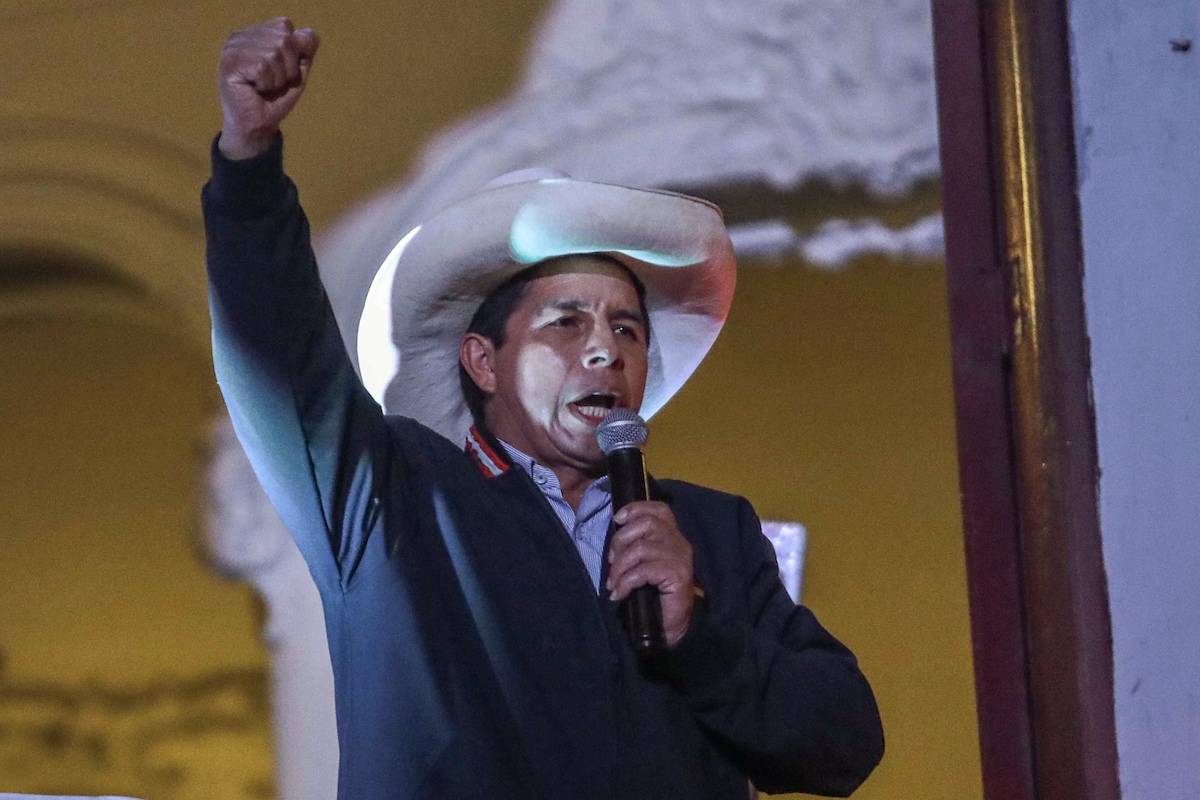 The left-wing candidate was proclaimed President-elect of Peru, a month and a half after a close election against right-wing candidate Keiko Fujimori, who challenged the ballot for alleged fraud.
After declaring the latest legal appeals filed by Keiko Fujimori unfounded, the National Elections Jury (JNE) approved the results of the June 6 vote, in which Pedro Castillo won 50.1% of the votes, 44 thousand more than the right-wing candidate, who got 49.8%.
The proclamation of the 51-year-old leftist candidate comes eight days before the inauguration, scheduled for July 28, when Peru will celebrate 200 years of independence.
On that day, the current acting President, Francisco Sagasti, will hand over the presidency to Castillo, a teacher at a rural school in the Andean region of Cajamarca.
The union leader, out of anonymity four years ago, when he led a teachers' strike, is appointed as the first head of state unconnected to elites political and economic aspects of the country.
Born in a village in the Andean region, where he was a teacher for 24 years, Castillo is considered "Peru's first poor President", analyst Hugo Otero told the news agency France-Press.
Castillo, who grew up in the village of Puña, worked in the fields with his parents as a child and had to walk several kilometers to school. During the campaign, he announced that if he won, he would renounce his presidential salary and continue to live on his teacher's salary.
A Catholic, married to an evangelical, Pedro Castillo regularly quotes passages from the Bible to justify his rejection of abortion, same-sex marriage and euthanasia.
Your program is based on strengthening the health, education and agriculture sectors to improve the situation of the poorest Peruvians, who are facing a recession caused by the pandemic, as well as rising unemployment and poverty.
Castillo also favors the return to state control of the country's energy and mineral wealth, including gas, lithium, copper and gold, currently held by multinationals.
Among his most controversial campaign promises, Castillo has pledged to deport foreigners who commit crimes in Peru, a warning to illegal Venezuelan migrants who have arrived en masse since 2017, and to reintroduce the death penalty to combat insecurity.
The right-wing candidate, daughter of former President Alberto Fujimori (1990-2000), who is serving a 25-year prison sentence for corruption and crimes against humanity, has repeatedly accused Castillo of fraud and called for the annulment of tens of thousands of votes.
However, the electoral observation mission of the Organization of American States (OAS) considered that the election took place without "serious irregularities".
The leader of the right-wing Fuerza Popular party spent 16 months in pre-trial detention on suspicion of corruption in the case of the Brazilian company Odebrecht, having been released from prison on parole in April 2020.