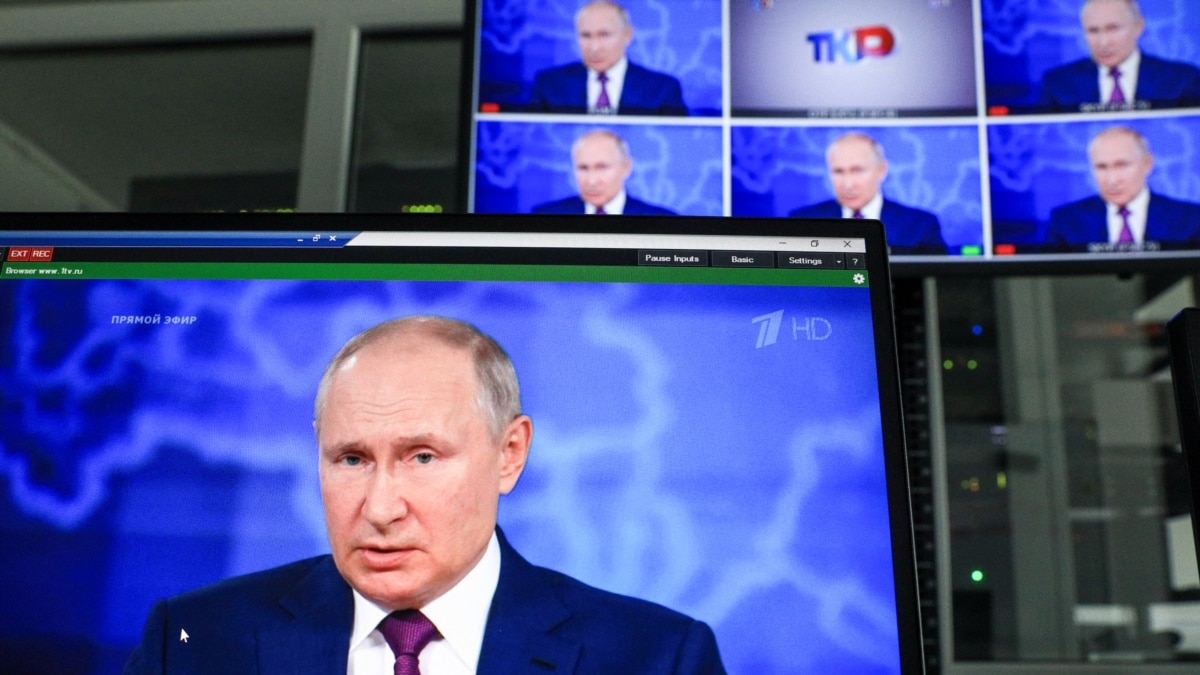 In addition to the socio-economic, health and agricultural issues facing the coronavirus pandemic, Russian President Vladimir Putin on June 30, in his annual live TV program, devoted a large spot to the recent incident of a British warship in Ukrainian territorial waters. "British provocation," he said.
Moscow reported that its warship fired as a warning sign, while a military plane dropped bombs on the way of the British warship HMS Defender to change course near the Crimean city of Sevastopol.
At a multi-hour press conference broadcast live by all Russian state-run television and radio stations, the Russian leader has traditionally spoken at length about Ukraine. Vladimir Putin called the current Ukrainian government "unfriendly" towards Russia, which, according to the Russian president, has subjected its country to "international underground rule".
In Ukraine, the statement was seen as an attempt at a cross-border confrontation by the leader of a country that has annexed the territory of a neighboring sovereign country and is openly seeking to restore its unconditional influence in the post-Soviet space.
Why did Putin mention World War III?
Although almost a week has passed since the incident, the incident involving a missile mine in the UK Royal Navy remains a major topic of discussion for the Russian official. The Russian president also focused on this "unfriendly" step at his annual press conference in response to a question from one of the respondents.
According to the Russian President and the Commander-in-Chief of the Armed Forces, on June 23, a British miner entered Russian territorial waters, primarily for military purposes. In particular, HMS Defender wanted to use a reconnaissance aircraft to determine how the Russian armed forces are acting to prevent such provocations.
"They were observing where what is happening with us, how it works, where what is. We knew all this, so we provided the information we needed. ", – noted Vladimir Putin, who claims that this was a holy water provocation in which, in addition to the British, the Americans also participated.
"What did they want to show and what did these provocateurs achieve?" First of all, it was complex (provocation) and it was carried out not only by the British but also by the Americans. A British ship entered our territorial waters during the day, and early in the morning, at 7:30 a.m., an American strategic reconnaissance aircraft took off from one of the NATO airfields in Greece, if not off the island of Crete. Of course, I was told about it, and I know very well, I can even recall the on-board sign – 63/9792. We could see and observe him well ", – said Vladimir Putin.
On June 23, when a Royal Navy rocket minesweeper was sailing from Odessa to Georgia, Russia claimed that the HMS Defender had entered "Russian territorial waters". A Russian patrol boat then fired as a warning, and a Russian military plane allegedly dropped a bomb on a minefield.
"If we had sunk this ship," it is hard to imagine, "the planet would be on the brink of World War III." "Those who did it know full well that they will not emerge victorious from this war."– Vladimir Putin, speaking to the population "live online" on June 30, said that the West was "occupying Ukraine militarily", which poses a threat to Russia's national interests.
The Russian leader was soon responded to by London, which, like a week ago, reminded Vladimir Putin that Crimea belonged to Ukraine and that the warship HMS Defender was "internationally recognized" and was sailing between Ukraine and Georgia.
Putin does not see the point of meeting with Zelensky
After the Collective West, the Russian leader has the most claims against neighboring Ukraine. Moreover, the Russian president says that only the current Ukrainian government, which has renounced sovereignty and subordinated its own country to foreign rule, is unfriendly towards Russia.
To describe such a government, Vladimir Putin first used the term "international underground government" on June 30, adding that his meeting with Volodymyr Zelensky would be meaningless in such a situation.
"Why did I meet Zelensky if he completely subjugated his country to international underground rule ?! Vital for Ukraine, key issues are being resolved not in Kiev but in Washington, partly in Berlin and Paris. And what should I talk about? " – Vladimir Putin asked rhetorically.
The Russian leader has not yet commented on the accusation by Ukrainian President Volodymyr Zelensky, who himself offered to hold a meeting with Vladimir Putin during the April crisis in the Donbas region.
In response, Putin invited the Ukrainian leader to Moscow, after which public talk about the Ukrainian-Russian summit ceased.
"When Putin talks about the international governance of Ukraine, if we remember Freud, it shows his hidden desire that all the countries of the former Soviet Union agree with Russia. "But he forgets that the West saved Russia from starvation in the 1990s."– Evhen Magda, director of the World Policy Institute in Kiev, told RFE / RL.
At a large press conference on June 30, the Russian president again tried to separate the Ukrainian government and the Ukrainian people.
"I have said this many times and I can repeat once again that Russians and Ukrainians are one people in general."– said Putin, who accused the Ukrainian authorities of "unfriendly" attitude towards Russia.
"The current Ukrainian leadership is really unfriendly towards us. And this is quite obvious. Otherwise it would be difficult to explain the bill recently introduced by the President of Ukraine on the indigenous people of the Verkhovna Rada, according to which the Russian people are declared a non-resident population in this area. This is completely incomprehensible ", – said Vladimir Putin, who compared the bill to a weapon of mass destruction.
There is talk of a bill initiated by Volodymyr Zelensky in May that strengthens the status of the indigenous peoples of Crimea, but the document does not mention the Russian people, which they consider to be a legally correct decision in Ukraine.
"Putin's claim about the draft law on the indigenous people of Ukraine is completely unfounded, even for the simple reason that Russia regulates only the status of small peoples, and Ukraine has gone further and this law covers not only Ukrainians, but also Crimean Tatars, Karaims and Krimchaks. "The Russians are not in the bill for the simple reason that they have their own state, and I want to point out that in this state where millions of Ukrainians live, there is not a single school where the Ukrainian language is taught.", – says Eugene Magda.
Diplomatic relations between the once strategic partners, Ukraine and Russia, have been severed since Russia first annexed Crimea in the spring of 2014 and then annexed Ukrainian territory through an illegal referendum.
The conflict continues in eastern Ukraine, where separatist forces operate with Moscow's support. Russia issued an international alarm last spring when troops gathered on the Ukrainian border and in Crimea.
On April 6, in response to Russia's escalation, Ukrainian President Volodymyr Zelensky said that the only way to end the ongoing war in Donbas was for Ukraine to join NATO, and addressed the NATO Secretary General directly with a request for an Alliance Action Plan (MAP).
The Kremlin says Ukraine's membership in NATO will be a "red line" for Russia.
.