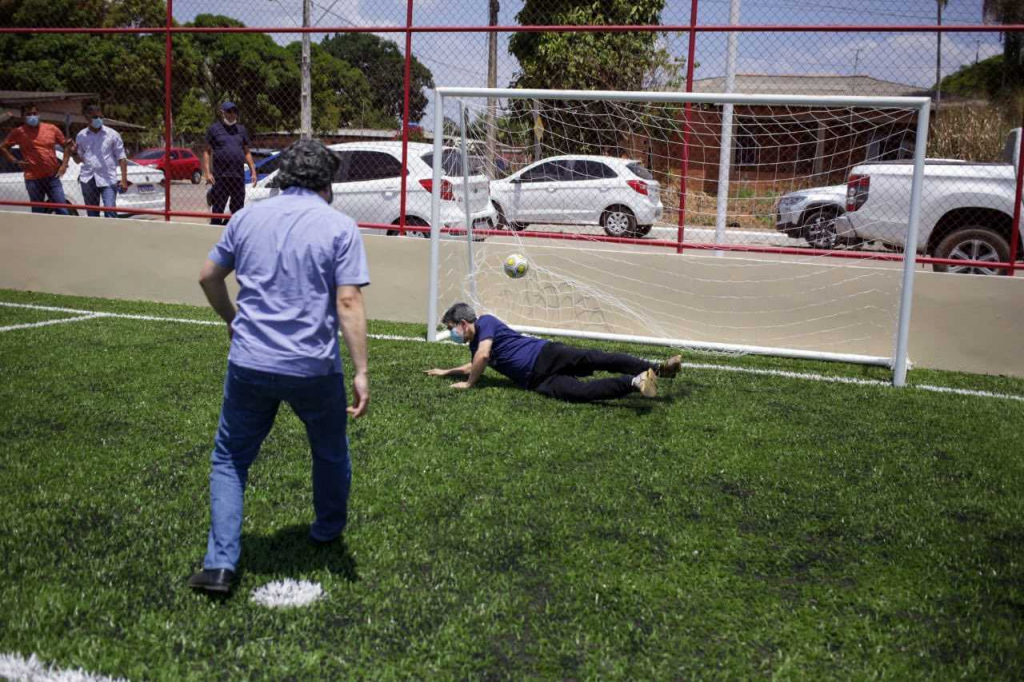 An episode took place this Sunday, 3, during the inauguration of a sports arena in the municipality of Mazagão; senator thanked the health professionals for the service: 'I'm fine'
Play / Twitter @randolfeap
Even injured, the vice president of the CPI at Covid-19 kept his good humor and even made a joke about the situation.

the senator Randolfe Rodrigues (Net) dislocated his right shoulder during a game of soccer this Sunday, 3, in Mazagão, municipality of Amapá. The information was confirmed by the parliamentarian himself, who spoke on social networks about what happened. "Friends, I dislocated my right shoulder when I tried to defend a ball this morning [domingo], during the opening ceremony of a sports arena in the municipality of Mazagão. I'm fine, now at home, and I'm grateful for the treatment received by the health professionals where I was very well attended", he said in the Twitter. The message was accompanied by a photo of the politician lying on the lawn, suffering a goal. Even injured, the vice president of CPI to Covid-19 he kept his good humor and even made a joke of the situation.
"It's that story, top scorer when he goes to the goal that happens, I dislocated my shoulder. That's right, I dislocated my shoulder! Better to watch the Diego Alves [jogador do Flamengo], same! But don't worry, it's okay!", he completed in another publication, where he appears with his shoulder immobilized. The news ended up amusing Randolfe's followers on the social network who, in addition to wishing the senators get better, joined in the fun. "Blowdown news: Injured Randolfe is out of the final of the liberators kkkkk," said one netizen. "The guy is 'playing' a lot at the CPI, but on the field it didn't work out very well," said another. The Parliamentary Inquiry Commission (CPI) starts the last week of testimonies with the hearing of VTLOg partner Raimundo Nonato Brasil, scheduled for this Tuesday, 5.
Friends, I dislocated my right shoulder when I tried to defend a ball this morning, during the opening ceremony of a sports arena in the municipality of Mazagão. I'm fine, now at home, and I'm grateful for the treatment received by the health professionals where I was very well attended. pic.twitter.com/S6bQZ0m1XD

— Randolfe Rodrigues 💉👓 (@randolfeap) October 3, 2021
It's that story, top scorer when he goes to the goal that happens, I dislocated my shoulder. That's right, I dislocated my shoulder! Better to keep watching Diego Alves! 😬

But don't worry, it's okay! 😉 pic.twitter.com/V9VCXtRMSd

— Randolfe Rodrigues 💉👓 (@randolfeap) October 3, 2021