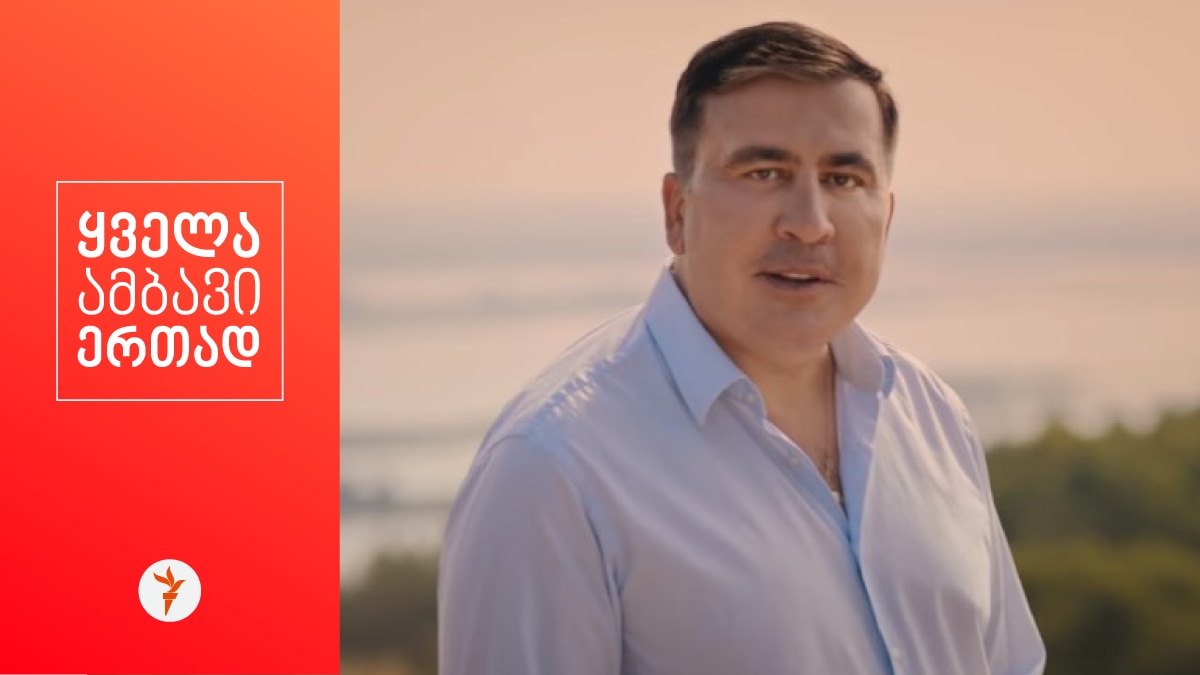 Answer to the Prime Minister from Rustavi Prison
The Prime Minister of Georgia "confirms one hundred percent" that ex-president Mikheil Saakashvili will not be extradited to Ukraine. Irakli Gharibashvili told journalists about it. In a comment to the media, he also added that the ex-president was persuaded by the former Minister of Internal Affairs Vano Merabishvili to arrive in Georgia. He also noted that Saakashvili's teammate and UNM chairman Nika Melia was "most pleased" with his capture.
Mikheil Saakashvili soon responded to the Prime Minister's statements to the media from prison. The third president wrote a letter to Irakli Gharibashvili:
"dirty Moshe New Messaging, that "Melia Rejoiced Misha catch". right, Fox And I We will be, Georgian With people Together, that Excuse me E.g. From cabinets. The shortest In time We open The country Together, I And Fox", – Mikheil Saakashvili wrote in a letter sent from prison.
What is the health status of the prisoner president?
Ex-President Mikheil Saakashvili In prison Starvation Termination no Going to, Blood Chronic Disease In the background And Health Condition Sharply Aggravation Risk Regardless.
The convict's personal doctor said on October 10 that his patient's condition had deteriorated, but on October 11, lawyers released a report from prison that Mikheil Saakashvili's condition was satisfactory. The same is said by the Special Penitentiary Service, and the Minister of Justice states that he will not allow anyone to spread false information.
Hematologists explained to Radio Liberty that starvation against the background of thalassemia (chronic blood disease) could have disastrous consequences and the condition could quickly worsen. Saakashvili himself had previously stated that he would refuse medical assistance even if he lost consciousness.
Read more in Lela Kunchulia's article.
See also:
Even 4,000 is not the last daily vaccination rate in Georgia
Vaccination in Georgia started on March 15. To date, 1,874,845 vaccinations have been performed. At least one dose has been vaccinated for 1,000,785 people, or 35.2% of the adult population. Fully vaccinated 874 060 – 30.6% of the adult population.
On October 10, 3,442 people were vaccinated against co-infection with the vaccine. According to experts, the daily rate of vaccination does not give grounds for optimism.
According to Tengiz Tsertsvadze, director of the Tbilisi Infectious Diseases Hospital, the situation in the country is difficult in this regard.
"If we continue such a theater of absurdity, in the conditions when we have two million vaccines, when we have maximum access to vaccinations, centers, buses, offering vaccines at home and in these conditions we will have only 7-8 thousand vaccines a day, it will be catastrophic for the country. "No restrictions can prevent further heavy waves, we are not talking only about the fifth wave." – Tsertsvadze said.
Read the news about the epidemiological situation In the Radio Liberty news section.
The European Union (EU) has imposed sanctions on eight more Russian officials over Ukraine
The Council of the European Union (EU) has imposed restrictions on eight Russian citizens for actively supporting policies that undermine or threaten Ukraine's sovereignty, territorial integrity and independence.
The list of pre-existing sanctioned persons was supplemented by law enforcement officials: judges, prosecutors and law enforcement officials responsible for establishing an occupation regime in annexed Crimea and Sevastopol.
Read more.
The United States has said the talks with the Taliban were "honest and professional."
The United States has made its first official statement since a meeting of its delegation with Taliban officials in Doha, Qatar. The meeting was "honest and professional" and focused on security, terrorism and other key issues related to Afghanistan, according to State Department spokesman Dan Price. According to Price, "the US delegation focused on security and terrorism issues, as well as the safe movement of the United States, other foreign countries and our Afghan partners." Price also said that the talks focused on "human rights", including the participation of women and girls in public life in Afghanistan. The sides also discussed the issue of US providing humanitarian assistance to the Afghan people.
Read more.
How long will students be able to continue their studies in the classroom?
"If Teacher Will see, that Any To the student Mask has Brought down – Nose It seems, Or for example, On the chin Is better Mask – Immediately Note Gives us", – Tells us Sally, a twelfth grader who has chosen the method of teaching and has been attending classes in one of the public schools in Tbilisi for a week now. Salim does not know how and how often his classroom is cleaned and disinfected. He did not see this process: "it is possible, until We are coming, Before that They are cleaning. On breaks, Of the class To sort Nobody Entered".
Sally's sixth-grader, Sandro, continues to study online. There are three lessons a day. Each lesson lasts half an hour. Sandro's parents are worried that the lessons will either be missed, or that the teachers will be late for the lesson, and in such a short time, they will no longer be able to explain new material and interview the children.
The number of daily cases of COVID-19 has been increasing in recent days. The daily rate of positivity is also growing. On October 11 this figure is almost 9 %-till Went up. Because the condition for resumption of education in educational institutions was named as the positivity of the virus 4%-იანი Indicator, it is not excluded that against the background of growing statistics, the Coordinating Council will reconsider the decision and students and kindergarteners will still have to switch to full distance learning.
Read more In Nino Tarkhnishvili's article.
You pay the taxes, they do not. One of the largest journalistic investigations in history reveals the secret accounts of hundreds of influential people. Among them is the former Prime Minister, Bidzina Ivanishvili. What is hidden in offshore?
.