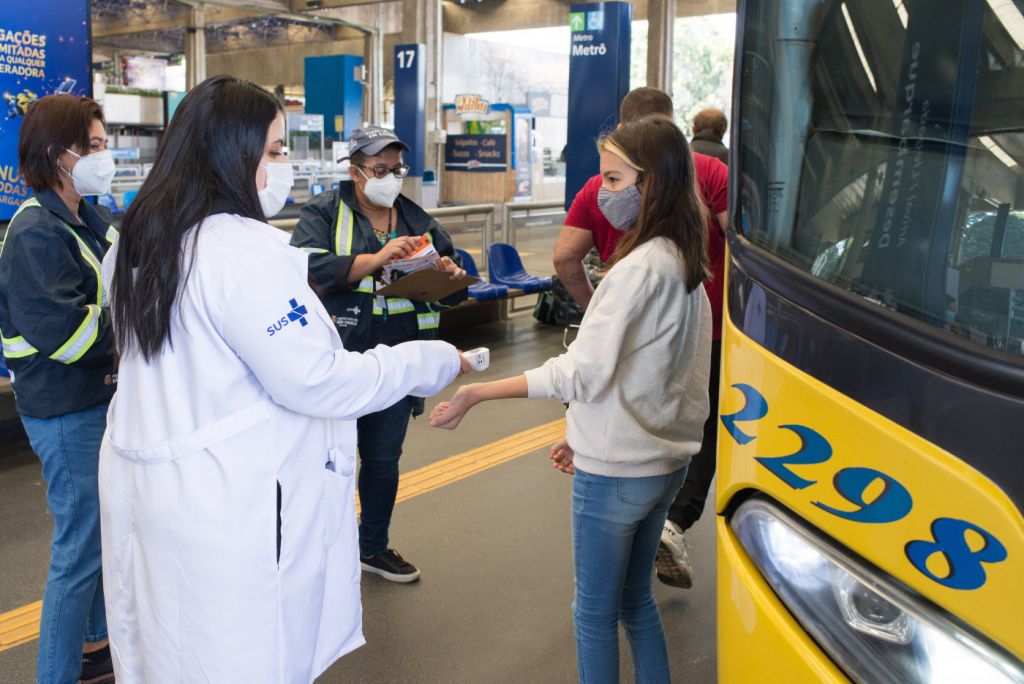 Sanitary barrier includes questionnaire on symptoms of Covid-19, temperature medication and tests for diagnosis of the disease; objective is to map possible cases of the Indian variant in the municipality
VINCENT BOSSON / FOTOARENA / ESTADÃO CONTENT
Passengers from Maranhão had to answer a questionnaire about possible symptoms of the disease, had their temperatures checked and left cell phone contacts with health workers

Passengers coming from Maranhão arriving in Sao Paulo through the Tietê bus station are undergoing a sorting. The proposal seeks to contain the dissemination of Indian variant of the new coronavirus, identified in the State. This Wednesday, 26, eleven people passed through the sanitary barrier. The bus that left Belém do Pará passed through five cities in the Maranhao, in addition to other states, arriving in the city of São Paulo at 2pm. Passengers from Maranhão had to answer a questionnaire about possible symptoms of the disease, had their temperatures checked and left cell phone contacts with health workers. Gilvan do Nascimento, who lives in Santo André and returned from a trip from Mato Grosso, said that the bus was full and was told to stay home after the trip. "They asked me if I can stay at home these days because of this pandemic. It is good, good that it happens that the business is ugly ", says the passenger. Retired Djalma de Lima came from Goiânia and reported that he did not observe anyone with symptoms during the trip. "There is no one coughing, everything is beautiful there", he said, emphasizing that he feels worried about contracting the disease. Covid-19.
Since none of the passengers had symptoms, they were all released by the health teams. Tests for detecting the coronavirus will be applied only to symptomatic passengers. For the time being, the strategy of the Municipality of São Paulo seeks to focus on the screening of buses that pass through Maranhão, the first state to identify the Indian variant. However, according to the municipal health department, there is a dialogue with companies that make other routes to identify passengers who have left Maranhão, but who entered the capital of São Paulo with buses from other states. On Monday, two people who were on a bus from Goiânia were approached, as they were in another transport vehicle from a city in Maranhão.
Infectologist Marcelo Otsuka reflects that the actions are partially effective, considering the experience of other countries in containing new variants. The ideal is still temporary isolation before allowing circulation. "These quarantine measures are much more effective if they are associated with testing, with epidemiological control. If I was with a person with Covid-19, I have to be tested, followed up, and I have to be restricted from any situation of contact with other people, "said the doctor. He considers that it is likely that the Indian strain is already circulating in São Paulo.
* With information from the reporter Carolina Abelin