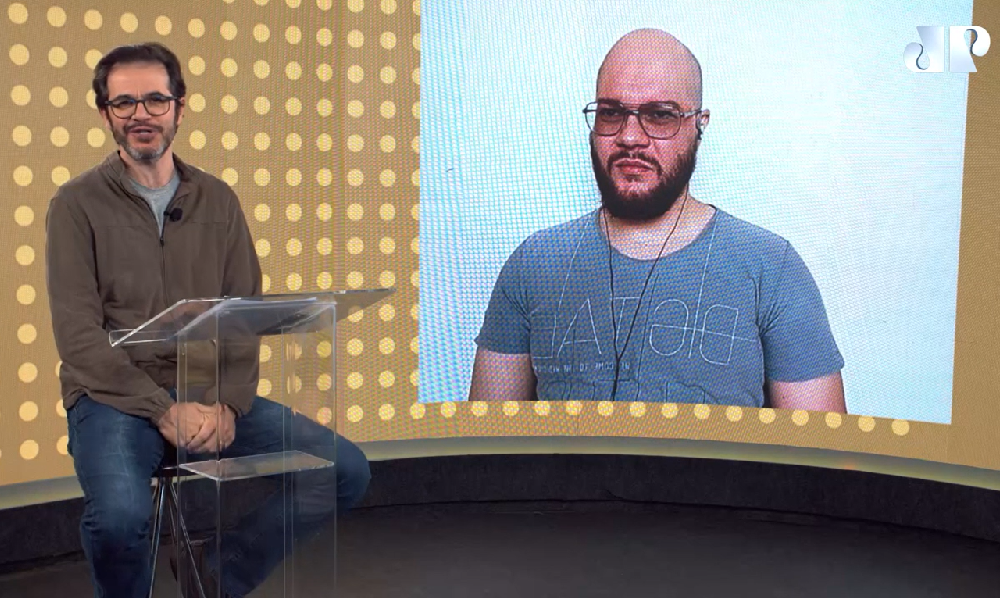 In conversation with the podcast 45 From the first time, Allyson Mariano, 36, tells her story and says that art helps her to break down prejudices around the disorder
Reproduction/Young Pan
Musician Allyson Mariano interviews Patrick Santos on podcast 45 Of the first half

Despite some advances, mental illnesses are still faced with prejudice and discrimination by much of the population, such as schizophrenia, a disorder that affects 1.6 million Brazilians. This was the theme with Allyson Mariano of the podcast 45 from the first time, gives Young pan, which brings weekly episodes about life purpose, career transition and overcoming difficulties. In a conversation with Patrick Santos, journalist and podcast host, the 36-year-old musician said he has suffered from schizophrenia since he was 5. "I had some characteristic symptoms, and from a very early age I was separated and repressed in some way," he points out. He says that it was with books, music and written words that he sought comfort and tranquility to go on with his life. Allyson says that the correct diagnosis of the disorder she was suffering from only came when she was 27 years old. "When I actually found out what I had, the quality of my life changed considerably. I started the treatment, adjusting the medications, until I reached a balance", he says.
Allyson Mariano is part of the "Listen to Our Voices" campaign, an initiative by Janssen Brasil. The idea is to dispel the myths surrounding the disease, such as the belief that patients with schizophrenia are incapable of working or living independently. Around this taboo, an environment of exclusion is created, which ends up silencing the stories of countless patients who keep the disease under control and, in this way, can develop their full potential, as in his case. "Today my quest is to collaborate for better days and leave a legacy that can help other people", he explains. The campaign music was composed by Allyson and is arranged by Nando Reis, in addition to the actor's participation Babu Santana, by YouTuber Hana Khalil, health professionals, patient representatives and caregivers, all adding to the chorus against prejudice.
PODCAST 45 FIRST TIME
The podcast 45 from the first time is presented by journalist and writer Patrick Santos, who for years was the journalism manager at Pan Youth Group. In August 2018, he decided to take a sabbatical to find more balance between life and career. On the podcast, Patrick Santos brings guests weekly to tell their stories about reinvention and purpose. Names such as Amyr Klink, Monja Coen, Oscar Schmidt, Tony Bellotto, Marcelo Gleiser, Celso Loducca, Lucia Helena Galvão, Carlos Burle, among many other guests, have already appeared on the program. There are already 110 episodes available on all digital platforms.