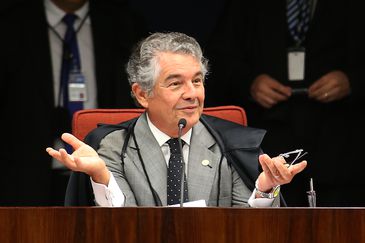 Using the criterion for age, Ricardo Lewandowski and Rosa Weber leave the chairs in 2023; last nominated, Nunes Marques should stay until 2047
José Cruz / Brazil Agency
Nominated by his cousin, President Fernando Collor, in 1990, Marco Aurélio assumed the chair previously occupied by Carlos Alberto Madeira

This Monday, the 12th, the minister of the Federal Supreme Court Marco Aurélio Mello turns 75 years old. With that, he reaches the maximum age defined by the House's regiments to occupy one of the eleven vacancies in the Supreme Court of the country and will leave the position. Nominated by cousin, the president Fernando Collor, in 1990, Marco Aurélio assumed the chair previously occupied by Carlos Alberto Madeira and spent 31 years at the Supreme Court. Last year, it was time to Celso de Mello retire. Despite turning 75 in November, he moved the date forward to October 13th. Until 2015, the age limit for holding the position was 70 years old. At that time, the Chamber of Deputies extended the time by five years. The vacancies of Marco Aurélio and Celso de Mello are the two open in the STF during the term of Jair Bolsonaro, which ends at the end of 2022, and before the presidential elections of the same year.
The first has already been filled in by Kássio Nunes Marques in October 2020. Now, the president's promise to nominate a "terribly evangelical" minister to the chair must be fulfilled. So far, the most likely name is that of the current Minister of Attorney General of the Union, André Mendonça, which Bolsonaro has already claimed to be his nomination. In recent years, in addition to Celso de Mello, only Joaquim Barbosa anticipated retirement in 2014. Teori Zavascki he also left his seat before the deadline, after dying in a plane crash in 2017. In the retirement queue, the next one will be Ricardo Lewandowski, in May 2023. In the same year, in October, Rosa Weber must also leave office. After the two casualties, the Supreme must have a hiatus of almost five years without changing chairs. Check the next dates, by age, in order, if the rules don't change:
Ricardo Lewandowski: May 2023 (nominated by Lula in 2006);
Rosa Weber: October 2023 (nominated by Dilma Rousseff in 2011);
Luiz Fux: April 2028 (nominated by Dilma Rousseff in 2011);
Carmen Lucia: April 2029 (nominated by Lula in 2006);
Gilmar Mendes: December 2030 (indicated by FHC in 2002);
Edson Fachin: February 2033 (nominated by Dilma Rousseff in 2015);
Luis Roberto Barroso: March 2033 (nominated by Dilma Rousseff in 2013);
Toffoli days: November 2042 (nominated by Lula in 2009);
Alexandre de Moraes: December 2043 (nominated by Michel Temer in 2017);
Nunes Marques: May 2047 (nominated by Jair Bolsonaro in 2020).