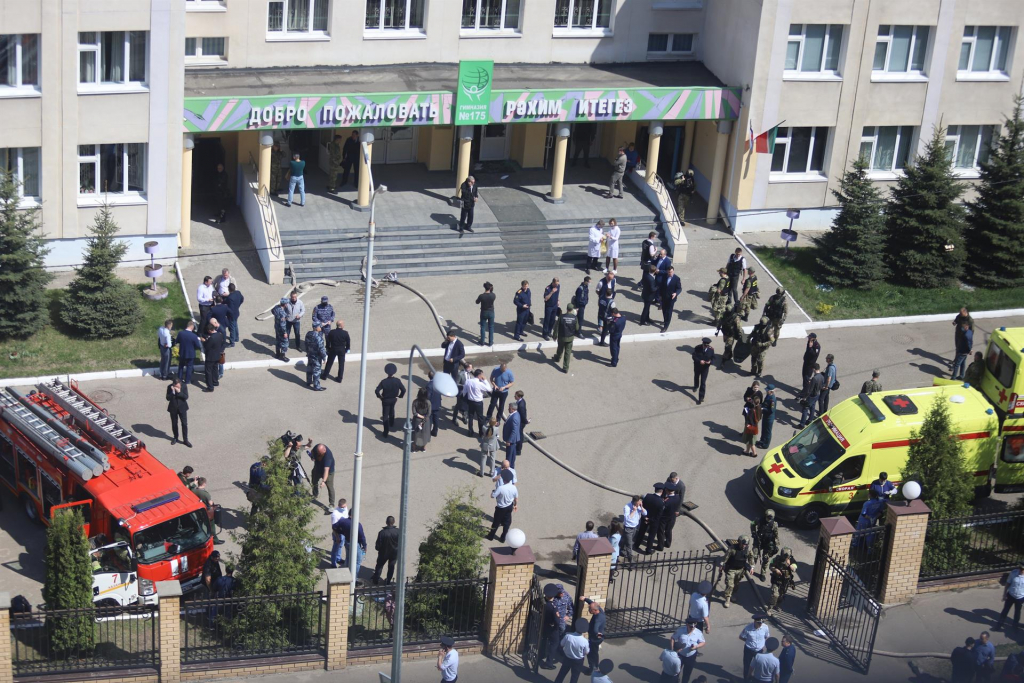 Former student had legal permission to carry the rifle used in the attack that left 21 injured; Putin ordered the review of regulations on the types of weapons allowed for civilian use
EFE / EPA / Anton Raykhshtat
Images posted on social media show children jumping from the windows of the three-story building to escape the gunshots

A school in Kazan, in southwestern Russia, was the scene of a shooting which left seven eighth grade students and a teacher dead on Tuesday, 11. According to the Tatarstan Ministry of Health, another 21 people had to be taken to hospitals for medical attention. With the exception of three adults, all of them were minors and six are in intensive care units. The region's government said the attack started at 9:30 am local time was carried out by a 19-year-old former student who acted alone, contrary to information previously reported by Russian media outlets that a second sniper had also acted. The only suspect, who was allowed to carry the gun he used in the crime, was detained by the local authorities while still on the perimeter of the school. His identity has not yet been revealed, but the Russian Investigative Committee has clarified that he is a resident of the region and that the hypothesis of terrorism has already been discarded. At the time of the attack, there were 714 students at the school, in addition to about 70 employees. Videos shared on social media show children jumping from the windows of the three-story building to escape the gunshots. Other images indicate that the perpetrator of the attack also used some type of explosive, which has not yet been confirmed by local authorities.
Children seen jumping from building amid school shooting in Kazan, Russia; at least 9 killed pic.twitter.com/c8vlJcq4zV

— BNO News (@BNONews) May 11, 2021
Detention of one of the attackers. Video: Readovka pic.twitter.com/GsQmBFvTIM

– MBH media (@MBKhMedia) May 11, 2021
The President of Russia, Vladimir Putin, expressed condolences to the victims' families, wished for a quick recovery of the wounded and ordered the revision of the regulations on the types of weapons allowed for civilian use. Although incidents like this are relatively rare in the country, there are some precedents. In 2018, a high school student carried out a shooting that left 19 dead inside a school in Kertch. At the time, Putin blamed "globalization" for the attack, saying that this type of crime came from the United States. In 2019, a student killed a classmate and injured three others before committing suicide in Blagovechtchensk. In 2020, the Security Services (FSB) managed to detain two 15-year-olds who condoned violence and suicide on social media and planned to attack a school in Saratov.