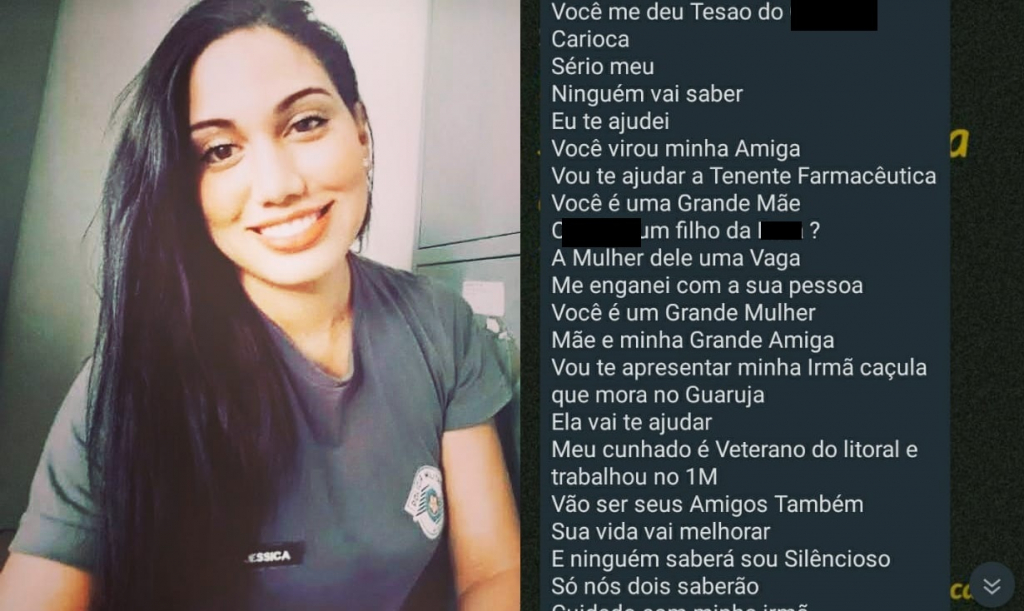 Jéssica Nascimento, who reported death threats and rape from a lieutenant colonel, came back to work, but was under pressure from colleagues: 'Every day I had an unreasonable warning'
Editing / Instagram Jessica Paulo / Personal archive
Away from the corporation, and from a childhood dream that has become a nightmare, she must make this a banner to help police officers who are subjected to similar situations within the corporation

The 28-year-old soldier who publicly denounced a lieutenant colonel in the Military police from Sao Paulo for harassment and death threats, Jéssica Paulo do Nascimento, had her dismissal from the PM officially published on Wednesday, 26, and claimed to have asked to leave the corporation after pressure from co-workers. "When I introduced myself here at the company, I already felt an unfriendly reception, but until then I thought 'they don't know me, they are perhaps judging me, because unfortunately even with a woman demonstrating all the evidence, when a man says anything without proof, a men will always have more power of speech than women ', but I said' over time I will show my work, who I am, and people will give me a vote of confidence, because I am a victim, not an accused '" , narrated Jessica to Young pan. Over time, however, the situation has not improved. "I started to be persecuted in a very dirty way, they realized that my psychological condition was not good, due to all that I went through, the threat of death, of rape, and even then they put me to work on the street, and they have the option administrative when the police are not well psychologically, or are going through a delicate problem like me, they usually give the option to work internally ", he explained. The police officer was examined by a PM health professional to narrate psychological problems she was going through and would have heard from him that she would only be removed from service if another fellow captain, who was not a doctor, authorized it.
"I felt that if I continued to work in that environment, things would happen that could tarnish my reputation, even if I was expelled. Because every day I was taking admonitions for no reason, for futile things, such as giving an interview inside my house ", he recalled. She also narrated that she was entitled to overdue vacation during the period in which she was on leave due to having been subjected to harassment by the same superior previously, but even with petitions filed by the lawyer she was not entitled to the period provided for by law. "I received a message via WhatsApp from a sergeant at the company where I worked that I could only enjoy my vacation if I asked for the first leave. It was then that I started to understand that I was having too much bar force so I could get out ", he explained. Away from the corporation – and from a childhood dream that has become a nightmare – she feels free to speak and expose the subject and must make it a banner to help police of all sexes who are subjected to similar situations within the corporation. "If I said everything I am saying today while inside, the consequences would be terrible. Even without speaking, they were already. Can you imagine if I spoke? ", He asked. She recalls that, after the first reports, she received a series of messages from people inside and outside the police who went through situations similar to hers.
Remember the case
Also in April, the police officer and her defense lawyer, Sidnei Henrique, spoke to Prime Time Zone about the harassments attributed to "Lieutenant Colonel Novaes". With the justification of delivering a document that would formalize her change of battalion – requested after the first cases of harassment suffered -, the police arranged a meeting with the soldier on a holiday. Jessica questioned whether the police station would be functioning normally on this day and the policeman said that "only I will work". At another time, the superior would have sent the message: "I'm going to rape you, carioca fogaça". On the day that the lieutenant colonel asked the soldier to go to a subway station in the south zone of the capital so they could go to a hotel, Jessica decided to denounce the superior to the PM's internal affairs department, who opened an investigation and summoned those involved complaint to testify. The São Paulo Public Security Secretariat was approached to take a position on the matter and informed that the demand would be answered by the Military Police itself, which has not yet responded.