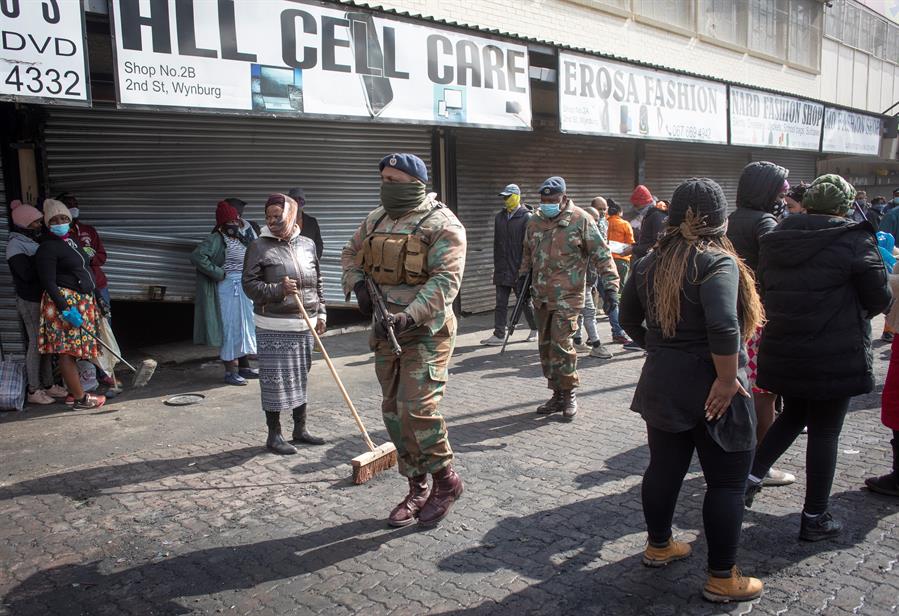 So far, the government has arrested four people on suspicion of inciting riots in the country; no new demonstrations were registered by the police this Thursday
EFE/EPA/KIM LUDBROOK
Thousands of military personnel were sent to contain demonstrations in South Africa

the government of South Africa stated on Thursday, 22, that the number of deaths related to the wave of riots violent and mass looting that shook the country for nearly a week earlier this month rose to 337. Despite the increase in confirmed deaths, order has been maintained and the country has not registered violent disturbances for a few days. "There were no incidents of destabilization in either province," said the acting Minister of the Presidency of South Africa, Khumbudzo Ntshavheni, referring to Gauteng and KwaZulu-Natal, the two affected regions. Of the additional deaths, which result from injuries sustained during the riots, 79 occurred in Gauteng (the province in which Johannesburg and Pretoria are located) and 258 in KwaZulu-Natal.
According to Ntshavheni, investigations are continuing and four people have been arrested for allegedly inciting violence in the riots. Some objects stolen during looting continue to be sought after and, according to authorities, will be destroyed after being used as evidence. The decision caused controversy, as the damage caused to shopping malls, factories, warehouses and even schools is estimated in the millions. Those suspected of inciting the violence were identified as Bruce Nimmerhoudt, Sibusiso Mavuso, Clarence Tabane and Ngizwe Mchunu, who have already appeared in court. The wave of protests began on July 9 after the arrest of former President Jacob Zuma, who had been sentenced to more than a year in prison for refusing to testify in a trial examining whether there was corruption during his government.
The outbreak of violence was fueled by a series of pre-existing social problems in the country, such as extreme inequality, unemployment, high levels of crime and mismanagement of the Covid-19 pandemic. Control of the affected areas began to be resumed on the 14th, almost a week after the start of the riots, with the dispatch of military troops to the two provinces. South African President Cyril Ramaphosa said the incidents were "instigated" and "there were people who planned and coordinated." In addition to the four arrested for the alleged coordination of the protests, more than 1,200 people were arrested in flagrante by the police in the violent demonstrations.