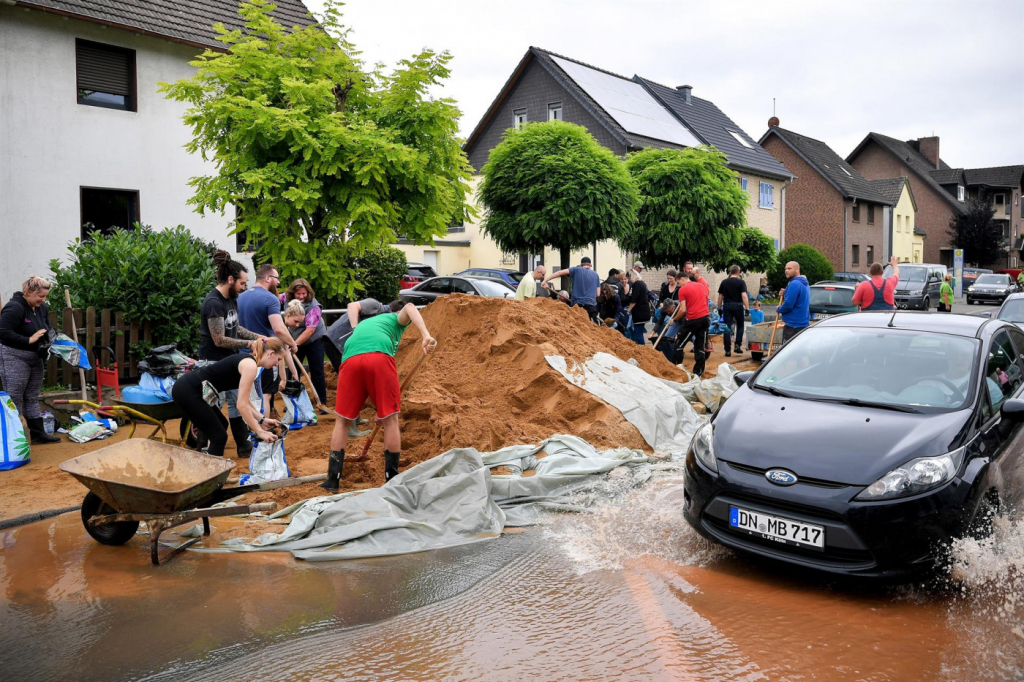 In Germany, the tragedy is already considered the worst natural disaster in more than half a century; 'We cry together – and we will rebuild together,' said European Commission President Ursula von der Leyen after visiting some of Belgium's worst-affected areas
EFE / EPA / SASCHA STEINBACH
Residents fill sandbags against threat of flooding in Erftstadt Dirmerzheim, Germany

Rescue teams in Germany and Belgium continue to search for survivors after heavy rains that began last Thursday, 15, and caused flooding, overflowing rivers and landslides. At least 157 people have died – 133 in western Germany and 24 in Belgium – and more than 1,300 are still missing. According to the German government, the tragedy is already considered the country's worst natural disaster in more than half a century. Last night, about 700 residents had to leave their homes after a dam collapsed in the town of Wassenberg, near Cologne. The Steinbachtal dam, however, remains at risk of failure, and around 4,500 people have been evacuated.
After visiting some of the worst-affected areas of Belgium, this Saturday, 17 afternoon, the President of the European Commission, Ursula von der Leyen, lamented the tragedy on a social network. "Today I was at Rochefort and Pepinster Bandeira de Belgium. I've known people who lost their homes because of the storm. I told them: the European Union Flag is at your side. We cry together – and we will rebuild together". During her trip to the United States, German Chancellor Angela Merkel also lamented what happened and said that it was "a day characterized by fear, despair and suffering". "I extend my empathy and my heart goes out to people who have lost loved ones. I include Belgium, Luxembourg and the Netherlands," added Merkel. The German government has mobilized 850 soldiers to help with rescue operations, in addition to 11 helicopters, some armored vehicle units, boats and ambulances.
According to Germany's biggest energy producer, RWE, the open-pit mine in Inden and the coal-fired power plant in Weisweiler were severely affected. The concessionaire expects damages to be around double digits, in the range of millions of euros. In the southern provinces of Belgium, Luxembourg and Namur, authorities rushed to provide clean drinking water for families without a supply. Water levels have slowly dropped in the worst-hit parts of the country, though the crisis center said the situation could get worse along the Demer River near Brussels, with about 10 homes under threat of destruction.
Today I was in Rochefort and Pepinster 🇧🇪. I met people who lost their homes because of the storm.

I told them: 🇪🇺 stand by your side. We mourn together – and we rebuild together. pic.twitter.com/jf8QanLSev

– Ursula von der Leyen (@vonderleyen) July 17, 2021