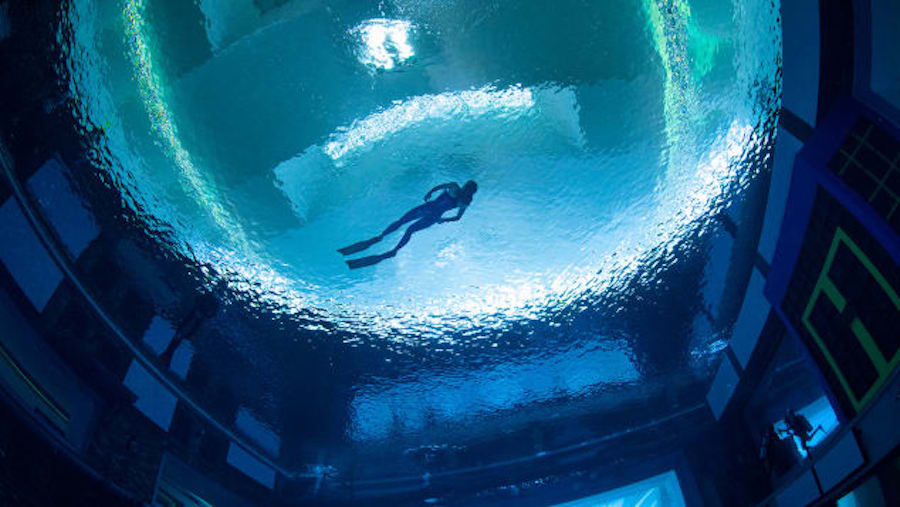 After housing the world's tallest skyscraper, the city of Dubai has just inaugurated another record-breaking attraction: the world's deepest swimming pool for diving.
According to the television network CNN, with a depth of 60 meters, this pool, part of the new attraction Deep Dive Dubai, stole the record from the Deepspot diving center in Poland, which has a depth of more than 45 meters.
It holds 14 million liters of water – the volume of six Olympic swimming pools – and is at least four times larger than any other diving pool in the world. On June 27th, Guinness gave it the title of "deeper pool to go diving".
The water temperature is maintained at 30 degrees Celsius, to ensure a comfortable temperature for scuba divers who visit this pool, adds the North American station.
Inside, diving enthusiasts can explore its underwater city, which includes "abandoned" submerged apartments, and even playing table football.
Deep Dive Dubai offers courses for both beginners and certified divers. The pool has 56 cameras installed to ensure the safety of divers everywhere and it also has a hyperbaric chamber, with capacity for 12 people, to be used in case of emergency.
For now, this dive center is only available to guests, but it will be open to the public later this year. One of its first visitors was the crown prince from Dubai, Hamdan bin Mohammed Al Maktoum, enthusiast of this sport, who has already shared his experience on social media.