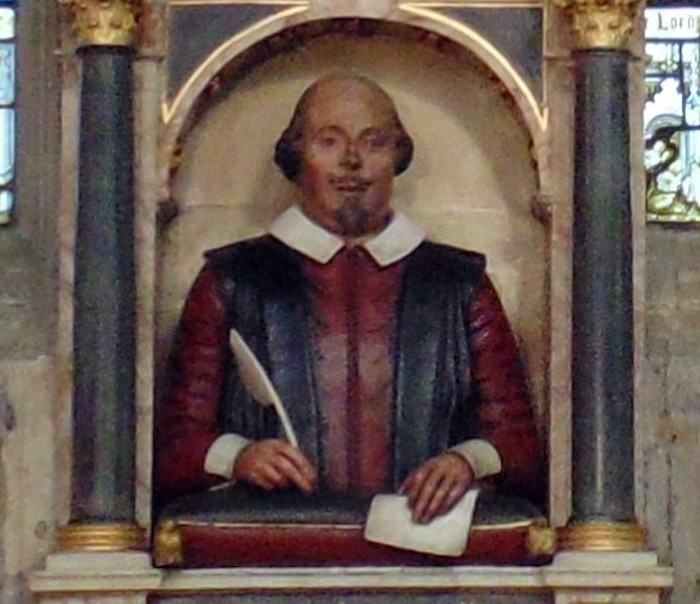 The mystery about the appearance of the most famous English writer of all time, William Shakespeare, seems to have finally been solved.
According to the Spanish newspaper ABC, a team of researchers from Georgetown American University in the United States, concluded that the effigy on his grave at the Holy Trinity Church in Stratford-upon-Avon, England, is probably a faithful portrait of your image.
This hypothesis, which had previously been ruled out because the monument was said to have been built several years after his death, was put back on the table.
According to the teacher Lena Cowen Orlin, "It is very likely that Shakespeare commissioned the monument" and its creator has been "someone who knew him and saw him alive ".
The work, which John Dover Wilson, a critic of the 20th century, called "a self-satisfied butcher of pigs", may be, according to the professor, "A picture of life", at the same time that it can constitute "a drawing about death that shows a life of learning and literature". This is clear from symbols, such as the pen and the sheet of paper, that appear in the work.
According to the researchers, the artist could have been the artisan Nicholas Johnson, a tomb maker who would have known the poet and whose workshop would be very close to the Globe Theatre, in London, an iconic scenario in which Shakespeare's works continue to be protagonists.
Until now, it was believed that the work was by his brother Gerard Johnson, a Jacobin sculptor. The teacher explained that, in the inscription painted on the monument's plaque, a space was left so that funerary data could be added in the aftermath – another proof that it would have been done in life.
This finding would explain why Shakespeare, unlike other well-known characters of the time, left no instructions about his posthumous monument in his will.
"I would also suggest that you have even designed or supervised the creation of your own monument," said the expert.
"This is truly significant. We can say that this is how Shakespeare wanted to be represented in our memory. This is very important. It is a new attractive light on your appearance ", he greeted Paul Edmondson, head of research at the Shakespeare Birthplace Trust, whose objective is to preserve the sites linked to the author.
These discoveries about the playwright's true appearance are not completely new. In 2015, the British historian Mark Griffiths he claimed to have discovered in a 17th century botanical volume the only portrait of the writer, in which he is seen with curly hair and a beard.
In the book "The Herball", which is the largest volume of botany written in English, appears "a portrait of Shakespeare at 38, dressed in poet's clothes. That was how it really was, finally there is proof of what it was like ", he declared at the time.

Maria Campos, ZAP //