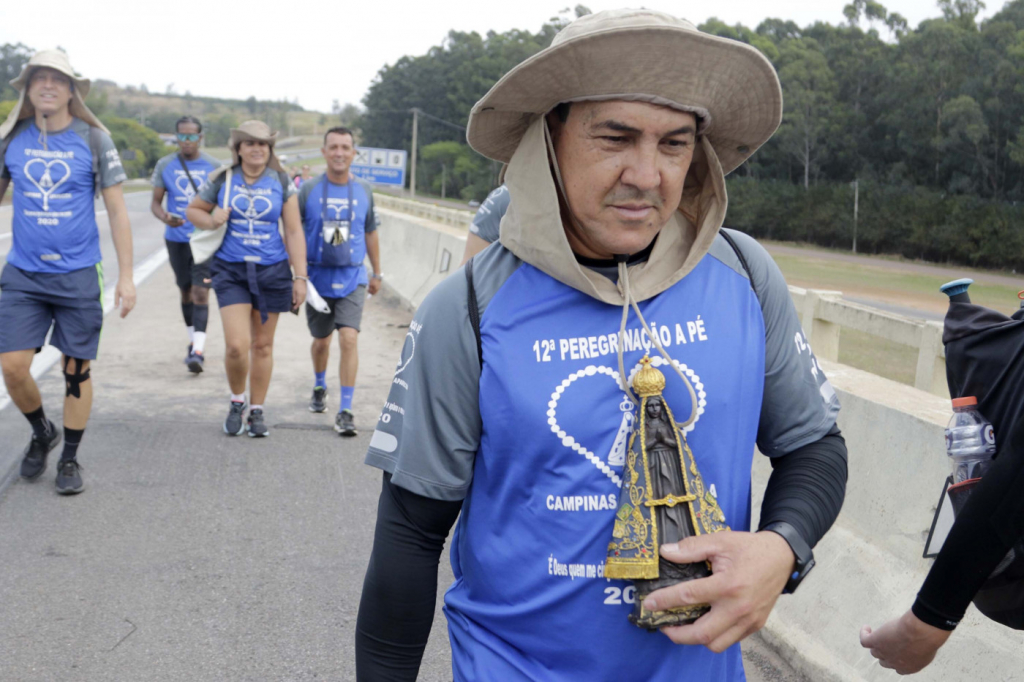 From 1st to 9th October, 5300 pilgrims were recorded walking towards the city; even the president of the republic is expected for the celebrations of the patron saint of Brazil
Denny Cesare/Estadão Content
Movement of pilgrims in past years on Rodovia Dom Pedro, near the city of Valinhos, towards Aparecida, in the interior of São Paulo

The number of pilgrims towards Northern Appearance, in São Paulo, along the Dutra highway is 43% larger than before the pandemic. The information comes from Novadutra, the concessionaire that manages the stretch. According to the data, between the 1st and 9th of October, 5300 pilgrims were recorded walking towards Aparecida. In 2019 there were 3700 in the same period. In 2020, the Sanctuary of Aparecida suspended the masses and other activities on the holiday. Even so, in the first nine days of October last year, around 1300 pilgrims were registered on the highway. Until yesterday, according to the concessionaire, 21 thousand pilgrims passed through the stretch, with around 16 thousand in just the last three days. Even President Jair Bolsonaro (non-party) is expected to accompany the day of celebrations.
According to Father Domingos Sávio, spokesman for the national sanctuary, the temple and the city are prepared to receive this large number of people. "For some time now, we have been able to welcome a certain number of faithful to our celebrations. We can say that our preparation starts there, because the conditions for welcoming continue the same as we have been living for at least a month. We can safely receive up to 2500 people inside the National Sanctuary. And this is what we are really welcoming", he says. Father Domingos adds that there is another space nearby, an events center, which holds another 5500 faithful. The schedule, according to him, was made to serve everyone on this holiday. "We expect a large number of pilgrims to come, but we are going to offer six masses here at the Sanctuary and seven masses at this event center. So, we will have 13 masses being celebrated during the day. We hope that, as it has been so far, we are able, in these two environments, to welcome everyone who comes here and wants this moment of expression, experiencing their faith and their devotion and affection for Our Lady", he says.
The use of masks is mandatory and distancing is widely recommended. Each bank at the Sanctuary of Fátima, for example, will hold only three people. There will be gel alcohol at the entrance to the basilica and at visiting points. Between Mass and Mass, the interior of the sanctuary will be sanitized. This year's feast of the patron saint takes place under the theme "With Mary, we are the people of God, united by the covenant". The idea is to promote reflection on God's covenant with his people.
*With information from reporter Fernando Martins