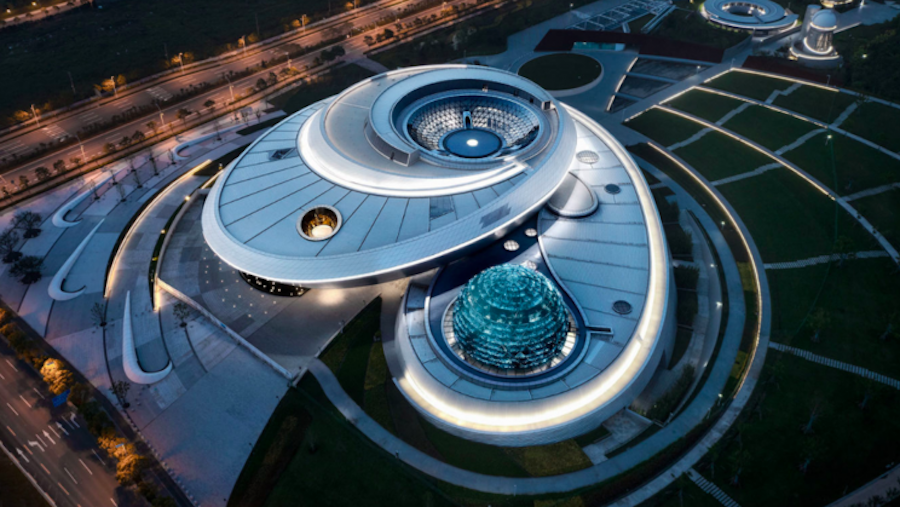 The world's largest astronomy museum, the Shanghai Astronomy Museum, has already opened its doors. Despite having been created to receive exhibitions, it also has a planetarium and a 24-meter-high solar telescope.
The largest astronomy museum in the world has 390 thousand square meters, a huge space to receive exhibitions, a planetarium and a 24 meter high solar telescope. It is located in Shanghai, China, and has been open since last week.
In addition to being the largest in the world, the museum is also unlike any other that already exists: the imposing building, which mimics the movement of the Universe, has no straight lines or sharp corners.
"The building is an architectural incarnation of astronomical inspiration," said Thomas Wong, designer main project, cited by Interesting Engineering. With this structure of arched lines, Wong and his team hope to show that everything in the Universe is constantly moving and is governed by a series of forces.
According to the company, Ennead Architects, O design The museum is a celebration of temporal and spatial continuity, which provides a link between the country's rich past and futuristic ambitions in the field of science.
The architecture is also influenced by the "three body problem", an unresolved question of how to mathematically calculate the motion of three celestial entities – planets, moons or stars – based on their gravitational relationships. This calculation can be performed with two celestial bodies, but not three.
A CNN explains that, in the project, the cosmic enigma translates into three bow shapes, which refer to the Sun, Moon and Stars, respectively.
Each one houses an important attraction for visitors, who find a Oculus which opens above the museum's main entrance. The structure acts like a clock and produces a circle of sunlight that reflects off the ground throughout the day, indicating the time and season.
The planetary theater emerges from the building's roof like a moonrise and a huge inverted glass dome gives visitors the opportunity to see the night sky.
"a true encounter with the universe", according to the company's statement. "We want people to understand the Earth's special nature as a place that harbors life, unlike any other place we know in the Universe."

Liliana Malainho, ZAP //