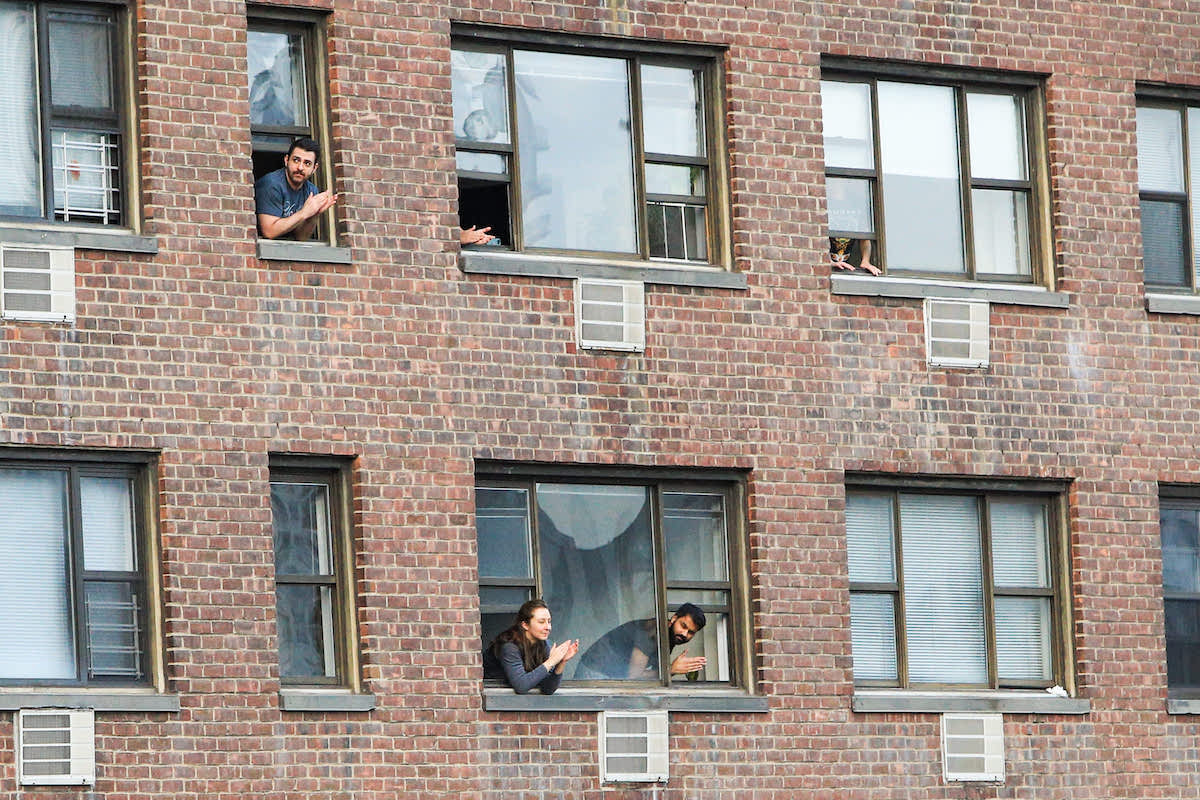 The world has moved on, but New Yorkers don't forget the work of frontline workers and continue to show their gratitude daily.
In Portugal, it was scheduled for 10 pm, but in New York the tradition was at seven in the afternoon. Was, or is it better to say is? Although the ritual disappeared everywhere soon after it became popular, there are still parts of Big Apple where they applaud front-line workers and health professionals on a daily basis as a way of thanking for the fight against covid-19.
Now in tune with the car horns and the crowds on the streets with the return to normal life, New Yorkers in the neighborhoods of the Upper West Side or Hell's Kitchen continue to hail the heroes of the pandemic and play renditions of the God Bless America.
"When, at the beginning of the pandemic, the world started beating on pots at seven o'clock in support of essential workers, i thought it was stupid. It's not that I didn't have a heart, but it always seemed selfish and futile," writes blogger Darcie Wilder in Gawker.
As time passed, everyone stopped opening their windows for the ritual, which seemed to disappear with the onset of winter, except in Wilder's neighborhood. "Yes, 18 months after the start of the pandemic, my neighbors still hit with pots and pans, at exactly seven o'clock", he says.
It's a strange neighborhood in Manhattan, known for bike thefts and mixes between wealthy executives with purebred dogs and old men who have lived there for decades with children who "hope to eventually inherit the rent-controlled homes."
But above all, it's a community – ones you don't expect to see in such big cities, especially one that isn't properly known for having warm and friendly inhabitants, as is the case in New York.
"The community meets daily to make as much noise as reasonably possible," reveals Darcie Wilder, who admits that "hit pots and pans it's really cool when it's done 18 months after everyone else has stopped." "Although I can't hear from my window anymore, it's a short walk to the outdoor space where they gather," he says.
Darcie's neighborhood isn't the only one that keeps the tradition alive. In certain parts of Hell's Kitchen, which was one of the areas of New York that was initially most affected by the pandemic, there are still those who go out the window with a pan at the ready. "I think it is charming and moving that they go out every night", explains actress Aleta LaFargue, who lives in the neighborhood.
"We haven't gotten out of the storm yet and there are people who are very sick, so I think it is very dear that there is this gratitude and a reminder of what is happening in the city and in the world", he adds to WebMD.
Gail Saltz, professor of psychiatry, presenter of the podcast "How Can I Help?" and also a New Yorker, sharing the same opinion. "If applauding helps to feel that we are doing something positive in the face of the pandemic's dismay, then yes, it is good for our minds. Applauding creates a sense of gratitude to health professionals, it it's also healthy", Explain.
Keeping the promise also helps us feel that we are doing our part in thanking the heroes of the pandemic. "For us in New York, it's this idea of ​​'oh my God, these essential workers, the hospitals are full, we're not going to make it up to them for what they've done for us. I admire those who have the special purpose of remembering when it would be so much easier to let life get in the way"says Phil O'Brien, editor of the W42ST website.
Continuing the tradition at seven pm can also be therapeutic and help with the loneliness and anxiety that result from the rise of new covid-19 cases in the US. "It's easy in our culture to experience an atrocity and then, a week later, think about something else. This ritual is banging on our heads to remind us that this isn't over yet. there is value in that", concluded LaFargue.

Adriana Peixoto, ZAP //