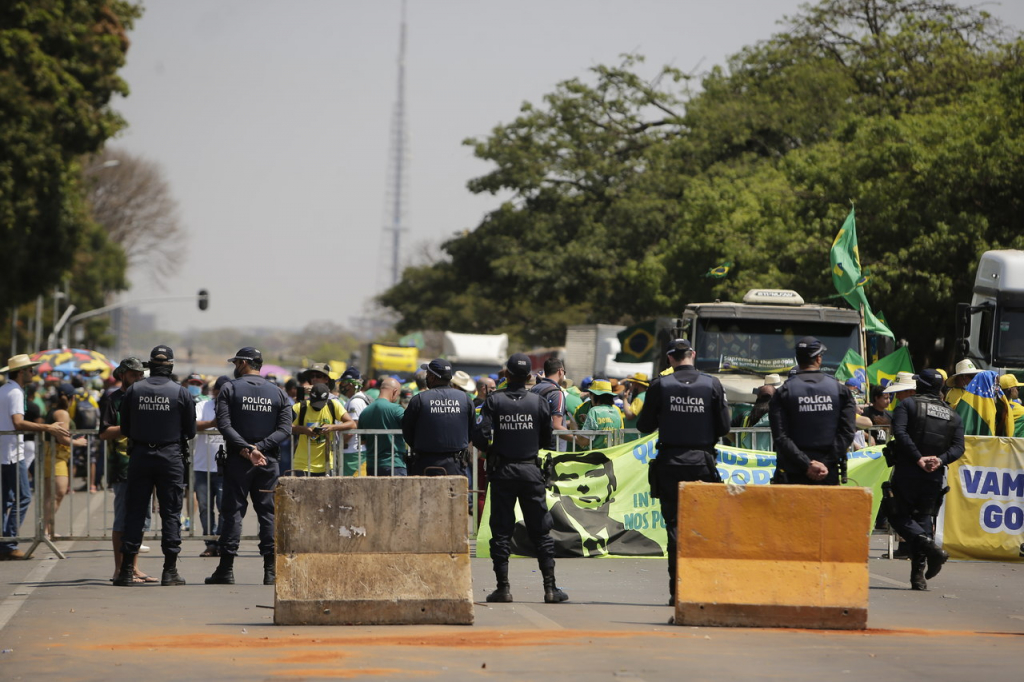 Mobilization of the category takes place in the midst of demonstrations in various parts of the country; Military Police states that no incidents of attempted invasion were recorded
DIDA SAMPAIO/ESTADÃO CONTENT
A group of truck drivers present at the Esplanada dos Ministérios, in Brasília, demonstrates in favor of President Jair Bolsonaro

Groups of truck drivers continue stationed this Wednesday, 8, in Brasília, amid the mobilization of part of the category in points across the country. According to information from the Federal District Military Police, the protesters occupy the sides of the two roads that give access to Praça dos Três Poderes, close to the blockade set up by the security forces for the acts of September 7th. Videos circulating on social media show hundreds of people around the Esplanade of Ministries. Despite the concentration of protesters, the Military Police affirms that there have been no reports of attempted invasions of the space that leads to the Federal Supreme Court (STF) and the National Congress. According to information from the Federal Highway Police (PRF), at least 56 instances of stoppages or attempts were registered on highways in 4 states.
The situation is being monitored by the Ministry of Infrastructure. According to the folder, the mobilization of the category should end at 12:00 am on Thursday, 9. The government has not identified a single leader in the strike. "There is no coordination of any sectorial entity of road freight transport and the composition of mobilizations is heterogeneous, not limited to demands related to the category." The ministry also claims that the PRF is in place to prevent any forcible movement by the protesters. According to information from the PRF of the States, truck drivers are only preventing the passage of cargo vehicles. Passenger and perishable cargo vehicles are free. Total bans on federal highways have not been confirmed. In Santa Catarina, the acts take place in the municipalities of Garuva, Joinville, Araquari, São João do Sul, Mafra, Santa Cecília, São Francisco do Sul, Guaramirim, São Bento do Sul, Canoinhas, Navegantes and Itajaí, No. Paraná, the stoppages are being carried out in the cities of Paranavaí and Maringá. The state also has roadblocks at points on state highways in four municipalities. already in the Holy Spirit, truck drivers block lanes in Linhares, João Neiva, Viana, Iconha, Itapemirim, Ibatiba and Vila Velha. There is still no information on the groups' claims. Mobilizations take place after acts in support of the president Jair Bolsonaro (no party) on the 7th of September holiday.
Earlier, a group of supporters of the president Jair Bolsonaro tried to invade the headquarters of Ministry of Health, in Brasilia. Protesters were prevented from entering the building by security guards. The confusion would have started after the group saw journalists working at the site. A Record TV team claimed to have been cornered and threatened by protesters. In note, the Military police from the Federal District informed that there was no invasion and that no one was arrested. "The PMDF was called to verify a situation involving journalists and protesters. When he arrived at the scene, the situation was resolved", he said.