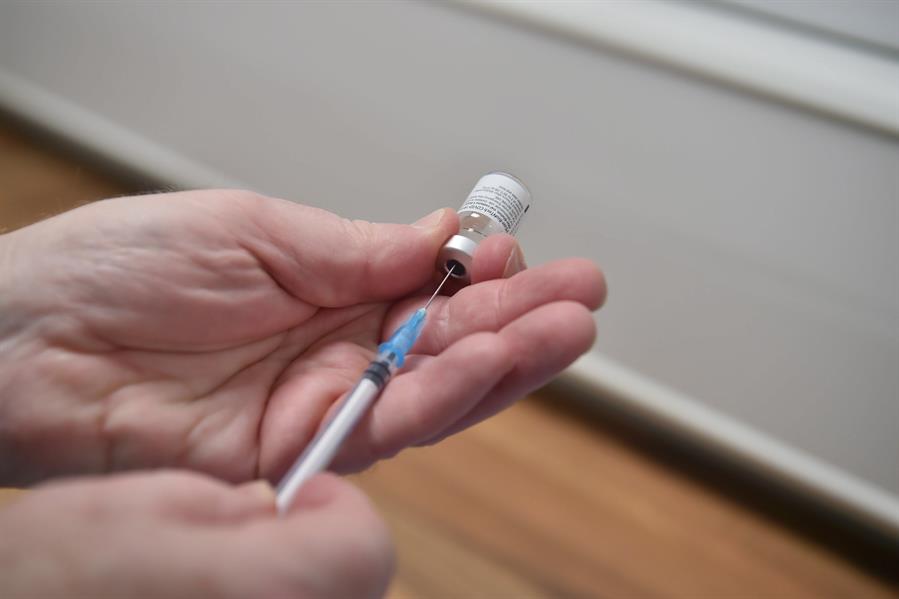 Reinforcement can be done with immunizers from Pfizer and BioNTech and should be applied to those over 50 years old, working in the health area or in nursing homes
EFE/EPA/Ben Birchall/POOL – 08/12/20
the government of United Kingdom announced on Tuesday, 14, that it will apply an extra dose of the vaccine against the Covid-19 for people over 50, health workers and asylum workers. The decision was taken after the country's Executive branch received the green light from the advisory group formed by specialists in the field, who recommended the use of the vaccine produced jointly by the Pfizer and BionNTech laboratories. The aim is to strengthen the immune system of these groups against the virus. Experts who help Boris Johnson's team fight the coronavirus also said that the Covid-19 booster dose can be given at the same time as the flu vaccine, which is offered annually in the country's winter.
The government also informed that people within the vulnerable group, as well as any other 16 to 65 years old who are at risk in case of infection by the new coronavirus, will also be entitled to receive the booster dose. The AstraZeneca, Pfizer and Moderna vaccines were considered safe for the third dose, however, experts recommended the second, as they considered it better tolerated and more responsive when used as a booster. According to the government plan, the person who had the second dose injected six months ago will be able to receive the vaccine for the third time. The specialists will evaluate, when they have enough data in their hands, the expansion of the application of the dose to the rest of the population.
In addition to the announcement about the application of the third dose, the deputy medical director of England, Jonathan Van-Tam, issued an alert, at a press conference on Tuesday, stating that the country should have a "hard" winter, when speaking to the population that the Covid-19 pandemic is still "active". The expectation is that in the next few hours the country's prime minister, Boris Johnson, will make a statement with details of measures for the coming months that aim to contain the spread of the new coronavirus, also at a press conference. So far, the country has registered 7.26 million people infected and 134,000 deaths caused by Covid-19.