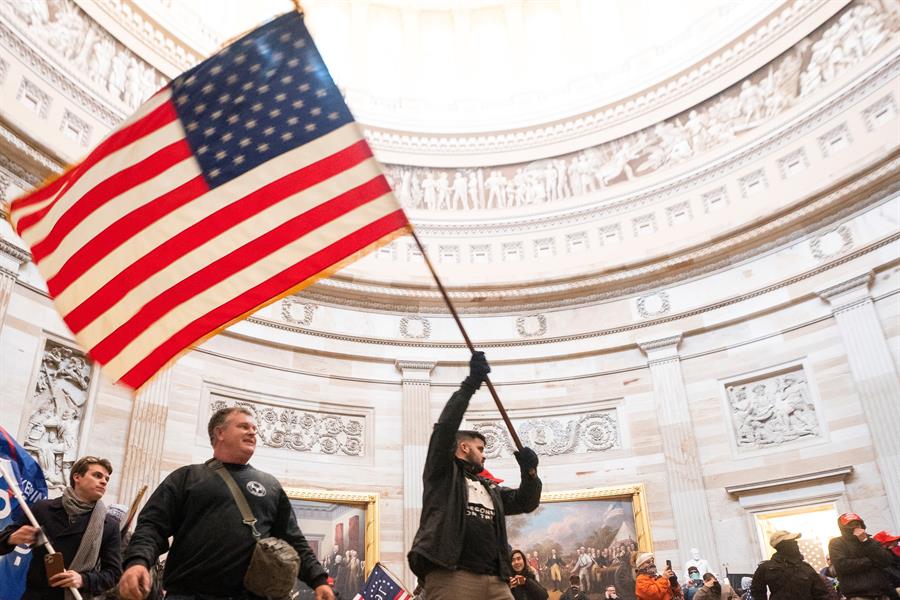 Federal judge sentenced Paul Allard Hodkings, a Florida resident, to eight months in prison; he found himself guilty and had a reduced sentence for the confession of the crime.
EFE / EPA / JIM LO SCALZO
At least five people died in invasion of the Capitol

the justice of USA issued this Monday, 19, the first prison sentence for the attack on the Capitol of the country, which occurred on January 6, 2021. Paul Allard Hodkings, one of the hundreds of people who invaded Congress on the day that Joe Biden's victory would be formalized in the country, is a Donald Trump supporter, pleaded guilty and pleaded that the decision to break into the place was "stupid". During the hearing, the man who is a Florida resident who entered the space with a flag of the former Republican president said he was carried away by the enthusiasm of the crowd. He was sentenced to eight months in prison, but could have faced a sentence of up to 20 years for the crime of obstructing an official process. Because of the confession, prosecutors dropped other charges against him, which involved unauthorized entry into a restricted building and disorderly conduct.
In declaring the sentence, Judge Randolph Moss stated that the acts of January 6 cannot be considered as a protest. "It was an attack on democracy. It left a stain that will remain on all of us, in the country, for years and years", he pointed out. The prosecutor's initial recommendation was that Hodkings be imprisoned for 18 months, a sentence reduced in the magistrate's decision. Now, the country is preparing for a series of trials involving the attacks in Washington DC, as, at the time of the crime, the FBI carried out detailed searches of the invaders with the help of photos and videos taken by the protesters themselves. In all, five people died in the episode.