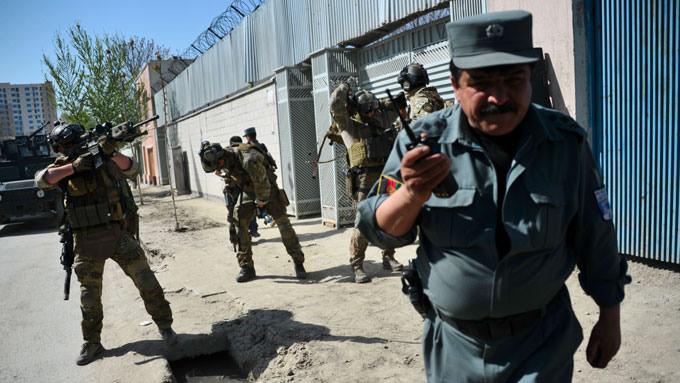 On Monday morning, five more rockets fired towards Kabul airport were intercepted. It is not yet known if there are victims and the attack has not yet been claimed.
According to a US government source, US air strike defenses intercepted at least cinco rockets which were fired towards Kabul airport this Monday. For now, there is no registration of victims and the airport remains open, according to the source cited by The New York Times.
The rockets are believed to have been fired from vehicles and hit various parts of the country's capital. Those responsible have not yet been identified..
Joe Biden has already been informed of the attack. "The President was informed that operations continue without interruption at the HKIA (Kabul airport) and repeated his order that commanders double their efforts to prioritize doing whatever it takes to protect our forces on the ground", says Jen Psaki, spokeswoman for the White House, in a statement quoted by the BBC.
Several images on social media and local television channels show the damage caused by rockets to homes and vehicles across the Afghan capital.
Pentagon investigates Domingo's drone attack
This intercept follows the drone attack that the United States carried out against a vehicle loaded with explosives in Kabul on Sunday, which the US military says targeted "multiple suicide bombers." However, the Afghan press claims that the attack caused the death of nine civilians, including children.
Sunday's bombing thwarted an "imminent threat" against the ISIS-Khorasan airport, a spokesman for the US Central Command said. Army officials confirm the possibility of civilian deaths and have opened an investigation.
"We are aware of reports of civilian deaths following our vehicle attack in Kabul today. We are still evaluating the results of this attack. We would be deeply saddened by the potential loss of innocent lives"Says Bill Urban, spokesman for Central Command.
Samim Shahyad, a 25-year-old journalism student, says the bombing killed his father, two brothers, four cousins, his niece and his sister's fiance. "You american planes attacked us. I don't know what to say, they cut off my arms and broke my back. I can't say anything else," he tells the NYT.
These bombings follow Thursday's airside attacks, which killed at least 170 people. Joe Biden has promised revenge and the US government has revealed that he has killed the ISIS-K member which was the brain of the drone attacks shortly thereafter.
More than 114 thousand people since the Taliban returned to power on 15 August. Thousands of Afghans desperate to leave the country remain at the airport in hopes of finding refuge.
Remember that the deadline for the withdrawal of US forces and the end of the longest war in the history of the United States it ends tomorrow. The most conservative estimates indicate that the conflict, which began in 2001, will have caused the deaths of around 47,000 civilians.

AP, ZAP //