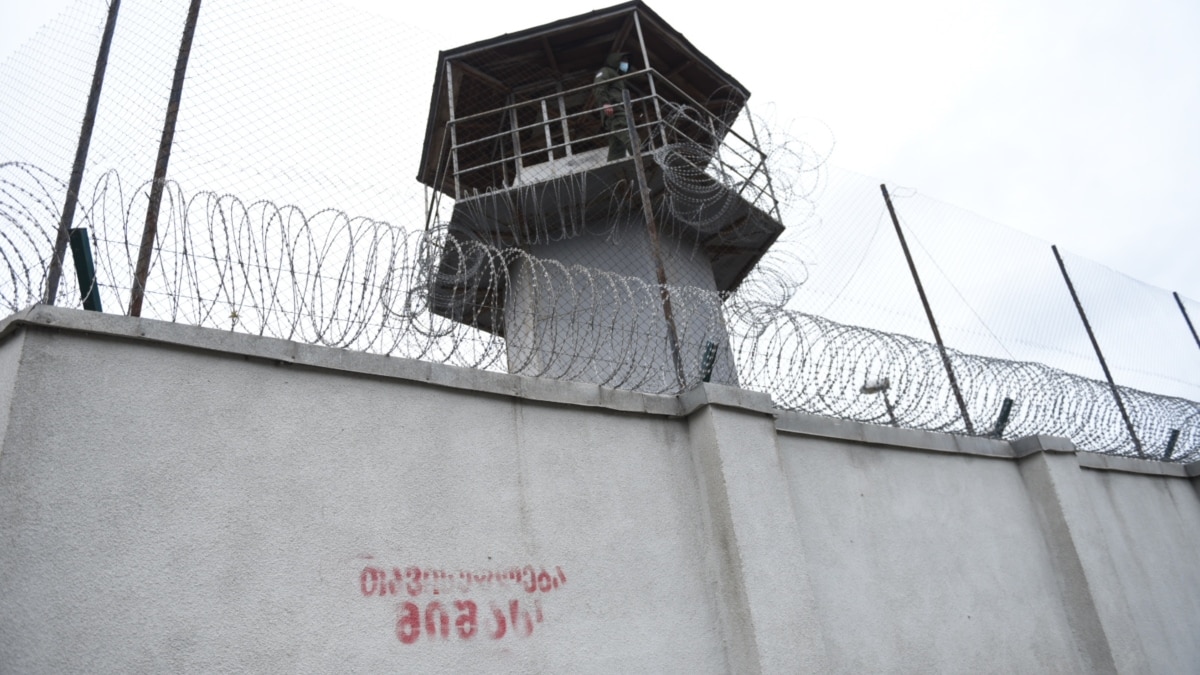 The convict's personal doctor said on October 10 that his patient's condition had deteriorated, but on October 11, lawyers released a report from prison that Mikheil Saakashvili's condition was satisfactory. The same is said by the Special Penitentiary Service, and the Minister of Justice states that he will not allow anyone to spread false information.
Hematologists explained to Radio Liberty that starvation against the background of thalassemia (chronic blood disease) could have disastrous consequences and the condition could quickly worsen. Saakashvili himself had previously stated that he would refuse medical assistance even if he lost consciousness.
What characterizes thalassemia and how much does the famine aggravate the situation?
Does he have the right and at what stage can he intervene in the health care system, despite the patient's refusal?
In which medical institution can Saakashvili be treated in case the situation worsens?
What is the condition?
To put it simply, thalassemia is a chronic, genetic disease characterized by a reduction in the lifespan of red blood cells – erythrocytes – and as a result of anemia, the organs may not be able to supply enough oxygen.
Hematologists say that in a number of cases this disease does not require medical intervention and the patient may live long, even without medication. However, also in a number of cases, the patient needs constant medication and regular blood transfusions.
Mikheil Saakashvili's personal doctor, Nikoloz Kipshidze, who works in the United States, spoke about the need for medication.
He also said that against the background of hunger, the convict's condition is gradually deteriorating; That he has problems with movement and speech; Fears that the situation may worsen sharply and the ex-president will not be able to reach it until October 30 (the second round of elections).
Many of his teammates and supporters have asked Mikheil Saakashvili to end the hunger strike these days, including those gathered at the Rustavi prison on October 10; But in vain.
In another letter released on October 11 by his lawyer, Nika Gvaramia, director general of the Main Channel, Mikheil Saakashvili said that now, more than his health, supporters should think about the second round of elections;
"I will do my best to reach the 30th of October alive, even in the conditions of continuing the hunger strike, and it is obviously better for me to shake hands in my pre-mourning and celebrate the victory together on the 30th" – Saakashvili writes.
Nika Gvaramia told journalists that Saakashvili's condition is satisfactory. "No special changes are observed", "Looks Strong" And "It is not worth exaggerating on this issue"
Mikheil Saakashvili The hunger strike was declared on 1 OctoberHowever, according to family members and a doctor, he did not receive any food before his arrest, and therefore, according to their calculations, October 11 is not the 10th but the 15th day of the hunger strike.
What can happen?
Hematologist Levan Makhaldiani, who has experience working abroad, tells RFE / RL that patients with thalassemia can quickly become ill during starvation.
"The greatest danger in the case of such a hungry patient may be a hemolytic crisis, ie – red blood cells (erythrocytes) may break down rapidly and develop acute anemia, or anemia. Food is of great importance. Any stressful situation – be it hunger or psycho-emotional stress – causes the erythrocytes to break down …
It may collapse in one day, it may take days. Vitamin therapy is very important and when a person does not take food, he is deprived of taking vitamins. "Hunger is categorically unacceptable for such a patient." – The doctor tells us.
He also said:
There is no clinical study and proven source that would say exactly what can happen to a patient with thalassemia as a result of starvation. However, it is clear that the result will not be good.
When red blood cells break down rapidly, hemoglobin is low, and organs are not properly supplied with oxygen, any organ may have a problem, including the heart.
Saturation (a measure of oxygen content in the blood) does not assess the status of the disease – saturation may be normal and erythrocytes will break down rapidly.
Blood pressure is an important indicator – when red blood cells break down, the pressure goes down. However, he said that the pressure is normal and nothing happens – you can not hope for that.
In general, the main thing is to do a general blood test and determine hemoglobin, which will actually assess the situation.
Mikheil Saakashvili's personal doctor, Nikoloz Kipshidze, said on August 10 that the patient might need to be taken to hospital in the coming days.
However, on October 11, he told reporters that "Most likely, there will be no talk of being taken to the hospital today" And everything will depend on the results of the blood test. However, he said in advance that he was no longer going to talk about the answers to the analysis.
Nikoloz Kipshidze could not enter Mikheil Saakashvili on October 11.
To confirm that Mikheil Saakashvili's condition is satisfactory, the Special Penitentiary Service released his personal data on October 10, including information on blood pressure and saturation.
What is the state going to do?
On October 11, the Ministry of Justice also issued a statement.
Minister Rati Bregadze says that no one is allowed to spread false information about Mikheil Saakashvili's health condition while – the prisoner's condition is stable, he is taking medication and is present 24 hours a day "In the process of constant medical observation."
Regarding future medical intervention, the Minister says:
"If the need arises, our medical, highly qualified staff will take absolutely all the measures necessary to improve the health of the prisoner."
Mikheil Saakashvili has refused medical intervention, including in case of unconsciousness.
What happens in such a case?
We did not receive any answers in the special penitentiary institution.
The Ministry of Health told us that this issue is regulated by Georgian legislation.
In the Law on Patients' Rights we find the following entry:
A patient with the ability to make an effective and informed decision has the right to refuse medical care at any stage of treatment, as well as to terminate medical care that has already begun.
The patient should be thoroughly informed of the expected consequences of refusing or terminating medical care.
A citizen of Georgia has the right to express his / her will (consent or refusal) in advance to provide appropriate medical assistance in case of unconsciousness, if the specified circumstance is caused by: a) terminal stage of incurable disease; B) with a disease that will inevitably lead to severe disability.
A person placed in a penitentiary institution enjoys all the rights provided by this law.
Records of directly starving prisoners are found in the Law on Medical Activities. Here, too, it becomes clear that before losing consciousness, no one has the right to go against the will of a prisoner.
A doctor is prohibited from artificially feeding a starving prisoner or detainee if he or she refuses to eat naturally;
A physician has the right to provide medical care to a patient unless the latter objects.
If a prisoner or detainee is found unconscious as a result of voluntary starvation, the doctor has the right to act in the best interests of the patient's health and / or life, regardless of the patient's previously stated will.
Vato Surguladze, former Deputy Minister of Health, health specialist, representative of "Lelo", while talking to us, recalls the Tokyo and Malta declarations and explains that – "In the case of convicts, if he is not unconscious – doctors are forbidden to treat him by force … force treatment and force-feeding are not allowed." And in case of loss of consciousness, "doctors are obliged to fight to save him."
If he still needs to be taken to the hospital, where can Mikheil Saakashvili be taken? We could not get an answer to this question in the penitentiary service either.
The Ministry of Health clarified that the convict can be admitted to the Republic Prison Hospital, as well as to clinics for other patients – according to the medical profile. According to Radio Liberty, such clinics include, for example, Vivamedi.
Honey and juices
On October 10, doctor Nikoloz Kipshidze released information from a prison in Rustavi that Saakashvili had refused to accept even a small amount of honey and juice – after false information was spread about receiving "8 kilos of honey" and opening a "juice factory" in Lama.
Not about 8 kilos, but half a kilo of honey was spoken by the Prime Minister Irakli Gharibashvili on October 11.
He told reporters that Saakashvili "personally bought 7 boxes of honey and a pound of honey with his own credit card, bank card" and that he knew this information from reports spread by the relevant services.
"This circus and show that we have seen and that is going on these days, of course, serves only one purpose – it is the task of prisoner Saakashvili to go to the second round – they know that, of course, in the second round they will lose everywhere. "Somehow raise a certain temperature and show the public that prisoner Saakashvili is seriously ill." – Gharibashvili told journalists.
Earlier, on October 8, the head of the Special Penitentiary Service, Nika Tskhvarashvili, said that Saakashvili Bought with a card "A few cans of honey" and "A few liters of natural juice".
Eka Kherkheulidze, one of the leaders of the United National Movement, entered the Rustavi prison on Monday to see Saakashvili. He confirmed that the convict had stopped taking honey and juices and returned the product to the prison administration.
"When the doctor came in, the head of the department came to see him, advised him to use sugar in the tea, which he refused and said that he could take one teaspoon of honey. He bought five 50-gram jars, which they take as 7 jars and as a "bear jar" …
"As soon as Misha heard the news that this was being speculated and that it could be used to cast a shadow over his hunger, we asked him to hand over to all interested parties that – one had already been spent and four acts, signed by the administration." – Kherkheulidze said.
According to the prisoner's personal doctor, if Mikheil Saakashvili had not refused to take honey and juices, he would not have changed anything for his patient, who has a chronic blood disease.
.