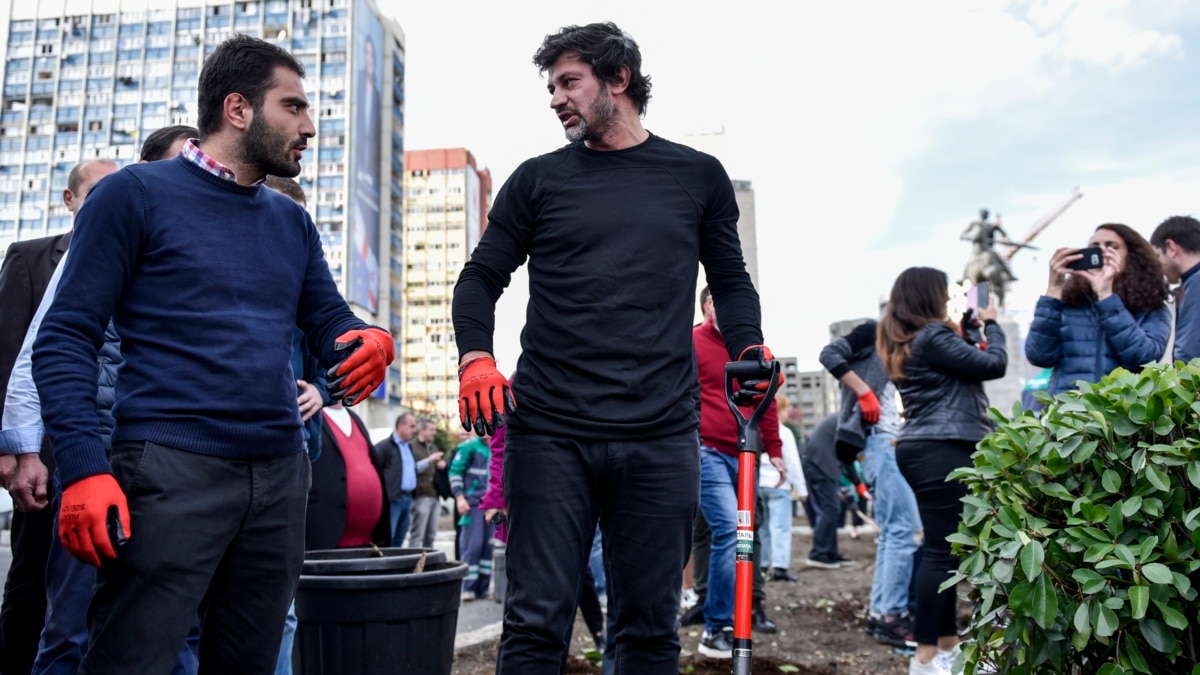 promise
✅
❌
🔵
For the next 4 years, Orbeliani Square and adjacent streets, Dry Bridge, March 9 and Dedaeni Garden, Gudiashvili Square, Kvemo Kala, Kote Abkhaz (Leselidze) Street, Zemo Kala, Pirosmani, Kargareteli and Constitution Streets, Sulkhan-Sab and Rehabilitation of Ingorokva streets, as well as restoration of the existing complex of garden gardens along Agmashenebeli Avenue and development of a pedestrian-museum route on Lado Gudiashvili Street.
🔵
Will be implemented Large-scale sewerage project in the village of Digomiი.
🔵
A new public transport route scheme will be created and maximum public transport synchronization will be ensured. City Hall ensures the adaptation of metro, bus and minibus routes to each other.
🔵
The buses will be equipped with a modern, updated GPS system, new interactive monitors will be installed at the bus stops and a municipal transport application will be created, which will enable the citizen to get complete information about traffic.
✅
The new module for paying the fare on public transport will allow the passenger to pay the fare through both passenger and all types of plastic cards, as well as through the mobile application.
🔵
New carriages will be added to the subway, which will increase passenger traffic and reduce waiting intervals. 23 metro stations will be upgraded with a single concept and branding.
❌
The design of new underground and surface lines of the metro will start, including, first of all, the possibility of creating Samgori-airport and Didube-Didi Dighomi lines will be studied.
❌
A project will be implemented to ensure the integration of the metro with the railway infrastructure.
❌
Appropriate adaptation zones and infrastructure for people with disabilities will be arranged in metro stations.
❌
Existing obsolete buses will be replaced by new, environmentally friendly, adapted and internet-equipped buses. To ensure the full functioning of the route scheme, the city will be served by more than 700 units of modern type 8-10-meter buses.
🔵
City Hall will explore new corridors and create new priority bus lines.
🔵
In cooperation with the contractor companies, the City Hall will provide gradual renewal of the minibus fleet with ecologically clean and comfortable new minibuses.
🔵
The taxi sector will be regulated in such a way as to create, on the one hand, an economically profitable system for taxi drivers and, on the other hand, to ensure the observance of customer-oriented standards.
🔵
Rope transport will be developed and its integration with other public transport, including the metro, will be ensured. The construction of Rustaveli-Mtatsminda and Maglivi-Bagebi ropeways will be completed, as well as the rope lines of Samgori-Vazisubani and Akhmeteli Theater-Zgisubani settlements will be designed and built.
🔵
A proper parking system will be introduced. Under the unified plan, new parking spaces and underground and above-ground parking infrastructure will be developed. Parking on sidewalks will be limited.
🔵
Hourly parking will be introduced in the central districts for owners of commercial vehicles and guests of entertainment establishments.
✅
A new bridge will be built on the Mtkvari, which will connect Gelovani Avenue and Samtredia Street. The new bridge will improve the connection between the left and right banks, relieve traffic.
❌
An overpass will be built from Vashlijvari settlement to Gelovani Avenue;
✅
To unload the University-Tamarashvili junction, a link between the university building and the Bagebi will be built on the river Vere Bridge, An overpass will also be built at the intersection of University and Tamarashvili streets;
❌
Will be built Transport ramp On the left bank of the Galaktion Bridge;
❌
A junction will be arranged at the intersection of Tsintsadze and Kartozia streets.
✅
Road and tunnel connecting Upper and Lower Ponichala will be built;
✅
Nafetvrebi-Akhaldaba new road will be built
❌
A junction will be arranged at the intersection of Beliashvili and Balanchine streets
❌
Rehabilitation of bridges and tunnels will be carried out.
❌
City Hall will take care of the prevention of pollution of the Mtkvari and its units. Treatment facilities will be arranged in the annexed areas of Tbilisi.
❌
Comfortable conditions will be created for the movement of pedestrians and bicycles; New bicycle lanes will be created and they will be integrated with the unified transport system. Bicycle stations will be arranged with such facilities as universities, shopping and office centers, administrative buildings, etc.
❌
Vake, Rike, Godziashvili, Kikvidze and Varketili parks, Vera, Alexander-9 April gardens and Digomi forest-park will be renovated.
🔵
Vazha-Pshavela, Chavchavadze and Moscow avenues and airport road will be planted.
🔵
Pedestrian recreational zones will be created on the territory of Old Tbilisi.
🔵
The new Tbilisi Zoo will be arranged on the territory of the Tbilisi Sea and the Tbilisi Dendrological Park will be renovated.
🔵
Mziuri Park will be renovated, which will be joined by the old zoo area.
🔵
Rehabilitation and renewal of diseased forests in the suburbs of Tbilisi will be provided. Sanitary measures will be carried out in the diseased forest massifs.
🔵
Hiking trails, bicycle paths and picnic areas will be arranged around the forests. Works will be carried out to restore the Tbilisi windbreaks.
❌
A night economy strategy will be developed, the implementation of which will provide new function for suburbs and development of new neighborhoods, development of abandoned spaces, development of riverside infrastructure, business incentives, attracting investors, improving the tourism potential of the city, creating new jobs and additional sources of revenue for the city budget.
🔵
Multifunctional sports complexes will be built in all ten districts of the city
🔵
Construction of 13 kindergartens will be completed and 20 new kindergartens will be built.
🔵
More than 30 schools will be built and the infrastructure of more than 70 schools will be improved.
🔵
5 large-scale specialized specialized schools for high school students will be established in Tbilisi: European School with the involvement of the European Union, "HTH Georgia" with the license of the American High Tech High, "Namobo" school based on the Israeli experience, art school and STEM school. There will not be a single talented student who will not receive a high quality education in technology, art or any other field.
❌
The concept of modernizing and reforming the management system of municipal museums, libraries, theaters and art schools will be developed and implemented. Museums will be rehabilitated, which will increase their role in the cultural and tourist life of the city. Modern services and technologies will be introduced in the city libraries.
❌
The fleet of the ambulance service will be renewed with 70 new special vehicles. Up to 100 vehicles will be equipped with laptops and new communication systems. New dispatch protocols will be introduced in conjunction with 112 to filter calls and prioritize calls.
🔵
The disease screening program will continue, which benefits up to 50 thousand people a year. A thyroid cancer screening component will be added to this program.
✅
The rehabilitation therapy program for children with autism spectrum disorders will continue, involving 700 children.
✅
Funding for hepatitis C diagnosis and monitoring programs will continue, which has benefited up to 20,000 patients to date.
✅
Funding for the municipal shelter will continue
✅
Funding for vulnerable students in non-formal education centers will continue
✅
Free canteens will continue to function and food rations will be improved.
🔵
Funding for demolished houses and apartment rental programs will continue to be funded.
✅
The municipality will take care of the issue of illegal housing.
🔵
Tbilisi City Hall provides access to decent housing for socially vulnerable groups. Every year, 7-8 million GEL is spent from the Tbilisi budget on renting apartments for socially vulnerable or damaged houses.
❌
The process of continuous independent movement will be provided for people with disabilities;
❌
The City Hall will take care of the adaptation of public places and public gathering places, underground and above-ground passages, residential houses, cultural institutions, parks and recreational facilities for people with disabilities;
🔵
A corruption prevention strategy will be developed at the City Hall and an effective control and monitoring system will be introduced.
❌
A unified database of the municipality will be created, which will combine demographic, socio-economic, infrastructural and other statistical indicators. This database will greatly simplify strategic and budget planning, monitoring and reporting. An interactive map of Tbilisi will be created, which will include infrastructural data, implemented and planned projects by the municipality, tourist routes, hotels, museums, calendar of cultural events, routes of municipal transport, ecological data, etc.
❌
The increase in the municipal budget will be ensured at the expense of both its own revenues and state transfers, and the city budget, for the first time in its history, will exceed 1 billion. Based on in-depth calculations, the city's budget priorities will be reviewed and a strategy for optimizing municipal expenditures will be developed.
✅
Community centers equipped with modern infrastructure and the latest technology will be established in each district of the city, where dozens of services will be provided to the population on a one-stop-shop basis.
❌
.