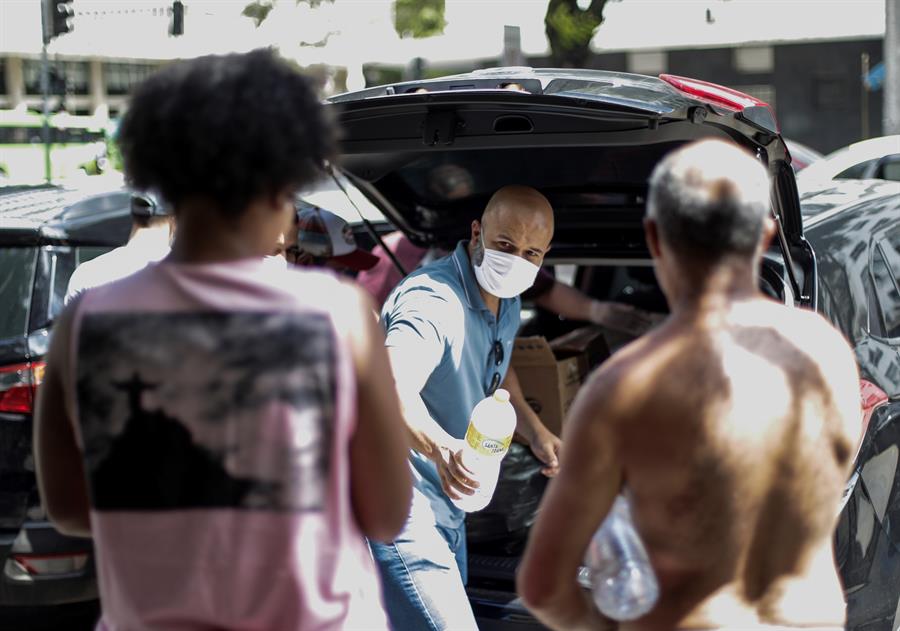 Study points out that the new values ​​of assistance aid will not be enough to cover the basic needs of beneficiaries in any of the Brazilian states
EFE / Antonio Lacerda
Cezar Snyper explains that in all São Paulo communities there is a lack of basics: food, hygiene kits, medicines and clothes

O federal government begins to pay, in April, the extension of the emergency aid. The benefit, which reached R $ 600 in 2020, will now be R $ 250 for families with more than one person or R $ 375 for those where only women are providers. In the case of single people, the value drops to R $ 150. The new payments will be made until July. The aid was suspended for four months; even with the return of the benefit, however, a study released by Insper points out that the amount is not enough to cover the basic needs of the beneficiaries in any of the states of Brazil.
In the community of Olaria, in the extreme south of Sao Paulo, the situation is no different. With the pandemic advancing and jobs becoming increasingly scarce, life remains difficult. Cook Deise Silva Praça dos Santos and her husband have been living on bills and donations for months; she says that in addition to the lack of food, there is also no way to prevent Covid-19. "Virtually all families are trapped inside the shack, which is terrible heat. When it rains it's flooding, we stay in the water, we don't have assistance none from the government. We are in need of help, alcohol gel, these things, you know? "
The scenario is similar in the house of the neighbor, Cristiane Nunes de Macedo, who lives with six family members. Over there, everyone is unemployed, and the little they share comes from their mother's retirement. "In my refrigerator there is water, egg and salad. What we are missing most of all is absolutely everything, the basics that were easy for us to have, rice and beans, are missing inside homes ", he reports. Olaria has almost 3 thousand families. The local community leader, Regina Célia, tries to get food and hygiene products for everyone. "This pandemic has come to destroy. Every day there are people in the front of my house asking for basic food baskets and we don't have to donate ", he said.
Aid has come from institutes such as Brasil 200, which since the beginning of the pandemic has worked with the donation of basic food baskets for vulnerable families. The entity is linked to Pequeno Mestre, who distributes these foods. The president of the NGO, Cezar Snyper, explains that the project has already spread to several communities. "We have communities that we serve in the South Zone, in Itaim Paulista, Jaguari, in Osasco. Today, we have jobs within 19 communities. Some communities are giants, so if we talk about impact, we are talking about at least 350 thousand people ", he said. According to Snyper, not only in Olaria, but in all communities in São Paulo, the basics are missing: food, hygiene kits, medicines and clothes.
* With information from reporter Beatriz Manfredini